Multifamily Meets the Resort
Image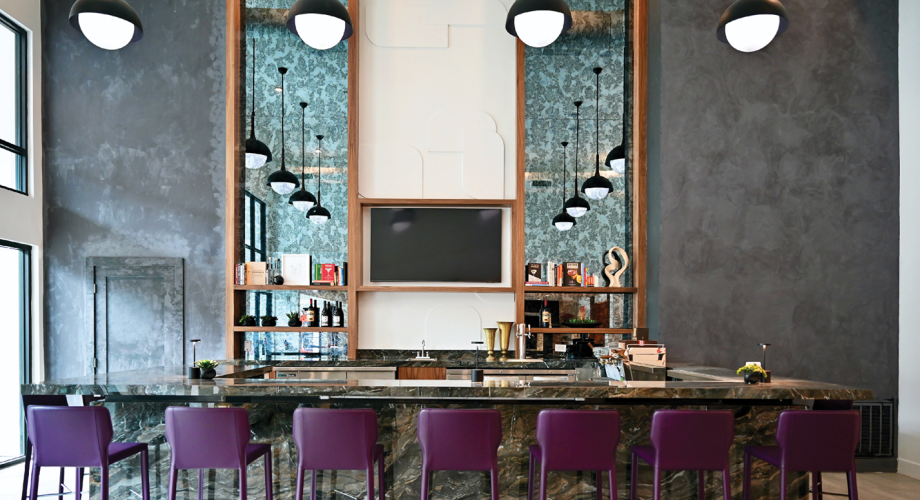 Many owner-operators are adding hotel-style amenities to their communities. 
As the lines between apartments and hotels become increasingly blurred, some owner-operators are leaping forward by offering properties with resort-class perks including a return to programmed spaces. 
Encouraging resident interaction may lead to retention. "There's a lot of research that shows if people are making friends in the community, it goes from 30 percent to 60 percent higher likelihood of renewal," said Daniel Bassichis, Co-Founder, Vero Sade, a Houston-based real estate developer. 
The firm recently launched Us Bayou Park, a community that includes a four-story, 404-unit building, a 4,000-square-foot fitness center and 10,000-square-foot communal space that serves as the staging area for programming and leasing operations. The community is being managed by Greystar and is currently 80% leased. 
The concept behind the project intends to move multifamily beyond the amenity wars and into an enlightened lifestyle experience for residents. "Us Bayou Park is Vero Sade's first step in rethinking the transactional nature of traditional multifamily environments," said Bassichis and Co-Founder Yoni Sade in a statement. "It also begins to lay the groundwork for a network of properties that we've conceived to foster human connection and enhance overall well-being." 
Rethinking the transactional nature includes establishing an open dialogue between building operators and residents. "You have no idea what these people are thinking or what are they interested in," said Bassichis. "In a hotel, that's happening constantly. You're interacting with people, you're discussing things, and they're asking for things." 
Toward that end, Vero Sade has moved its leasing staff out of the back office and into the club space—a reflection of what's happening in the new, post-pandemic reality. "The world is changed, you don't need as much office space and filing cabinets," said Bassichis. "It's much more digital. If people are buying into the culture they're interacting with people, like a concierge at a hotel." The property has Zoom rooms set aside for lease signings and other activities that require more privacy. 
Us Bayou Park offers a mix of unfurnished units that start in the $1,700s per month. Luxury-class furnished units are available for short-term stays. Vero Sade is part owner of CASA, a local design firm that furnishes the units. Vero Sade believes the Us concept is going to catch on and is investing in sister properties in San Antonio, Dallas and Orlando, Fla. Bassichis imagines them performing like a hotel chain that builds brand loyalty along the way. 
Housekeeping
Maid service is a standard feature of a hotel stay, another perk that's spilling over into the multifamily community. Sentral's Home+ communities, based in Denver, are designed from scratch to cater to the flexible leasing crowd. They offer several desirable extras for their highly mobile residents. 
"Sentral communities offer hotel-like amenities including coffee service, concierge service, luggage storage, hotel guest supplies, self check-in capabilities, onsite hospitality team, community events, vending or retail onsite, fitness center and meeting areas, and designer-furnished units that are generally two to three times larger than a typical hotel room," said Lisa Yeh, COO, Sentral. 
To make all that happen, Sentral relies on its own in-house staff as opposed to farming things out, except for housekeeping. "In most markets, we prefer to outsource housekeeping because we find the quality and cost from third-party with the ability to flex on workload to be more efficient than in-house," said Yeh. 
CGI+ Strategies, based in California, operates digital nomad-friendly, short-term rentals in Los Angeles and believes in competing head-to-head with the hotels. "We offer coffee/tea/breakfast, housekeeping services, concierge services for our short-term furnished rentals portfolio under Bread and Salt Hospitality," said Aaron Cohen, COO of CGI+ Strategies. "We selected these services to mimic a hotel lifestyle, since we're offering luxury furnished stays for a price that is a fraction of hotel prices. We believe we can get the right clientele and rates if we offer these extra amenities."   
Valet Service
Quarterra, headquartered in Charlotte N.C., introduces hotel-like features at the front door. "Our newest community in Southern California, Halcyon House, has an access gate with a 24-hour attendant and bell service to welcome residents home and assist in transporting large loads, such as groceries and dry-cleaning up to their apartment homes," said Kristen Mete Kingi, AVP, Marketing, Quarterra.   
Quarterra has also moved some of its properties into the resort category with the addition of self-care options. "Residence Kierland in Scottsdale features The Retreat, a spa experience highlighted by a salt therapy room, cool mist room with aroma-therapy infused oils, heated loungers, two saunas, two steam rooms, and private hot and cold pools," said Kingi. "Residents can utilize spa amenities on a first-come, first-served basis." 
Paying for It 
Financing and justifying the added expense for hotel-level service is baked into the rental equation. "Sentral communities deliver significantly higher revenues and NOI for property owners, creating value for both owners and guests," said Yeh. CGI+ Strategies is targeting its luxury furnished stays at clientele who are comparing the space against a more expensive hotel room.   
Quarterra is offering the extra goodies in specific markets where it makes financial sense. "Adding hotel-like amenities often sets our communities apart from their competitors and attracts residents who are willing to pay a premium for a high-end living experience," said Kingi. "Once residents have experienced an environment that emphasizes hospitality, it can lead to higher retention rates." 
Challenges 
Providing extra service in any industry comes with its own set of challenges, including the ongoing staffing shortages. The rules governing what classifies as a hotel and restrictions on short-term rentals can be another sticking point. "Depending on the market, regulations vary significantly," said Yeh. "Keep in mind that short-term rentals are a relatively newer real estate product, so some cities may not have updated their regulations. This can result in delays and additional costs, especially in cities with strict requirements." 
Higher guest expectations, the rising importance of online reviews and adapting to new technology are also concerns. "There is a learning curve for the general public, who is accustomed to how hotels operate," said Yeh. "For example, our model engages self-service and some communities do not have 24-hour onsite staffing. Those who depend on in-person interactions may get frustrated as they are not accustomed to using technology and self-automation." 
The Return of Programming 
Programming in multifamily buildings was all the rage until the pandemic rolled in and changed the world. As normality returns, the National Multifamily Housing Council (NMHC) has been keeping an eye on the return of large-scale public interaction. "Some had to shut the common areas down during the pandemic, but interest resumed in our post-pandemic, hybrid work world," said Rick Haughey, Vice President, Industry Technology Initiatives, NMHC. 
Remote and contactless check-ins have become the new normal. "Many of the virtual components are here to stay, but are often available as an option along with in-person," said Haughey. "Operators are still figuring out the right mix. I think the move toward providing services in addition to physical amenities is a trend that is here to stay."   
Us Bayou Park offers a full slate of programming by partnering with local restaurants, bars and fitness experts using tested business models. Some program leaders are hired outright, some perform free to showcase local businesses. The Bayou's programming is available to every resident regardless of their lease arrangements. In some of Sentral's communities, programming is supplemented by membership programs that includes additional benefits and services. 
Conclusions 
About half of Sentral's properties offer hotel-like amenities, and about 10% offer membership programming. They directly compete against Airbnb and VRBO, which dictate their product's must-haves. "Most Sentral communities provide the best amenity spaces of apartments including superior fitness centers and meeting spaces, kitchens, washer/dryers, working spaces inside the apartment and hospitality services," said Yeh. 
The smart money says that flexible leasing, digital nomad lifestyles and apartments that live more like resort hotels are not going away. Bassichis said that to make the new concepts work, owner-operators need to go all in on a long-term effort that will transform a section of the industry and eventually pay off. "If we can have higher retention rates, that reduces our turnover costs, it reduces our marketing costs," he said. "It reduces our vacancy during the downtime and that's a huge win for us. It's not just a monthly pizza night and taco night like everybody else. This is a different type of community."   
The amenity battles of the past are still affecting the move toward a different kind of multifamily experience. "Some of this relates to the boom in Class A urban apartments over the last decade resetting expectations for the lifestyle [residents] expect in their apartment communities, which includes hotel-like services," said Haughey. 
In some locations the attention paid to large-scale amenities rendered obsolete by the pandemic are being replaced by something that doesn't require a huge capital investment. "In many cases, you can create a desirable lifestyle for apartment residents without having to break ground or make significant investments of capital just by connecting them with popular services and virtual amenities," said Haughey. 
Scott Sowers is a frequent contributor to units.