The State of Diversity, Equity and Inclusion in NAA Member Organizations
Do you ever wonder how effectively NAA members are implementing their DE&I initiatives?  Or what resources members would find most valuable?  And perhaps most importantly, are there best practices you can implement in your organization?
T. H. Easter Consulting will review the findings of the DE&I survey they recently conducted among our members and share an evidenced-based approach for making DE&I a reality in organizations.
Guided by Terri Hartwell Easter and Suzy Burke, PhD, you will learn:
The current state of DE&I in NAA member organizations
Member priorities for DE&I resources and tools
How to create and implement a DE&I program that leads to lasting change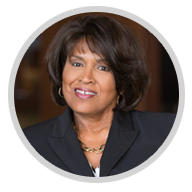 Terri Hartwell Easter, Founder & Principal, T. H. Easter Consulting
As the former Chief Operating Officer of a top 100 national AmLaw legal practice and highly regarded organizational change strategist for leading professional services firms, commercial banks and the White House alike, Easter's trademark is bringing new approaches and innovative thinking to some of the toughest human resource management challenges and most aggressive revenue enhancement goals.  Understanding that at the heart of every organization is its people, Easter's pragmatic, informed approach leads to lasting positive outcomes both for individuals and for an entire organization's culture.  With a renowned diversity practice, Easter works with clients to frame day-to-day business through a lens of inclusion to attract and retain a more diverse workforce, and create pathways to business growth.
Suzy Burke, PhD, Principal & Practice Leader, T. H. Easter Consulting
An experienced business executive with over 30 years of experience in leadership development, strategy planning, and successful organizational change efforts, Burke has an exceptional track record of helping business leaders achieve exponential growth in a variety of complex businesses.  With management and operational expertise on five continents, Burke knows how to lead executives and managers alike to see and seize opportunities for meaningful growth and implement the organizational changes often necessary for success.  Burke's areas of expertise include Diversity, Equity and Inclusion (DE&I), empowering and developing leaders, and creating the vision, strategy and management systems that can deliver legendary service to some of the most demanding clients in the world.