United States Needs 4.6 Million New Apartments By 2030 or It Will Face A Serious Shortage
United States Needs 4.6 Million New Apartments By 2030 or It Will Face A Serious Shortage
Image
To meet growing demand, America needs to build at least 4.6 million new apartment homes at all price points by 2030. In addition, as many as 11.7 million older existing apartments could need renovation during the same period. 
These projections come from a new study commissioned by the National Apartment Association (NAA) and National Multifamily Housing Council (NMHC) and conducted by Hoyt Advisory Services (HAS).
"It's important to note that this number excludes the supply-demand imbalances already existing in some markets," said Paula Munger, NAA's Director of Research and Industry Analysis.
The study attributes this increased demand to:
The rise of young adults ages 18 to 34 as the largest generational demographic group and who are delaying homeownership; 
The aging population who are choosing the convenience of apartment living; and 
Immigration, which is predicted to account for about half of all new U.S. population growth through 2030.
Demand for apartments is at an all-time high as the number of renters has reached an unprecedented level. Nearly 39 million people in the United States — that is almost 1 in 8 — call apartments home. This demand:
Puts significant pressure on the apartment housing industry to meet their needs. 
Makes it challenging for millions of families nationwide to find quality rental housing they can afford at their income levels. Underlying the affordable rental housing shortage is an income problem.
Meeting projected demand means building more than 325,000 new apartment homes each year on average — a number the industry has not been able to hit for decades. From 2012 through 2016, the apartment industry built, on average, only 244,000 new apartment homes per year. The last time the industry built more than 325,000 in a single year was 1989.
Annual growth in renter households exceeded one million on average over the past five years, which is a record amount. Meanwhile, apartment vacancy rates as measured by RealPage Research fell or remained the same for seven straight years from 2009 to 2016.
At the individual Metropolitan Statistical Area (MSA), demand was ranked by both sheer number of apartment units needed as well as the percent increase of new apartments over the current stock. New York, Los Angeles, Dallas-Fort Worth, Chicago, Washington, D.C., and Houston each need over a half-million units over the next 13 years.
The fastest growing markets include Raleigh, Orlando, Austin, Charlotte and Las Vegas, each of which is projected to need apartments totaling 40 percent and greater of their current supplies.
"Even though we're hearing about some markets potentially in an oversupply situation now, it's typically occurring at the higher end of the market," Munger said. "Keep in mind that we're talking about apartments at all price levels, and that the research spans 13 years and even assumes two recessions."
Net in-migrations, both foreign and domestic, are forecast to increase substantially in all of these cities, thanks to strong economies and healthy job growth. Professional services lead the growth with Raleigh and Charlotte also relying on their trade sectors, while Orlando continues to augment its leisure and hospitality sector. Austin's growth is strong across most sectors, and even Las Vegas, historically reliant on the gaming industry, is showing signs of slowly diversifying its economy.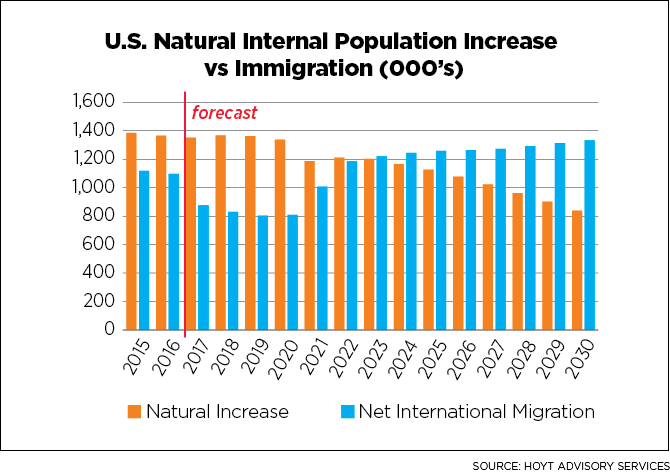 One main driver of future demand—immigration—is a hot topic in the media with reports of deportations and other crackdowns seemingly daily. As depicted in the chart, immigration is projected to slip below one million persons from 2017-2020 before picking up again in 2021 through 2030. Immigration comprising half of population growth is not unusual, and occurred during the 1990s.
As renting becomes more and more of a lifestyle choice, and not just an economic one, apartment demand will be driven by all age cohorts at every income level. Building 4.6 million new apartment homes by 2030 at all price points will go a long way in ensuring this demand is met.
Hoyt's study covers an estimate for future apartment demand in the United States, the 50 states and 50 metro areas including Washington, D.C. The study defines apartments as units in buildings containing five or more rental units. The data and the Hoyt report, U.S. Department Demand—A Forward Look, are available at www.WeAreApartments.org, a website jointly owned by NAA and NMHC.
Study Ranks Cities Based on Their Ability to Add New Apartments
Honolulu, Boston, Baltimore, Miami and Memphis are the most difficult cities to add necessary new apartments, according to new research from Hoyt Advisory Services, commissioned by NAA and NMHC. The research examines and ranks 50 metro areas based on specific factors, including local regulations and the amount of available land to develop.
The research also shows that the easiest cities to build new apartments include New Orleans, Little Rock, Kansas City, Indianapolis and St. Louis.
The ranking, titled the Barriers to Apartment Construction Index, scores the metro areas along an index that reaches as high as 19.5 in the most difficult market to add apartments (Honolulu) to -5.9 in the easiest (New Orleans). While real estate is project specific, any score above the median of 1.8 means that it is harder to add new apartments than other metros.
There is strong correlation between the difficulty of adding new supply and affordability, as measured by the percentage of households spending 35 percent or more of their income on rent. Nearly half of residents in Miami, Honolulu, Riverside and Los Angeles are in this category, and these markets are some of the most difficult in which to add new supply.