Synthetic Fraud: How to Identify, Respond To & Prevent It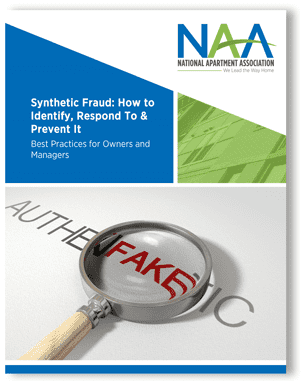 Apartment owners and operators are all too familiar with the effects that identity fraud can have on their business, but not all instances of the problem are the same. In fact, of the four types of identity fraud commonly encountered in the rental housing industry, synthetic fraud—in which all information about the applicant is fabricated, combining real and fake information to create a new identity—is the fastest-growing, accounting for an estimated 85 percent of all identity fraud in the country.
This white paper covers synthetic fraud issues specific to the rental housing industry. It further evaluates prevention methods, the financial impact it has on owners, suggestions to improve your company's screen processes and more. Become knowledgeable on technology aids and continued education that can help reduce the odds of falling victim to synthetic fraud, as well as eviction costs and community liability.
Want to access the white paper but not a NAA member? 
You can find your local NAA-affiliated apartment association easily and become a member of your local apartment association to access this white paper! Once you are a member, you will not only be able to enjoy the benefits from your local association but also are entitled to the most comprehensive resources from NAA.