Rethinking Traditional Amenities 
Image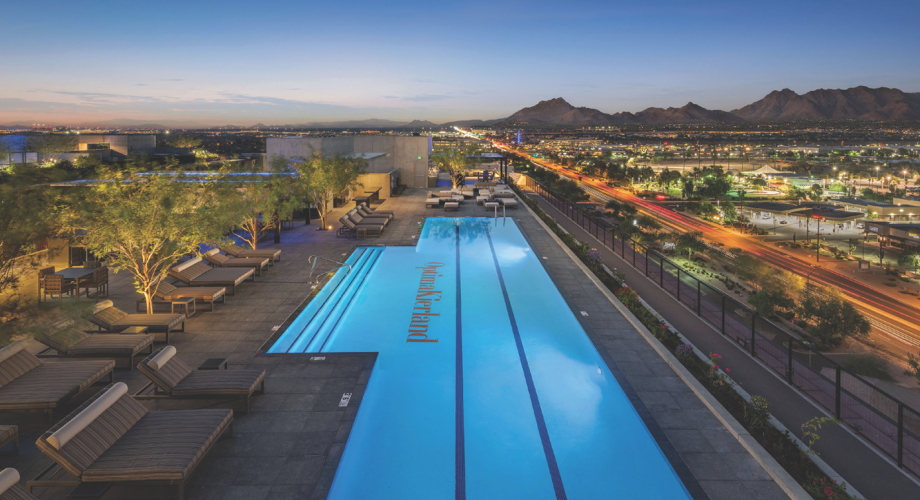 Take a look inside some of the more unique amenities in the industry and those that are resisting traditional designs and trends.
There's no shortage of change that has taken place in the rental housing industry during the past several years. Some of this change occurred out of necessity while the rest gradually, naturally evolved over time. 
Two trends have seemed to form coming out of the pandemic: The professional, working environment has changed forever, and residents want to get back to their pre-pandemic, normal lives—but with the additional benefits that have come as a result of the past three years. 
Residents are now being afforded the opportunities that they might not have had prior to COVID-19, for example, being able to work remotely without ever leaving their unit or apartment community. The latter rising as a new or more updated amenity. 
Nontraditional Amenity Offerings 
One of the most popular amenities available for remote workers is being able to work outside their apartment homes. Many communities have addressed this during the past three years and going forward. 
"Outdoor work zones are an important nontraditional amenity that has become widespread," says Meghann Van Dorn, LEED AP ID+C, Associate and Director of Interior Design, The Architectural Team. "Another is the specification of folding partitions that foster indoor/outdoor connections during more months out of the year. In the past, this design approach was more limited to the Southeast, Sun Belt or California, but with the pandemic transforming people's relationship to the outdoors, we're seeing more demand for this solution across the Northeast." 
This transformation of indoor/outdoor spaces isn't the only multifunctional option available in communities. 
While properties are adding spaces for remote workers outside their apartment homes, these spaces have become more than just "Zoom rooms" for professionals. 
"There's a lot of interest in music practice rooms as shared amenities, for those who want to pursue music professionally or as an avocation," says Joshua Zinder, AIA, LEED AP, Managing Partner of JZA+D. "We've seen a number of different approaches in terms of size and scale, from glorified phone booths to small conference rooms, both indoors and outdoors with integrated power," 
he says.   
Brad Lutz, Managing Principal of Chicago and Multifamily/Residential Practice Leader for Baker Barrios, says it's hard not to find communities with these specialized working environments such as Zoom rooms or a co-working space. 
"These spaces existed before the pandemic but have become even more prominent with the number of residents who either work completely remote or in a hybrid setup. These spaces to 'be together, but separate' have become very well used, almost taking on the new role of the clubroom. 
"There has been quite a bit of emphasis on creative and interactive spaces. We've seen podcast rooms and studio spaces that can be used for vocal or instrumental practicing and recording. These are some of the more personal or individual directed spaces, but we've also seen more social focused versions like karaoke rooms or virtual sport screens adjacent to lounge areas that provide a backdrop of activity that can engage a room in a non-static way," Lutz says. 
Climate and community location are important factors, too, when planning and designing communities; one reason why a rooftop pool might not exist in Minneapolis or Chicago and a golf simulator will in Arizona. 
"While not yet widespread because of the considerable cost, there is growing interest in the 'ski lodge swimming pool,' where bathers enter the pool indoors then swim to the portion of the pool that is outdoors for laps," says Zinder. 
In Arizona, Optima has developed rooftop running tracks, "which have proven to be extremely popular, as people love the ability to run outside while staying close to home," says David Hovey Jr., AIA, President, COO and Principal Architect of Optima. "Lastly, we're enhancing our golf offering at 7190 Optima Kierland by adding an outdoor golf area in addition to the existing indoor golf simulator, which provides residents with flexibility in choosing indoor or outdoor spaces." 
When amenities are featured outdoors, at least partially, the climate does have an incredible impact on what amenities a community will be able to offer residents. One item Alison Mills, Vice President of Design and Development at CRG, says to figure out is the useability timeframe of amenities. 
"Extending the usable season of outdoor amenity decks in cold-weather locations has become more palatable and even desired. Outdoor pools in some cold-weather markets, such as Denver and Chicago, are now more likely to be heated and usable year-round. And increasing the number of warming elements, such as fire pits and electric heaters, ensures that outdoor areas can be enjoyed in colder months."   
Other additional features Lutz has seen include spa-like facilities. "A well-designed spa amenity ranks high on an amenity that makes a property feel like a 5-star hotel. While steam rooms and saunas aren't inexpensive to incorporate, creating relaxation rooms or treatment rooms are relatively simple to incorporate, and can also be another space that can link with a local business or technician to offer a unique service directly at the property." 
Unique Amenity Offerings 
While spa- and hotel-like features can be considered upscale amenities, communities don't have to go over budget to offer residents and the neighborhood a one-of-a-kind experience. 
"We're also seeing more staff-operated food and beverage type elements that reinforce a hospitality/resort like environment, and also are a great opportunity to be both an amenity for residents as well as those outside of the community. It serves as a great bridge between public/private," says Lutz.   
Technology and artificial intelligence (AI) have also entered the amenity atmosphere. "Multi-sport simulators have improved significantly in the past several years, and they're now able to provide experiences far beyond just golf that can appeal to a broader range of residents," says Van Dorn. "These simulators are quickly becoming a point of differentiation among multifamily properties. Virtual reality lounge spaces are another unique amenity with broad appeal, and we anticipate they will become vastly more popular within a couple of years." 
Despite the pull toward the virtual, nonphysical world, residents are still searching for that closeness with others. Van Dorn sees demand for makerspaces and tasting rooms and other multi-use spaces "that fill a hospitality role and can transition from having a coffee shop atmosphere during the day to becoming more like a local pub at night." 
Residents can also look forward to the "Chicago-area debut of Optima's signature vertical landscaping system at Optima Verdana, where plants will stay green year-round. The self-containing irrigation and drainage system promotes evaporative cooling, re-oxygenates the air, reduces dust and smog levels, decreases ambient noise and retains stormwater," says Hovey. 
One of our most unique outdoor amenities," says Hovey, "is the region's first heated, outdoor rooftop pool at Optima Lakeview, which is swimmable year-round—even during a Chicago winter." The pool measures 35 feet by 25 feet and is on the rooftop sky deck overlooking Lake Michigan, Wrigley Field and the city skyline. "The pool is so popular that we designed something similar for Optima Verdana: A heated, glass-enclosed lap pool designed for year-round use with retractable glass walls that open onto the sundeck."  
For the Dogs 
"We have seen a few properties that go way beyond a dog park or pet spa," says Brad Lutz, Managing Principal of Chicago and Multifamily/Residential Practice Leader for Baker Barrios. "Areas for a visiting vet, indoor play spaces and even boarding kennels and staff areas have been added to create another level of convenience for the property's inevitably high number of pet moms and dads." 
David Hovey Jr., AIA, President, COO and Principal Architect of Optima, says Optima Lakeview in Chicago has a 2,000 square foot heated outdoor dog park on the ground floor featuring lush landscaping, comfortable seating and pet-friendly astroturf.
Michael Miller is NAA's Managing Editor.