Image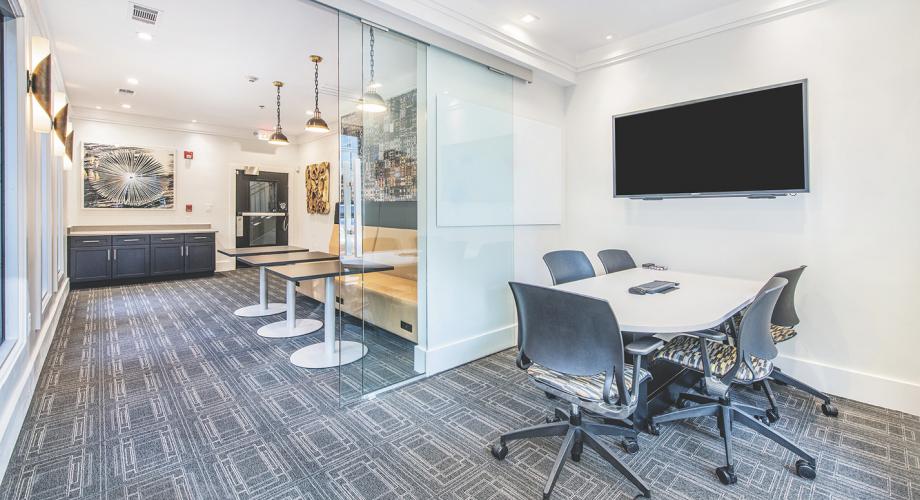 Some apartment renovators are back after a COVID hiatus.
MAA is not just the largest apartment owner-operator in the U.S.; it has traditionally been one of the most active renovators, too.
The REIT's process, fine-tuned over the years in its predominantly Sunbelt portfolio, starts with testing in-apartment renovation packages.
"If we think something will work, we put it out there and we test it," says Tom Grimes, Executive Vice President and Chief Operating Officer for MAA. "If our non-renovated units lease faster than our renovated units with the premium, we know the market has rejected that. So, we customize it and test it. The test goes on deep into the renovation, so we can adjust or change based on the results."
But even MAA's finely tuned process wasn't ready for what happened last spring. When COVID hit, MAA temporarily shut down its renovation program.
In many cases, renovations and rent increases seemed to make little sense for apartment companies in an uncertain economy. In other instances, there simply weren't apartments to rehab.
"In some cases, [COVID] slowed [renovations] down due to less turnover," says Debbie Willis, CPM, President and Designated Broker of Property Services for P.B. Bell. "We're seeing folks are staying put more than in the past."
While some apartment operators still haven't restarted their rehabs, MAA and others are again updating apartments and amenities when they get the chance. For the most part, things are the same, especially with in-apartment finishes. But COVID has emphasized the need for flexibility in the pace of upgrades.
A Different Approach
For Ari Rastegar, CEO of Rastegar Property Co., renovation is central to his company's strategy. The apartment owner targets smaller apartments with fewer than 120 units around technology hubs, such as Raleigh, N.C.; Nashville, Tenn.; Tampa, Fla.; Austin, Texas; Dallas; Houston; and Phoenix.
By focusing on smaller properties, Rastegar doesn't have to compete with private equity, which usually chases larger assets. He has specific requirements for the properties he purchases. For example, he wants them to be within a $5 Uber ride to restaurants, bars and entertainment venues.
Once he purchases the properties, Rastegar begins a heavy-duty rehab. It includes new roofs, plumbing, electrical systems, insulation and siding, among other efforts.
"We're going to take them down to the stud," Rastegar says. "Then we can deliver a Class A experience for our end-users and be able to charge them less money than new construction. In some instances, we can charge 30% to 40% less than the new construction that is right across the street."
With renovations such an essential part of the strategy, Rastegar didn't slow down during the pandemic.
After a brief pause, MAA restarted its renovation program in June. "We had good interest in them and continued from there," Grimes says. "There was good demand."
Still, MAA completed fewer renovations in 2020 than it has in past years. But a return to normalcy hasn't been a one-size-fits-all approach for MAA. For instance, in southern Orlando, where tourism has been decimated by the pandemic, MAA has stopped renovations and not yet started up again. But in northern Orlando, renovations still pencil out.
"In Orlando and Houston, those markets are a little tougher, but we'll go back as they recover," Grimes says. "I bet on Orlando coming back before Houston right now."
Willis says some owners have pushed forward with renovations, while others have put on the brakes. The reasoning usually depends on the ownership structure.
"Institutional investors are more likely to continue with the renovations as they typically have more resources and a specific exit plan for the asset," Willis says. "Most individual owners are taking a wait-and-see attitude to protect their cash flow."
Smart Home Upgrades
If one thing has changed with renovations during the past decade, it's the emergence of smart home systems. The pandemic may make those systems even more popular.
Rastegar thinks his two- and three-story buildings are positioned to thrive in a post-pandemic world where people are wary of elevators and gyms and want to reduce the number of objects they touch. Many of his apartments have touchless entry and smart technology.
"You can literally open the door with your phone," Rastegar says. "So, it provides a lot of safety."
Other companies have noticed that the pandemic seems to have made residents more welcoming of smart home features. Before the world went into lockdown, MAA started rolling out smart home and bulk internet programs (which offer service at a cheaper rate than residents would find on their own). They programs became very popular with residents stuck at home.
"The timing of the rollout of the bulk internet package, with more people spending time at home and working from home needing fast, reliable connectivity, has been very beneficial to our residents," says Tim Argo, Senior Vice President of Finance for MAA.
The REIT's smart home package includes a security system, thermostats, lights and moisture sensors. "People do seem to appreciate the automation as they're spending more time in their apartment," Grimes says.
Like its traditional renovation program, MAA can adjust the rollout of its smart home features based on supply and demand.
"Doing it unit by unit allows us to be flexible," Argo says. "We're openly evaluating demand and the ability to serve our residents and get returns."
Atlanta-based RangeWater also makes smart home offerings a priority. RangeWater Director of Innovation Carl Walton says the company goes through its portfolio and evaluates where it can add new technology. Some properties are better candidates than others for upgrades like smart thermostats, locks and lightbulbs.
"An older property tends to be easier to 'upgrade' being that it features more standard fixtures, which is easy to swap to smart bulbs," Walton says. "A community built in the 2000s, however, may have been built to incorporate LED lights. Those are a bit tricky to simply exchange a bulb to bring it up to today's standard."
Amenities
If there is one thing that the pandemic has changed with renovations, it's amenities. There have been changes in both the types of amenities and what's inside amenity spaces.
With offices closed during the pandemic in many parts of the country, many apartment firms are working to make their communities more work-from-home friendly. "In our common area repositioning program, we're adding more workspaces to support work from home," Grimes says.
While Rastegar thinks people will go back to the office, he wants to give residents a place to work at home.
"While people are working from home, they have a place to be within the complex that is safe and distanced," Rastegar says. "They can sit outside and do their work and enjoy the weather."
As Rastegar designs the common spaces in the properties that he acquires, he keeps social distancing in mind. Even when COVID has passed, he thinks people will still seek more space.
"People want outdoor workstations," Rastegar says. "We've built outdoor amenities that have large wood desks and sitting areas with outdoor Wi-Fi. Open-air, socially distanced amenities bode well in a post-COVID world, as opposed to investing in gyms and all these other things that people are scared to death of."
Interior Touches
While COVID has had a tremendous effect on the pace of renovations, it hasn't necessarily changed many in-unit features.
"There was not a huge change as it relates to the pandemic," says Grimes. "We have added additional workspaces where we have the space. In addition, the bulk internet program and the smart home program have been well received as residents spend more time in their apartments."
RangeWater has focused on making its kitchens look like they're in a high-end home with cabinets that extend to the ceiling, built-in shelves, tile on the backsplash, gas appliances and granite and quartz countertops. "Our potential residents make a decision to live with us within the first few seconds of entering our homes," Walton says. "We have to blow them away instantly. Investing in our kitchen space, an area they'll use daily, is one way to win them over."
Just as MAA is flexible with its renovation pace, it can also adjust the type of renovations, whether it is a heavy, more expensive renovation or a lighter, less expensive one. In many of its markets, it has seen higher levels of new supply come online. With its renovations, the company wants to have a gap between its offerings and that new supply.
MAA installs granite countertops, new cabinets, flooring, lighting and custom paint with its heavy renovations. The REIT is also finding success doing a lighter renovation package with custom paint and new light fixtures and flooring.
"I think a real strength of our program is that we don't try to apply the same thing in Phoenix and Charleston," Grimes says. "We're not only letting the market tell us, but we've got a standardized approach to doing it. We have that [process] centralized with people that know how to do it, and they're interacting with the local market folks."
MAA will continue relying on that local expertise for a robust pipeline of renovation opportunities for when the world returns to normal and beyond.
When that happens, MAA will have no shortage of renovation possibilities. In 2016, the company bought Atlanta-based REIT Post Properties. A lot of that company's apartments from the late 1990s and early 2000s represent attractive renovation targets, according to Grimes.
"Sometimes we're pairing amenity and common area upgrades [traditional cap-ex improvements] with an interior kitchen and bath program and changing that property's position in the market, rather than just upgrading the interior," Grimes says. "I expect that to be a fairly long runway for us."
Les Shaver is a freelance writer.