Post-COVID Report: Purpose-Built Student Housing What's New?
Image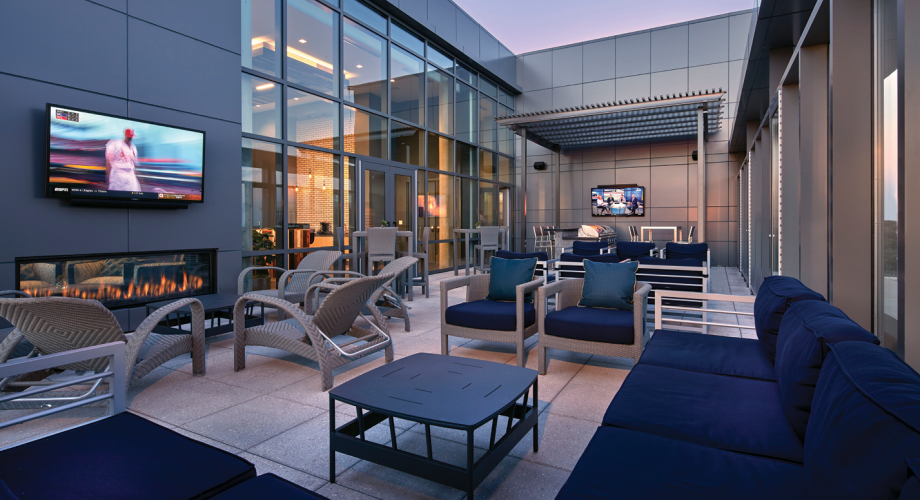 Off-campus housing — termed "purpose-built" — has become as varied as the students who attend, with seven favored features focused on health and wellness, cutting-edge technology, robust connectivity and being outdoors.
As students returned to universities this semester with pandemic disruptions still fresh in their minds, those who live in purpose-built student housing encountered changes in their living environment. 
Some began before the pandemic spread—a result of how they prefer to live, influenced by trends in the hotel and hospitality industry, health and wellness sector and technological developments. 
More changes are likely to emerge in newly built and remodeled buildings. The results have proven positive. "The move-in in August trended ahead of pre-pandemic levels, and demand was as strong as we've seen," says Scott Orphan, Senior Vice President of Houston-based Asset Living, which manages 125,000-plus beds in 40 states.
Nancy J. Ruddy, founding Principal and Executive Director of Interior Design at New York City-based CetraRuddy, an architecture and interior design firm, sees the same demand at universities where her firm works. "Buildings are fully occupied and wait lists are in place," she says.
Although some attribute part of the sector's strength to students who returned after a gap year, along with strong matriculation numbers of recent high school grads, others like Daniel Bernstein, President and Chief Investment Officer of Philadelphia-based Campus Apartments, says he thinks it's due more to the value proposition of a college education and students eager to live and study among peers and interact with professors. 
Which buildings students favor hinges on several factors. Developers, owners and design professionals queried cite the following seven key features: 
1. Targeted demographics. 
There's no single reason for what appeals to all students but the most popular reflect specific locations—closer to or farther from campus (pedestrian vs. vehicular), family finances, technology and a school's culture. 
"The [University of] Notre Dame 'spirit' embodies legacy, athletics, academics, in a culture hard to compare or relate to another," says Mary Cook, whose Chicago-based commercial interior design firm works on projects for builder Toll Brother's Campus Living® division and others. Buildings near the university are likely to include glimpses of that legacy throughout amenity areas," she says.
At Canvas, a purpose-built property near Arizona State University (ASU) in Tempe, Ariz., the area's warm climate inspired Cook's firm to design a variety of outdoor amenity spaces, including passive courtyards for reading and meditation and active roof decks with pool, hot tub, cabanas with flat-screen TVs, grilling stations, fire pits with lounge seating and Jumbovision video wall for game days. 
Bernstein, whose vertically integrated company has 23,000 beds in 18 states, also has called on different strategies for different markets. However, even before investing in an area, the company does extensive research, inclusive of student surveys, for amenities and other housing preferences.
For example, at the University of Pennsylvania in Philadelphia, many prefer a larger, townhouse-style product or smaller format apartment building walkable to campus. These typically feature more modest amenity packages based on the real estate age and need for a dense urban footprint. However, at schools such as ASU or the University of Michigan in Ann Arbor, Mich., many students gravitate to the newest, most highly amenitized buildings and pay for premium locations.
Still other housing near schools such as Texas State University in San Marcos, Texas, or the University of Central Florida in Orlando, Fla. feature more of a vehicular culture, Bernstein says. "There, students will live more than a mile from campus in an effort to find quality apartment communities at a lower price point," he says.   
2. Outdoor living. 
Developers as well as students have learned that being outdoors in fresh air amid greenery can improve relaxation and reduce stress. When COVID hit, spending time outdoors to unwind, exercise or attend class became a greater priority. As a result, buildings with sufficient land may incorporate terraces that open from study lounges, gyms and other shared spaces or lead to a lawn, often practical synthetic turf, Orphan says. 
More ground-level and rooftop areas are maximized for passive and active use, such as meditation, yoga, bocce ball, swimming and table tennis, Orphan says. Adjustments are made for site size—perhaps a lap pool rather than resort-style or lazy river pool, says Frederick W. Pierce, President and Chief Executive Officer of San Diego-based Pierce Education Properties, with 8,300 beds in six states.
Although pickleball may be the country's fastest growing sport, many purpose-built properties don't yet offer courts. "We're talking about them or multi-sport courts," says Louie Colella, Vice President of Leasing and Operations for St. Louis-based CRG, with 1,450 beds in 38 states. 
3. Health and wellness. 
The lingering effects of COVID led to more student requests for health and wellness features, which had ramped up even pre-COVID. Among the changes are more fitness centers in buildings so students don't have to head to a campus gym. New designs are bright and cheerful with glass expanses and views rather than located on windowless lower levels.
Many developers are giving students the choice to exercise in a good-sized, open gym or smaller separate area, Colella says. His firm also outfits rooms with a variety of smaller equipment in sections to support multiple uses and encourage more residents to work out. Pierce says the key is to right-size a space to bed numbers. At one new project at San Diego State University that has only 169 beds, not as many machines are required.
Some firms also install occupancy sensors and tracking systems so residents can see how many people utilize a space, says Jenn Cassidy, Senior Vice President of Denver-based Cardinal Group Management, which has 74,000 beds in 38 states. 
To alleviate anxiety and stress, managers have added hotlines for counseling, Cook says. 
Greater cleanliness is also part of the equation. More developers like CRG have increased cleaning cycles and maintenance, especially when facilities are heavily used. It has become more customary to see access to hand sanitizers, sanitizer wipes, masks in common areas, as well as posters and reminders of good sanitary practices, Cassidy says.     
4. Latest technology. 
The typical tech-centric college student owns seven devices, up from 6.4 last year, according to the "College Explorer" study from media and marketing agency Refuel. But no matter the number, students share a desire for strong, reliable, wireless technology they can access through the internet throughout a property, says architect John Kirk, Principal at New York City-based Cooper Robertson, an architecture and design firm. And that means regular upgrades, sometimes every three to five years, 
Pierce says
Part of the reason is for social connectivity but also for studying, and developers devote more space to study areas. In addition to large areas offered for collaborative work, smaller options are equipped with smart features, outlets and good lighting. 
Orphan's firm follows this trend by having both communal spaces that can convert to smaller "huddle" group areas or individual study rooms. Bernstein's firm also finds creative ways to maximize amenity areas for study such as building reading nooks into a hallway's wall cavities.
There are new special tech options, too. At ASU's Canvas building, technology is at the core of multiple majors, so Cook's firm developed state-of-the-art collaborative tech-savvy study spaces. On one level, the firm created an ideation lab equipped with interactive screens, tech-powered gathering table and special software aligned with specific class requirements. For another, it created a podcast studio outfitted with professional-grade recording equipment that students use to enhance their hand-held video productions.
Within any space, Pierce's firm uses modular and movable furniture that aims for a lounge/living room look. The trend of selecting furniture with USB connectors and data built in continues so students can also study outdoors, sometimes 
with heaters in chilly weather, Ruddy says. 
Students also want the best connections in their apartment's shared living area and bedrooms. Many buildings have discontinued cable in them since more students like to stream on laptops, Bernstein says. In some buildings, a floor might feature more state-of-the-art technology that requires a premium charge, Pierce says.
5. Apartment layouts. 
Many students seek a separate bedroom and bathroom, known as bed/bath parity, but that can be expensive and difficult to achieve in older buildings and urban footprints. Efforts are made to offer alternatives when not possible. 
"If we believe there is price sensitivity in a particular market, we may introduce different unit types such as five-bedroom/three-bathroom or three-bedroom/two-bathroom plans that can be offered at lower costs and allow a range of students to live in that community," Bernstein says. 
Because of its research, Bernstein's company offered two alternatives at the University of Michigan. The first is the high end, a well-amenitized, boutique-style, 13-story community, Six11, in a prime location contained 350 beds in bed/bath parity. "It was conceived for the most affluent students," he says. There was also a large cohort of upperclassmen and grad students who were willing to trade that A+ location for a B+ one—still near campus but not as close—for a more reasonable price if well managed and amenitized. The result at The Yard was a denser 700 bed count and structure built from less costly wood versus concrete. Both buildings successfully leased.
In urban sites with a tighter floor plate where bed/bath parity may be more challenging to achieve, and rents are more expensive, one approach has been to design double occupancy bedrooms to offer lower rent per person. However, some markets have become saturated with double occupancy bedrooms, so operators have responded by having only one student occupy a room designed for two beds, Pierce says. That was the case at his BLVD63 building at San Diego State University where, he says, "It's been 100 percent occupied for two years by letting the market determine how many of those bedrooms are single vs. double occupied." At the other end of the spectrum, Ruddy has seen a trend toward 375-square-foot microunits.
More alternatives may be needed as rents continue to rise. "We normally see a 4 percent increase in a given year but some markets have seen increases of 8 to more than 20 percent," Colella says.
6. Durable materials & sustainability. 
Students can be rough on materials, and choices have shifted to lower repairs and replacements and make cleaning easier with antimicrobial and bleach cleanable surfaces, Cook says. For flooring, carpet tiles, Marmoleum and luxury vinyl tile (LVT) are favored over long linear feet of carpet. Countertops fashioned from laminate at the lower end also appeal for price and easy cleaning and because they're made from environmentally friendly compressed woodchips and sawdust. At the higher end, Corian, quartz and granite may be selected. In bathrooms, tile is preferred, Cook says. Larger formats mean less grout to clean or repair, Ruddy says.   
While the current generation of students may be committed to sustainability and like the idea of LEED and other green certified options, most parents aren't willing to pay for the designations, which would cost developers more to achieve, Kirk says. But there are affordable sustainable steps to take depending on a building's location and area building codes. Example: Mass timber construction has a lighter carbon footprint than steel or concrete, Kirk says. Simple options are recycling programs, LED light bulbs and smart thermostats, Cook says. Pierce adds sustainable landscaping to the mix.
7. New amenities with buzz. 
More developers set aside locked storage areas for bicycles and scooters at schools with this culture. Buildings with dining halls have become more common so students don't have to leave to eat and have healthy, varied food choices. Food is prepared to be less "communal" by prepackaging it so nobody touches it and so it can be grabbed to go, Ruddy says. Even the furnishings at which some eat reflect a change, purchased in increments to be pushed together or pulled apart based on need. Sometimes, a kitchen may be equipped so a chef can show how to prepare apartment-friendly meals. If land is available, food gardens may be planted, Kirk says. 
Not all resort-style amenities are passé. At the Standard at Columbia near the University of South Carolina in Columbia, S.C., in development by CRG and Atlanta-based Landmark Properties, there will be a golf simulator and outdoor recreation deck with pool, hot tub, grilling stations and jumbotron television.
Making Moves to Campus Easier
With occupancy back to normal, CRG staggered the number of days students moved in this season so it would prove less chaotic and safer, says Louie Colella, Vice President of Leasing and Operations for CRG. The company also began virtual leasing and showings several years back and has increased this procedure, even integrating it into its website by using virtual reality renderings and videos developed by a third-party supplier. The result is that more students have become comfortable committing to a lease earlier than normal, Colella says. "This is especially true with international students who might not have the chance to tour before signing a lease," he says. 
Jenn Cassidy, Senior Vice President for Cardinal Group Management, also found that the pre-COVID increase in virtual tours and leasing sight unseen has accelerated. "This trend has definitely informed digital marketing strategies and highlighted the need for a strong digital brand presence," she says.
When it comes to move-outs, Colella says there's been no need to stagger them since that occurs naturally as students finish classes. 
Slow or Speedy Changes?
Industry participants may differ about the speed or slowness of changes occurring in this sector. Architect John Kirk, Principal at New York City-based Cooper Robertson, has found that many developers tend to find a product that sells and stick with it. His firm has worked on buildings near such universities as George Washington, Georgia State, University of Maryland and Longwood University.
Daniel Bernstein, President and Chief Investment Officer of Philadelphia-based Campus Apartments, says otherwise. "This sector is often ahead of the curve, even more so than pure multifamily players, based on the preferences and habits of the demographic served," he says. 
"This is probably best exemplified on the technology side as our customer base is quite savvy," Bernstein says. "They are streaming content, taking on-line credits, gaming, etc., so we have had to be ahead of the curve on the tech front. They often also prefer to communicate with a tech solution rather than a human being, so we have taken strides to automate and enhance our operating platform to respond to that preference."
Frederick W. Pierce, President and Chief Executive Officer of San Diego-based Pierce Education Properties, thinks how quickly changes come falls "somewhere in between," due to new constraints in securing sites. "In the beginning of the decade, many developers worked on garden-style properties that were within driving distance. In the last decade, land has become harder to assemble and sites found are smaller and closer to some part of the campus. "That forced us to go vertical, which necessitated more differentiation in our products," he says.
Barbara Ballinger is a frequent contributor to units.