"My RPM Story" – Alyssa Martin
Image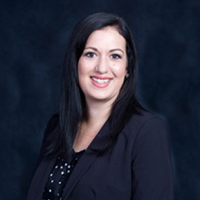 I joined the RPM industry in May 2012 after having a wonderful resident experience in my student-housing community at the University of Colorado Colorado Springs. I was double majoring in international business and marketing and working in a family counseling center, where I managed office staff and billing. I didn't know exactly where I wanted my career path to go at the time, but I knew I wanted to work with people. With everyone in my student-housing community office being so outgoing and helpful when I returned home from class or work each day, I quickly realized how much I wanted to be part of a team like theirs.
When the property changed management, a leasing agent approached me and encouraged me to apply with the company, called Griffis/Blessing. I soon became a leasing agent too, working with an amazing team. I'm now a property manager for Griffis/Blessing in Colorado Springs. My responsibilities include monitoring income and expenses effectively and proactively, supervising online reputation management, encouraging team members to achieve high closing ratios, and setting outstanding customer service standards.
Since the very start of my career in RPM, I have had endless opportunities to achieve my goals and excel at any tasks in front of me. I have also met so many talented people who are driven to achieve success, and I have pursued my own professional development, thanks to Griffis/Blessing's encouragement and support of its employees. In 2013, I completed my National Apartment Leasing Professional (NALP), and in 2015, I completed my Certified Apartment Manager (CAM) designation courses. Today, I also serve as education committee chair of the Apartment Association of Southern Colorado, which has expanded my knowledge in the ever-growing RPM industry. RPM has been one of the most rewarding careers I have had! 
As an RPM Careers ambassador, I hope to show other young professionals how worthwhile this industry can be. During my own RPM journey, I benefited from the mentorship of industry leaders who helped me reach my greatest potential, and I look forward to doing the same for others as an ambassador. The business is continually evolving and provides opportunities for career advancement in many different roles — so please use me as a resource to learn more about this growing industry!
If you know someone who would make a great RPM Careers ambassador, email Sarah Levine.