Modular Builders Laying a Foundation in the Multifamily Sector 
Image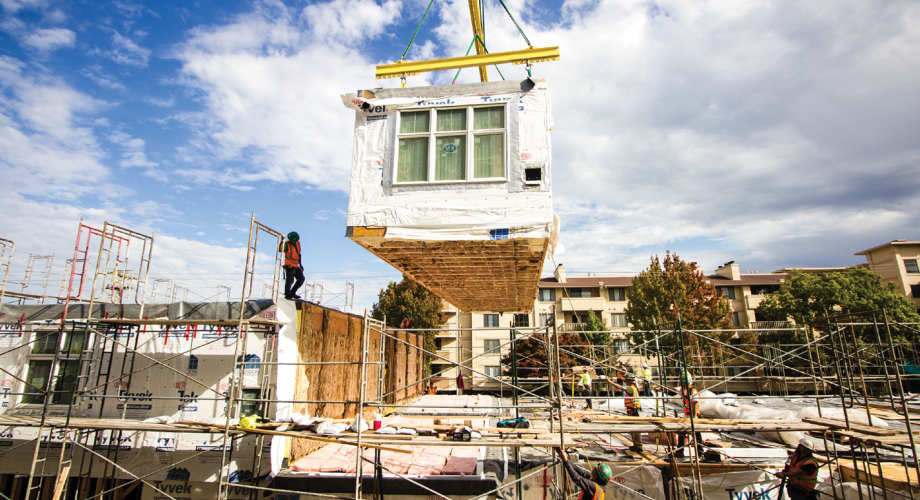 Modular builders are gaining more than a mere toehold in the multifamily sector as inflation, the "Great Resignation" and other factors have combined to boost interest in prefabricated, factory-built units. 
The permanent modular construction (PMC) industry—as opposed to buildings designed to be relocated and reused multiple times—reached a $12 billion market size in 2022, accounting for just over 6% of all building starts, a figure that has nearly tripled since 2015 (when it was 2.14%). That's according to the 2023 annual report from the Modular Building Institute, which focuses on the commercial segment of the industry, and which cites lower cost, schedule predictability and environmental and worker safety benefits as among the reasons why. 
About 255 modular manufacturing companies in North America generate at least some portion of their revenue from the commercial modular industry, MBI estimates, adding that 24 such manufacturers reported total production of about 8.1 million square feet, or about 338,000 each; MBI estimates the total output of all modular manufacturers at 86.3 million square feet. 
And its analysis of 62 one- to 10-story modular projects—nine in Canada and 53 in the U.S., including 15 in California, five in Washington and three each in Massachusetts, Pennsylvania, Tennessee and Texas—showed the average size to be about 24,000 square feet, with an average of 37 modules. The average time to complete, from approval to occupancy, was 309 days, while the average cost was $6.7 million, or $278.84 per square foot. 
The multifamily sector represented the largest market for the modular industry for the third year in a row, accounting for nearly one-third (32.3%) of the total, significantly above both its own market share in recent years—24% in 2021 and 21% in 2020—and other common uses in 2022, like office/administrative (19.1%), institutional/assembly (17.5%) and education (15.6%). 
MBI's analysis of 15 modular multifamily projects showed an average size of four stories, 59,718 square feet and 81 units, and an average completion time of just over a year (380 days). Cost data provided for five of those projects totaled $9.8 million, with $4.2 million (43%) for the modular portion of the project. 
"PMC buildings are subject to the same building codes and requirements as site-built structures, depreciate in much the same manner, and are classified as real property," MBI's annual report states. "This segment of the industry provides construction-related services for the successful design, manufacturing, delivery, installation and finish-out of commercial and multifamily buildings." 
Avalon Building Systems, based in Canton, Mass., has put together more than 25 multifamily buildings totaling approximately 1,000 units across several Northeastern states, says Owner Paul Oliveira, who adds that the company handles residential and commercial construction, the latter including townhouse developments, schools and, soon, hotels. 
"More and more developers are coming to us because they realize they can't find tradespeople," he says. "They want the efficiency in terms of cost and speed that modular provides for them. A lot of them don't want to hire construction crews. We come in and drop a building, and it's reasonable [cost-wise], it's palatable." 
To meet the needs of current clientele, Avalon and other builders have been moving toward units that are smaller and thus more affordable, Oliveira says. "They see the price increases, and they're trying to cater to the masses, to get them in the price range they need to be," he says. "We're seeing a lot of efficiency units; we're seeing a lot of one-bedroom units." 
Perhaps partly as a result, Oliveira is hearing considerably less than several years ago from builders wanting to achieve LEED certification, although some state-level policies, like the Massachusetts Home Energy Rating System (HERS) required on every project, help encourage environmentally friendly building. "What we build out of the factory is very high-efficiency," he says. 
Avalon Building Systems has shifted in the direction of modular because Oliveira foresaw a decade ago that finding tradespeople would become increasingly challenging in a knowledge economy. "People are not going into the trades anymore," he says. "Would they rather work at Google, and play table tennis and drink lattes, or would they rather be in the field? It's very, very hard to find workers now. Modular essentially addresses that." 
Avalon's factories are primarily located in central Pennsylvania, where the cost of living is much lower than many of the areas the company serves vis-à-vis prime markets on Martha's Vineyard and Nantucket, Oliveira says. "The factories provide people with a job, a career, that pays fairly well," he says. "Many other [companies] turn to modular for that reason. They can't find the workers; they can't find the crews. When we manufacture and deliver a product, it's 90% done. It makes their lives easier." 
Affordability 
Guerdon Modular Buildings, based in Boise, Idaho, has been doing large-scale commercial modular construction, mostly for apartments but also hotels, since the mid-2000s. Paul Dille, Director of Marketing, says he's not sure of the exact count but figures the company does about 10 projects a year. Historically, the company's work has been centered in California, "in markets where the labor rate and all-around construction rate was extremely expensive—where it penciled the best," he says. 
But the need for market-rate workforce housing has been on the rise overall and in other western areas beyond California, particularly in mountain resort locations, Dille says. Guerdon has three active development sites in Colorado and one in Montana where the developer is essentially building an entire town. 
 "All of these are for the local workforce, people working on the ski hills or in town at shops," he says. "They're all pretty nice finishes on the inside, so it's not a low-end product, by any means. These towns are trying to figure out ways to get workers there." 
Guerdon is also putting together a workhouse housing project in Daly City, Calif., just south of San Francisco, for which the local school district is the customer. The 56-unit building, on the property of an elementary school that relocated its soccer fields to accommodate the prefab structure, will be aimed at teachers and other district staff. "We're getting rid of their two-hour commutes, and they can literally walk to school next door," Dille says. 
Modular apartment buildings are not that different from any others once they're completed, he says. "A lot of people think modular construction is this whole different animal. The delivery method is, but the products we're putting into the building are comparable—the same 2-by-4s, the same panels—all of these are pretty similar to what you see on the construction side." 
The company's reach spans between 650 and 800 miles from its factory in Boise, which is why states like California and Colorado have been high on its list, Dille says. "We're building full volumetric. It's completed," he says. "The carpets are in, the walls are painted, the toilets and fixtures are in. We ship it on a truck. The typical general contractor will do all the groundwork, put the foundations in, and then the modules show up and get craned up. The exterior still needs to be finished, as far as what kind of 'skin' they're going to put on it." 
Think Outside the Box 
San Francisco-based architect and engineer Charles Bloszies, FAIA, focuses his work on urban infill and socially responsible projects, which has led him to design a number of congregate housing shelters for the homeless. For a recent project in Redwood City, Calif., he partnered with XL Construction company and a modular outfit called Silver Creek to create a $50 million, 260-unit community out of modular construction. The 200-square-foot units, each of which has its own lock and key, along with a bathroom, are arrayed in a campus-like setting. 
Through this project and others, Bloszies has seen benefits to modular construction related to time and cost. The site work happens simultaneous to the factory construction, which can shave three months off the typical construction schedule for a site as big as the Redwood City development, which was completed in a year, he says. That project cost about $230,000 per door, compared to the $600,000 to $800,000 conventional construction would run in San Mateo County, where Redwood City is located, he adds. 
For architects, the nature of modular construction means they end up focusing, almost like automobile designers, on optimizing "what's in the box," Bloszies says. While wearing his structural engineer hat, one challenge he has noticed with modular construction is analogous to the "last mile" problem with telecommunications, except in this case, it's the last six inches. 
"How do you connect what's in the box with what's outside the box?" he says. "Connecting the sewer lines can be tough to solve; it has to be tightly connected." 
Another advantage that modular companies bring is their tendency to constantly think about efficiencies in the factory and innovate, Bloszies says, which is what's helped lead to greater interest in modular construction during inflationary times. 
"Developers are always trying to build more efficiently," he says. "There's a pretty big delta between modular and conventional construction. It's all about the economics of building, the cost of the components, and the time required to put them together.… Prefabrication is finally here to stay. But it's still in its infancy in many ways." 
Ed Finkel is a contributor to units.