NAA Member Logo, Usage Guide & NAA Brand Guidelines
This logo is a registered trademark of the National Apartment Association. It may be displayed in color or in black and white (shown below). Please do not use the NAA Member logo in any shade other than 100%.
To ensure visibility and legibility, the NAA Member logo should never be reduced below the minimum size of 1.375 inches wide for print, or 100 pixels wide for digital applications.
Click on the links below to access the NAA Member logos. To download the file(s) to your computer, right-click on the text and select "Save Target As". For MAC users, control-click the text and select "Save Link As".
*High resolution files are ideal for printed material (such as business cards, magazines, letterhead and brochures).
**Low Resolution images are ideal for websites and HTML-based emails.
Logo Misuse
The NAA Member logo is a valuable asset and should be properly used and protected. The logo should never be altered. Please see below for common mark misuses.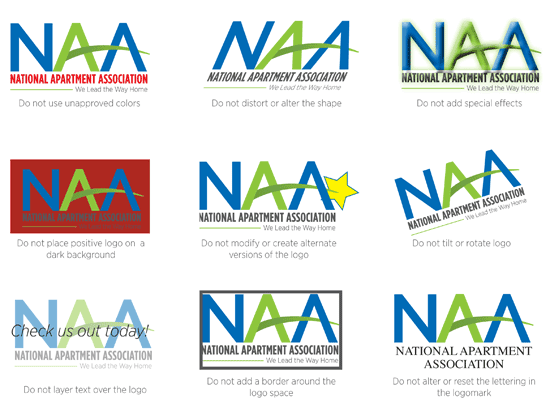 NAA Brand Guidelines
Download the full NAA Brand Guidelines
Questions?
If you have any questions about logo usage or require a different file format, please contact NAA's Communications Department at 703-518-6141.