Maximize Resident Engagement with Energy Efficiency
Image
Apartment residents are attitudinally more environmentally conscious compared to homeowners, according to a survey of apartment residents commissioned by National Apartment Association. This and other details about residents' attitudes toward eco-friendly behaviors can be useful in marketing apartments to potential residents and in engaging and retaining residents.
NAA enlisted the Shelton Group to conduct a survey of apartment residents to measure their familiarity, engagement and attitudes toward energy efficiency. The fall 2017 study of 1,000 renters found that while both renters' and homeowners' were primarily motivated by the desire to save money, apartment residents came out on top in responses related to protecting the environment and owning responsibility for it. In fact, 58 percent of apartment residents gave environmental reasons as top reasons to engage in energy conservation vs. 38 percent of homeowners. Renter respondents ranked the following reasons: To protect the environment and save natural resources; to be responsible and not waste; to preserve the quality of life for future generations; and to reduce greenhouse gas emissions and curb climate change.
Apartment dwellers tend to skew younger and more urban than homeowners, and both of those traits are generally linked more closely to environmental awareness. Also, since homeowners clearly have more control over their home improvements, costs savings are more transparent.
But, are apartment residents putting their money where their mouths are? Indeed they are. In fact, 81 percent of them already engage in behaviors that promote energy efficiency, such as adjusting thermostats, unplugging power strips, replacing incandescent bulbs with LEDs or CFLs and purchasing Energy Star® appliances.
Even more impressive are apartment residents' commitment to water conservation. A notable 90 percent of them report doing some sort of water conservation activity. Topping the list were running full loads of laundry, reusing towels, turning off water while brushing teeth and habitually taking shorter showers. It's important to note that the first two activities might be more related to convenience for those residents without an in-unit washer and dryer, but given the prevalence of laundry facilities in apartment communities, it seems likely that a high percentage are consciously engaged in these activities for the purposes of conserving water.
The importance of costs cannot be overstated, however, as nearly one in five apartment residents have moved, or considered moving, because high utility bills. These respondents were more likely to be in the 18-44 year-old age group, and earn an annual household income of less than $75,000.
Mention Energy Efficiency at the First Touchpoint
A missed opportunity may be in store for leasing professionals who fail to discuss energy efficiency from the get-go. One in four residents said that knowing how energy efficient an apartment is would have a "strong" to "very strong" impact on their decision to rent it, and only 13 percent said it would have no impact at all. More than half of the survey respondents said they wanted to be told about energy-efficient features of the apartment during their initial visit to the apartment community as they are being shown around. Yet, only 17 percent reported that the leasing agent discussed it during that time. Nearly one in five residents also expressed the desire to see something about energy efficiency on the apartment community's website. Prospects frequently review an apartment community's website before going to a property, so this is a good opportunity for property owners to highlight green features online. In addition, leasing agents can build up a community's sustainability profile to close a deal.
If You Don't, They Will
Apartment residents are becoming more concerned about utility costs and are generally becoming more environmentally conscious. Offering resources that help residents save money on their monthly expenses, in addition to helping them incorporate environmentally conscious elements into their lifestyle, adds to the value of their apartment community and helps build loyalty.
In the survey, about 45 percent of respondents were open to asking onsite management for energy efficiency improvements. One-third had already asked their apartment management to install energy efficiency upgrades, including LED lighting and smart thermostats. This is an opportunity for onsite teams to provide extra customer service for their residents. In addition, when onboarding, apartment management can provide a brochure, guiding new residents on effective use of energy efficient features at a community. Apartment management firms can create their own materials or use ENERGY STAR's online brochures.
Sixty-eight percent of survey respondents were "somewhat interested" to "extremely interested" in receiving information about how to make their apartment more efficient; only 12 percent showed no interest. Women and those in senior or subsidized housing were more interested in receiving information. Dallas and Seattle residents scored higher than the national sample.
There are other ways to reach out to residents regularly and offer energy- saving tips. Community newsletters, which include important information about events at apartment communities, are valuable resources for residents and scored at the top of the list for mode of communication among survey respondents. Property owners can include season-specific tips for their residents, such as switching ceiling fans from summer to winter settings.
The most appealing features for survey respondents were energy-efficient windows, followed by Energy Star® appliances. Those who chose windows were more likely to be female of Generation X or older. Of the oversampled markets, Orlando, Seattle and Dallas scored higher than the national average for high-efficiency windows as a sought-after feature. At the other end of the spectrum, smart or cloud-connected (remotely programmed and controlled) lighting and thermostats did not score well. The latter should not be confused with programmable thermostats, which were ranked appealing by 54 percent of respondents, particularly among 18- to 54-year-olds.
Outside of one's apartment walls, residents chose recycling and onsite composting as the most desired community feature. Those in top metro cities were more likely to find sustainability features appealing. This was in line with the Shelton Group's prior research, showing that recycling continues to be the No. 1 way consumers feel they can be environmentally conscious and active.
Messaging is Key
Apartment residents were given a series of statements and asked to rank the ones which would be most impactful in their decision to move into a community, assuming all other factors —including price, location and amenities — were held constant. Statements which resonated most were focused on lower utility costs, followed by quality construction and high standards ensured and maintained by the community's owner and manager. In fact, quality arose a number of times throughout the survey results and was highly correlated to residents' perceived measures of sustainability.
A statement about the management's commitment to making the world a better place by being environmentally responsible also ranked high, so messaging that encompasses both quality and the environment will be most effective.
Oversampled Markets and Implications of Survey Results
ATLANTA —  The market was generally less environmentally-conscious, with respondents having indicated less interest in renewables and energy-efficient features.
Consider: Efficiency features should be emphasized in relation to lower utility bills, especially for properties geared toward younger residents.
CHICAGO —  Residents were more likely to ask their property managers and management companies to make energy efficiency improvements, and they showed more interest in LEED certification, bike storage and car sharing compared to the national sample.
Consider: Energy efficiency should be marketed with a highlight on increased comfort, cost savings and environmental benefits.

ORLANDO — With a younger sample, the Orlando market was significantly more interested in renewables and smart features compared to the national sample, and they were much more likely to correlate efficiency features with building quality.
Consider: High-efficiency windows, onsite renewables and smart features should be installed and promoted where possible, especially for properties marketed towards younger residents.
SEATTLE —  Residents were more environmentally-conscious and reflected a strong sense of responsibility for sustainability-minded decisions. Seattle respondents showed more interest in smart features, certifications and information on efficiency.
Consider: Marketing should focus heavily on efficiency and green features, as well as certifications. Resident engagement programs should include tips on how to be more efficient and promote efficiency upgrades.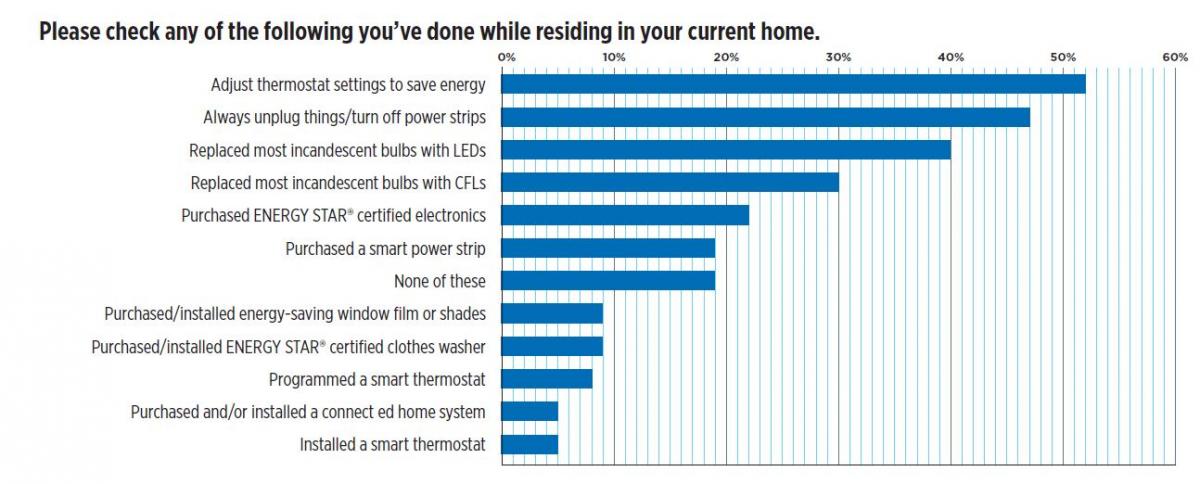 Emerging Trends
Technology. Innovations in sustainable- home technologies will continue to be developed at a fast pace. Survey respondents were interested in new technologies, including real-time energy usage. Phone-enabled products and applications that incorporate innovative, sustainable features for residents have the added convenience factor. Residents who have access to a home energy monitoring system will learn more about their energy habits, and can adjust those habits in order to save money.
Transportation. Apartment communities that offer new transportation options also have unique marketing opportunities. Younger survey respondents were interested in communities that offer convenient bike storage or proximity to bike-share stations. In addition, new products, such as TransitScreen®, offer real-time arrival and departure times for buses, subways and trains. Onsite property teams can assist residents with ride-sharing arrangements for their daily commutes, which not only save money for residents, but help reduce local traffic congestion. Localities are increasingly offering HOV options to reduce travel times for vehicles with multiple passengers. These are just some examples of how property owners can augment and promote already-existing transportation options.
Energy. New generations of sustainable products integrate with Alexa, smartphones and Google platforms, offering residents the convenience of monitoring home-energy systems, including smart thermostats, appliances and lighting. In addition, concierge services will allow property owners to offer residents more recycling options, such as textiles and batteries.
Property owners that consistently innovate apartment unit features and provide tools for leasing agents to effectively market sustainable advantages will have an edge over their competitors in the amenities race.
Holly Charlesworth is Manager, Government Affairs; Paula Munger is Director of Research and Analysis; and Paul Yoon is Research Analyst for NAA.
---
Methodology & Background
The Shelton Group collected 1,000 responses from U.S. renters online during fall 2017. Although the completes were based on a national distribution, an oversample of 50 to 100 completes were collected for Atlanta, Chicago, Dallas, Seattle and Orlando. The margin of error was +/- 3 percent.
Breaking down the demographics of the respondents, 53 percent were female and 47 percent were male. The plural majority of respondents were 25 to 34 years old at 29 percent, while the next largest cohort of respondents was 35 to 44 years old at 18 percent.
The largest share of respondents, at 31 percent, stated an income of $24,999 or less, while 30 percent stated incomes of $25,000 to $49,999.
Most respondents had some form of postsecondary education, with 36 percent having attained some college education or an associate's degree and 28 percent a bachelor's degree.
In terms of race, 70 percent of respondents were Caucasian, 13 percent were African-American, 8 percent Asian, and 7 percent Hispanic. Other minorities were reported by 2 percent.
Sixty-five percent of respondents lived in an apartment building of 50 or more units, and most of these were garden style buildings, meaning a one-, two-, or three-story apartment community laid out in a garden-like setting.
In terms of apartment type, 64 percent of respondents lived in a standard apartment, while 21 percent lived in subsidized or affordable housing; 8 percent in senior housing; and 7 percent in student housing. Detailed by building age, the largest share of respondents at 42 percent lived in apartments built between 1970 and 2000; 23 percent of apartments were built after 2000, while 22 percent were built before 1970.
Exactly half of the respondents' apartments had two or more bedrooms, while 44 percent had one bedroom.
About 39 percent of respondents reported having an electric heat pump or furnace, 23 percent reported floor, wall or other built-in, hot-air units, and 22 percent reported having a natural gas furnace. For utility billing, 57 percent of respondents paid separately for their heat, 82 percent paid for electricity separately, and 28 percent of respondents paid for water independently of rent.
As to whether or not respondents' apartments had ENERGY STAR appliances, 32 percent said yes, 26 percent replied no, and the remainder did not know.