Image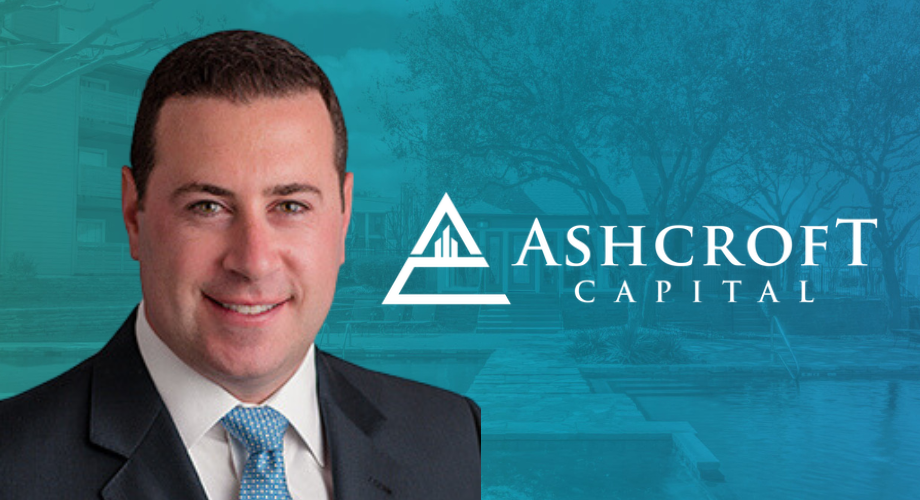 Since its founding eight years ago, New York-based Ashcroft Capital has built a sizable presence in Texas and the Southeast. units
 

takes a deep dive into the company with Scott Lebenhart, Chief Investment Officer at Ashcroft Capital.

Scott Lebenhart is responsible for overseeing Ashcroft's acquisitions, as well as developing and implementing the firm's investment strategies. Since joining the company in 2018, he has spearheaded the acquisition of more than 8,500 apartment homes. 

In this interview, Lebenhart discusses Ashcroft's investment philosophy, its growth in the metro Atlanta market, its recent expansion into North Carolina and the company's plans for 2023. He also provides his insight and analysis into how the apartment market as a whole will perform in the year ahead.   
Give us a quick summary of Ashcroft Capital, its investment strategy and its portfolio.
Lebenhart: Founded in 2015, Ashcroft Capital is a vertically integrated multifamily investment firm that has acquired 55 communities comprising more than 17,000 units since its inception. We currently own 38 communities, for a total of more than $2.6 billion in assets under management, throughout several high-growth Sun Belt metros in Texas, Florida, Georgia and North Carolina. We have an in-house property management company and construction affiliate, Birchstone Residential, which allows us to deliver high resident-satisfaction levels and optimize financial returns.
Ashcroft focuses on capital preservation while striving to return strong, risk-adjusted cash-on-cash to investors, and we are capitalized with high net worth, family office and institutional capital. Ashcroft specializes in value-add multifamily real estate, and we have a proven track record of extracting maximum value from every asset we acquire. Ashcroft does not attempt to play real estate cycles; instead, we use a disciplined and patient approach to acquire and hold excellent apartment communities within well-located submarkets of large and growing U.S. metros. During the past two years, Ashcroft has entered the metro Atlanta apartment market and built a sizable portfolio there.
What is the attraction of this market to Ashcroft?
Lebenhart: When exploring additional markets for potential expansion, we really felt strongly about the positive fundamentals in metro Atlanta. There's so much to like about this market and multiple reasons to believe demand for rental housing will stay strong over the long term: Very strong job growth, population growth and income growth. There is an abundance of high-paying jobs and a relatively low cost of living, which means people want to move there and those who are there want to stay. 
Atlanta has a diverse economy featuring the headquarters of more than 30 Fortune 500/1000 companies, and its business-friendly environment and highly educated workforce mean employers will continue to find it a good place to call home. There are multiple employment centers throughout the MSA, which provides us with the ability to build a diverse portfolio that benefits from different demand drivers. 
Since we first entered the Atlanta market in 2021, we have grown our presence quickly but strategically by staying true to our strict acquisition criteria, and we now own 11 communities in the metro area. 
What are your investment and growth plans for 2023?
Lebenhart: 2023 will be a very interesting year for all of us in the multifamily space. In a general sense, we plan to continue to pursue high-quality properties in strong Sun Belt locations. More specifically, we will focus our acquisition efforts on unique properties that feature mostly two- and three-bedroom units and offer residents home-like features such as direct/indirect access garages, large floor plans and 
townhome-style units. 
At the end of 2022, we entered the North Carolina market with our purchase of Midtown 501 in Chapel Hill, and we intend to build a sizable presence over time in the Raleigh-Durham-Chapel Hill area that will afford us economies of scale. 
Over the course of 2023, we will look to continue to acquire properties in our existing Sun Belt markets (Dallas-Fort Worth, Atlanta, Orlando, Tampa, Jacksonville and Raleigh-Durham) while also pursuing opportunities in South Florida, Austin, San Antonio, Charlotte, Nashville and Phoenix. The current volatility in the capital markets can make acquisitions a challenge, but we remain committed to taking advantage of the right opportunities when they present themselves. 
Broadly speaking, how do you see the apartment market performing in the year ahead, and what will the investment sales landscape look like?
Lebenhart: Given the rise in interest rates and the resulting spike in the cost of homeownership, we believe demand will continue to remain strong for rental housing. In our own portfolio, we are still seeing rental growth and strong occupancy rates. We continue to see strong demand for the units that we renovate. 
As for investment sales, word of some deals here and there is beginning to trickle out, which is helping to create those data points and benchmarks that everyone is looking for. It's clear there is still significant capital pursuing multifamily properties. However, the debt market remains volatile, but lenders are working to get creative in order to give borrowers options on both acquisitions and refinances. Until there is some more clarity on interest rates and the price of debt, sales will continue to be slow, but I expect some clarity midway through the year, and transaction volume should pick up at that point. As more deals begin to happen, I believe that will help to restore some investor confidence. And while some distressed sales definitely will occur throughout the year, I don't expect the flood of these properties later this year that some others are expecting.