The Great Lifestyle Reboot
Image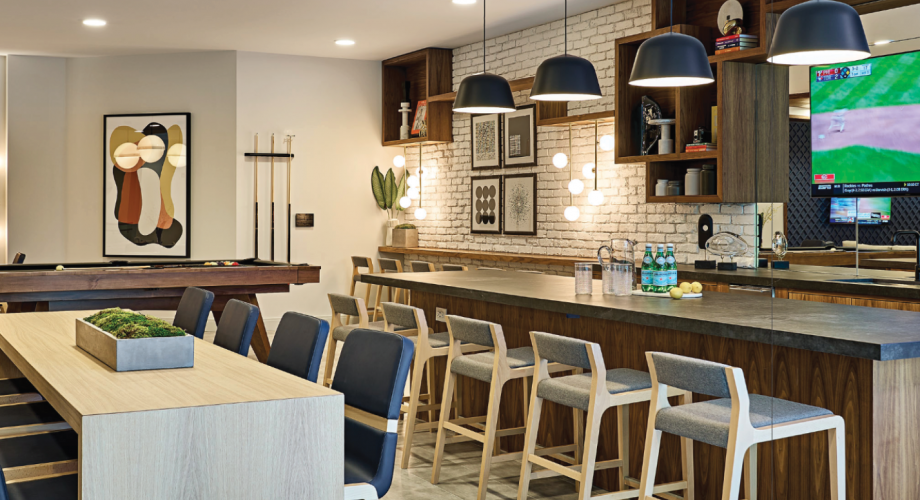 How technology, wellness and programming are transforming amenity spaces.
As the rental housing industry and its residents continue moving toward post-pandemic life, developers and property managers are adapting existing amenity spaces and adding new ones to reflect a host of lifestyle reboots.
Among the most prevalent are those that focus on wellness, offer greater access to nature, work options, connections to fellow residents and pamper pandemic pets. Developers also recognize the value of making designs flexible in case new scientific evidence emerges or trends change again.
Ideas stem in large part from hotels, which understood early on how wellness, health care and customer service are a magnet to attract guests. Multifamily buildings model many of these concepts, says Brian Gretkowski, President of Sparrow Asset Management, a New Jersey company that focuses on pre-development consulting and property management.
Recently, there's recognition that good design can foster wellness, the subject of Chicago-based commercial interior designer Mary Cook's white paper, "Can good design be good for your health?"
For example, having ergonomic furnishings that help users sit properly to type at a keyboard placed at the proper height in a corporate office have made their way into co-working spaces in multifamily properties, says Cook, President of Mary Cook Associates. "We have to do more than beautiful, which can have a positive impact, but great design can do so much more," she says.
And throughout the industry, there's a pandemic-driven push toward programming these spaces. "Instead of lounge spaces with soft seating, there are intentional co-working areas and more," says Alison Mills, Vice President of Design and Development at Chicago-based CRG, a developer and investment firm operating in more than 30 states with 1,400 units under management and 700 units under development.
To deliver programming with a seamless experience, managers like Charlotte, N.C.-based RKW Residential depend increasingly on the latest technology along with their staff to elevate the service level.
"What we're focusing on is the entire resident experience—from the physical items in their units and common areas such as lighting, air quality and dedicated spaces for health and wellness such as a meditation room or sauna with a eucalyptus shower, all through a one-touch app," says CEO Marcie Williams, whose firm recently was acquired by the New York-based firm Alfred. "Nobody wants spaces that just sit there," she says.
The following are six key considerations for delivering top amenity spaces:
1. The right amenities for the right demographic
With so many amenities from which to choose, multifamily owners, operators and design experts base selections on demographics and locations.
"As we design our amenity areas, we research our target demographic to ensure what we build will be areas where they will be able to relax and enjoy these spaces," says Joe Morrison, President of Myrtle Beach, S.C.-based Sands Companies, which has built 2,000 cottage-style units in four states.
At its Garden City Beach, S.C., property, Swells Cottage Apartment Homes, which is near the beach, Sands Companies wanted the community to have the beach vibe of an outdoor fire pit with Adirondack chairs and sitting areas by the pond. At its Hardeeville, S.C., community, Argent Cottage Apartment Homes, there's a kitchen for entertaining complete with a wine-dispensing machine. At several new communities—Cape Cottages in Leland, N.C., and Argent in Hardeeville, the developer is installing putting greens and bocce ball courts as those amenities grow in popularity among the resident base.
CRG is planning to build more children's rooms as young residents remain longer and have children. "This is new in our pipeline in our Sun Belt locations," Mills says.
At the Soleste Grand Central Miami property that RKW Residential manages for developers The Estate Companies and PTM Partners, an onsite salon offers nail, hair and massage services for residents' convenience, says CEO Williams.
For the luxury renter, international architecture firm JAHN designed 70,000 square feet of amenities at 1000M, a 73-story residential tower rising at 1000 South Michigan Avenue in Chicago's South Loop, developed by Time Equities, JK Equities and Oak Capitals. When finished in 2024, it will include indoor and outdoor pools, a 10,000-square-foot co-working floor, a pet spa inside and a dog run outside. Instead of private penthouses, the top floor contains additional amenities such as two kitchens, dining rooms and a lounge offering spectacular views, says architect and JAHN Managing Director Philip Castillo, FAIA. "The pandemic forced us to rethink how people live and work," he says.
2. Activities for small and large groups
After being holed up in their apartments, residents are eager to see others, some close up and others still 6 feet apart. Chicago-based developer, investor and manager Draper and Kramer, Incorporated took its cue from hotel-style lobbies by planning a large community lounge near the entrance of its 225-unit property, Moda at the Hill, under construction in St. Louis' historic The Hill neighborhood.
The lounge serves as a gathering spot with seating, bar and game room, but there are smaller areas with mailboxes placed around the periphery rather than in a separate room, as well as spaces to play games, co-work and care for pets, says James Elsman, Vice President of Development for Draper and Kramer. His company manages more than 8,000 units across Chicago, St. Louis and Texas.
The same idea is showing up for other interests. Fitness centers may be large and fully outfitted but there may be smaller rooms with interactive equipment such as Peloton bikes and the Mirror, which Northbrook, Ill.-based MZ Capital Partners has done in recent properties, including its Vantage Naperville in suburban Chicago. The company manages five buildings and has three under construction in Chicago and Tennessee.
For children's rooms, CRG places them adjacent to a fitness center so parents can keep an eye on their kids while working out, says Mills. In the fitness centers, it's adding technologies that better integrate on-demand virtual classes that became popular during the pandemic. "Instead of doing a workout on the phone, residents can connect wirelessly to a TV and select from a variety of recorded classes and be in a space with other people," she says.
Sands Companies offers flexibility in fitness spaces by having areas for 15 to 20 residents to use cardio equipment or free weights, and smaller studios for one to four to use fitness mirrors or instructor-led programs.
Well-equipped kitchens are used more for community events and demonstrations. "In some cases, a chef may use a video screen to teach how to prepare healthy food and attendees bring containers to take home what they prepare," Cook says. Others set up a place to let residents enjoy their own food, the idea behind Atlanta-based developer Wood Partners' supper club at its Wayland, Mass., Alta at River's Edge property, which has a bar, wine-dispensing machine, kegerator and fireplace, says Managing Director Steve Hallsey.
Party rooms have become more versatile with outdoor balconies at some sites and barn doors inside to open and close off square footage for different size functions, says Gretkowski. "While these aren't a big income generator, we can charge an amenity fee in our market," he says.
Wood Partners is adding rooms that offer a surprise such as a speakeasy at its Alta North Central Arizona property. "We don't show it on the tour but tell prospects we have a secret room that can be activated by a switch in a bookcase. A winding staircase leads up to seating. It's a teaser for prospects that residents enjoy," Hallsey says.
3. Workspaces that rethink health, privacy and connectivity
With hybrid work solutions more widespread, developers pay greater attention to how shared workspaces can keep residents well after many worked and schooled from the kitchen table, a bed or couch during the height of the pandemic. That led to neck and upper back pain and headaches and more, Cook says. "Pandemic-related stress resulted in an explosion of other maladies like nail biting, skin picking, hair loss and hair pulling," she says.
Besides having the right furnishings, glass expanses offer privacy yet permit views of others for a social connection. During the pandemic, MZ Capital Partners made changes at its newest communities, switching at Vantage from group workspaces to glass-enclosed cubicles off the lobby that could be reserved. The company also is placing two of these on each of the building's three floors near elevators for those who want to work apart. Sands Companies offers a similar "pod" for privacy with soundproofed walls, desk and strong Wi-Fi connectivity.
Wood Partners sets apart its workstations so users won't feel they're in a fishbowl, says Hallsey. It also soundproofs them and charges a small fee or rents them on a first-come, first-serve basis at its new Alta Revolution property in Sommerville, Mass.
For those who want to work and people watch, CRG designed a laptop bar that faces outdoor amenities in its St. Charles, Mo., property, Chapter at The Streets, which will open next spring. At other properties, the developer plans to have a retail operator activate lobbies with a café facility rather than coffee stand so residents linger, Mills says.
4. Outdoor spaces with a purpose
While having enough outdoor space has become a given—and particularly a pool, grill, firepit and lounge, how it's programmed varies by location and resident demographics. At Six Points at Bloomfield Station in Bloomfield, N.J., which Sparrow manages for CHA Partners, multiple courtyard spaces offer options for different active use.
But new options are also popping up. Now, pickleball has become one new darling. "It started out at retirement communities because players run less, but it's also popular because it doesn't require a lot of land or maintenance," says Michael H. Zaransky, MZ's Founder and President. Another new use is space designated for beehives, inspired by developers seeing high-end resorts hire bee-keepers to tend them and harvest honey.
5. Health and wellness aids
Better air purification systems have become a high priority to keep amenity spaces healthier. One example is the use of bipolar ionization tubes, a proactive HVAC technology that emits negative and positive ions that seek, attack and remove contaminants and germs rather than just react to them, says Steve Levine, President and CEO of Fairfield, Conn.-based AtmosAir Solutions. The technology is in use at multifamily buildings, 85 Jay Street in Brooklyn and the Ritz Carlton Residence in White Plains, N.Y.
MZ Capital Partners is installing thermostats in common areas and apartments so temperature can be controlled individually. "It's only incrementally more expensive," Zaransky says. CRG pays close attention to the quality of materials it uses from low VOC paints to rubber mat tiles in fitness spaces, Mills says.
And almost everyone knows nature is therapeutic, leading to more seamless integration of indoor and outdoor areas, known as biophilic design, says Megan Van Beck, a senior interior designer and Associate Partner at Minneapolis-based BKV Group. "The technique is an interesting interdisciplinary challenge," she says. When starting the interior design for City Club Apartments CCA CBD Detroit, a mixed-use high-rise apartment building, BKV started outside at the entry and coordinated with the architectural and landscaping team to craft a progression from exterior to interior. "One could almost eliminate the walls and think of the entire space as one," she says.
6. Pampered pets
With pets more essential in residents' lives, pet parks are no longer placed randomly. CRG has made them an essential part of an overall design. "We've added fun tile, accent walls and art to ensure these spaces appeal and are where people want to take their pets and socialize with other owners," says Mills. The company is considering adding pet vending machines at its new St. Charles property, close to Katy Trail State Park.
At the same time, some developers are moving them to garages and other indoor spaces for inclement weather and to make it easier to remove bad odors, Cook says. Wood Partners is doing its first heated indoor dog park at its Alta Revolution property because of Boston winters, Hallsey says. A garage also offers pluses for warm climates, sites with a limited footprint or urban locations, says Gretkowski. His firm adds an underground flushing component, dog-height water spigot and outdoor lighting for night walks.
In Today, Out Tomorrow
What's here today may be passé tomorrow.
Old-style package rooms, which never seemed big enough once the pandemic accelerated online ordering and delivery, are getting larger, sometimes with fewer lockers because of the need for overflow space. Michael H. Zaransky, Founder and President of MZ Capital Partners, recommends having some lockers for smaller parcels, open shelves, controlled access and surveillance system. Some buildings are also transitioning to concierge services that receive packages and deliver to residents' doors, such as Moda at the Hill.
Business offices/conference centers may be viewed as obsolete, Zaransky says. "Today, everybody has a notebook computer and wireless printer." If they are included, they tend to be used more by individuals than large groups, says Brian Gretkowski, President of Sparrow Asset Management.
Basketball courts are not used at some properties, so expect fewer to be built. This may also be true for other large, single-use spaces, says Alison Mills, Vice President of Design and Development at CRG. Include in that category large movie theaters with stadium seating. Many properties find it more practical to set up a big flat-screen TV, indoors or outdoors, because residents like to gather and watch a sports event or a reality show like "The Bachelor," says Mary Cook, President of Mary Cook Associates.
Coffee bars may not be gone, but these days, they're likely to offer a bigger menu, from cold brew to wine, other drinks and even candy, says Joe Morrison, President of Sands Companies. At some, they may offer free beverages for a few hours in the morning, then shift to charging, says Mills.
Door locks with keys are being replaced by hands-free entries for residents with a QR code or fob, says Zaransky. Having these makes the resident experience much easier for themselves, visitors and also building staff, Gretkowski says.
Less carpeting and more wood and luxury vinyl tile (LVT) floor products make surfaces easier to clean, Zaransky says. But the choice may sometimes depend on the type of building. High-rises might opt for a hard surface since pets "often can't wait and experience leakage," says Steve Hallsey, Managing Director for Wood Partners, but garden-style units with individual entries and stairs may use soft materials. Granite countertops may be fading, replaced by quartz since it's considered more durable and easier to clean, and also available in a range of fresh palettes, Mills says. The quartz also may be thinner—3/4-inch, which is aesthetically more pleasing for its modern look, Gretkowski says. White oak is showing up in more luxury buildings for cabinetry—though expensive, Mills says—and replacing darker-toned laminate cabinetry. If not white oak, Gretkowski sees more gray painted wood cabinets.
Beige and pastel colors are less popular, and despite all the talk about gray fading, it's still in at many multifamily buildings, along with black, says Zaransky. The bottom line, "Neutrals, including navy, will dominate for a long time," Mills says.
Shared entries, hallways and elevators spur concern about sharing air due to viruses spreading, leading MZ Capital Partners to develop its Vantage Mundelein, Ill., property with separate entries from the outdoors, akin to a garden-style model.
Barbara Ballinger is a freelance contributor to units Magazine.