Finding the Right (Re)position 
Image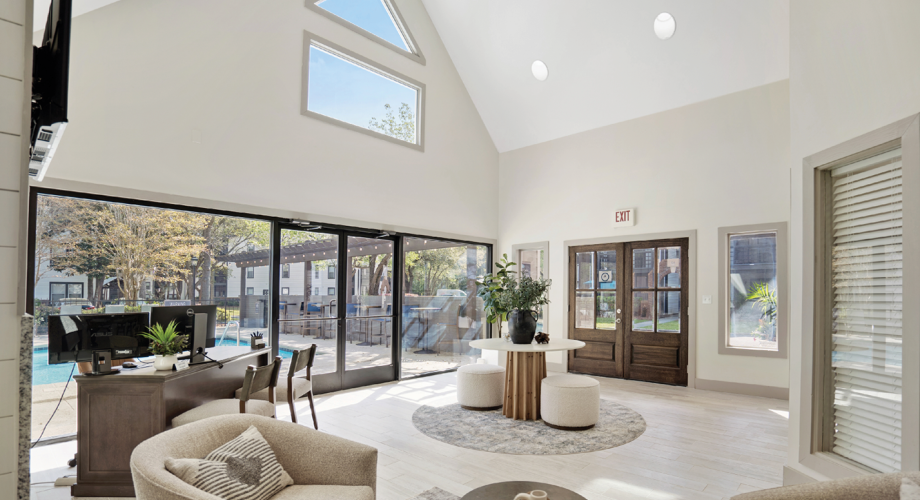 Coming out of the pandemic, multifamily companies are honing their asset strategies for the current environment. 
Multifamily management companies have exited the pandemic frying pan and its myriad challenges and entered the fire of galloping inflation, spiking interest rates, bank failures and overall economic uncertainty—at least for the near future. 
Depending on their asset base, market class, geographic locations and overall corporate strategy, companies are undertaking asset repositioning in different ways and at different paces with an eye toward positioning themselves as strongly as possible going forward. 
A Value-Add Strategy 
Memphis, Tenn.-based Fogelman Properties, with more than 31,000 apartments in 104 communities across 13 states, is a vertically integrated investment company specializing in acquisitions, property management, construction management and asset management, which has adopted a value-add acquisition strategy, according to company President Mark Fogelman. 
"Typically, we are buying a property in the hopes of repositioning it through some type of accretive action, with either a different management strategy, different pricing strategy, or rebranding and renovation," he says. "Most of what we do is a combination of those." 
In 2022, Fogelman acquired seven properties in four states totaling more than 1,660 units and $291 million in transaction volume. "We were buying an asset that we felt was deficient in some way, shape or form, and we were updating and rebranding the asset," Fogelman says. "We were enhancing resident amenities, such as the addition of pickleball courts, or the conversion of tennis courts into pickleball courts, and expanding fitness centers. Most importantly, we were looking for properties that had an older interior and coming into those apartments and adding solid-surface countertops, hardwood floors and updated appliances." 
The Portico at Lanier in Gainesville, Ga., near Lake Lanier, and Westbury Mews in Summerville, S.C., were among those repositioned properties. "In both of those, it was a matter of doing a full renovation and update to all the resident common areas, the clubhouse, the fitness center and the pool areas. Then we did full renovations of the apartment units," Fogelman says. "When we're renovating a property, we don't empty it out. Typically, we have renovated and non-renovated units to offer. The demand for the renovated units is much higher. That gives us a good indication it's being well-received in 
the market." 
The overall strategy is nothing unique to his company, which has been "a very in-vogue play" for the past five to 10 years, Fogelman says. "With so much new development in the past couple of years, and so many developers delivering propertiesat the high end, at high rent levels, it provides the opportunity to take older properties and bring them to a higher level that is just below the level of a new property, at rental rates that are higher than today but at a discount to newer properties," he says. 
The strategy is on pause, however, since transaction activity slowed noticeably starting in the fourth quarter of 2022, Fogelman says. 
"With the recession fears and the rapid rise of interest rates, it has put a major halt on investment activity for everyone right now," he says. "With interest rates shooting up 150 to 200 basis points from what your home mortgage would be, the valuations of properties have gone down around 20 percent. We still feel like there is incredible opportunity to reposition assets, and our firm is built on the premise of bringing in all the internal skill sets to reposition—from marketing and branding, to construction and design—but the opportunity to buy right now has been curtailed because the pricing does not work." 
And even if a company can make those numbers work, the debt markets are so unstable that it's difficult to know where to get financing, Fogelman says. "Our capital stack is anywhere between 50% and 60% financing," he says. "When those markets are unstable, it's hard to even talk about the real estate play. Six months ago, we could talk all about the different opportunities out there. Right now, there's very little liquidity and few transactions." 
Fogelman remains alert for when the right opportunities come along but intends to do so in a very prudent manner, given the current economic climate.  "The transaction market is at a stalemate. Sellers have an idea of values up here, and buyers are down here, and the gap is wider than it's ever been. If the financing markets improve and interest rates come down, everything is back on again." 
An Aggressive Process 
Albuquerque-based T&C Management LLC was ready to get back on again after the two-and-a-half-year period from 2019-22 when rents were flat due to the rent and eviction restrictions imposed during the pandemic, says CEO Chuck Sheldon. With around 1,900 units in 205 properties, all within the Albuquerque metropolitan area, the company purchased 90 units and partnered on another 107 renovations between July and September 2022 that went on the market in early 2023. "We started an aggressive process to make up some of the ground lost from rent increases and collections," he says. 
T&C is rehabbing one 40-unit building, putting in about $12,000 per unit to redo kitchens and bathrooms, and repositioning the rent from $650 to $1,100 per unit. "We're seeing that the market is going to be able to support that, and we're moving aggressively to do it," Sheldon says. The company is also putting about $800,000 into another 40-unit building that will have a new roof, lights, stairs, heating systems, hot water systems and all new tile and fixtures in the bathrooms. 
The company also undertakes lighter repositionings involving upgrades to elements such as flooring and paint, Sheldon says. "We're pushing across the board to do that," he says. "The company-wide strategy is that we're trying to help people with upward mobility who are looking at getting on their feet.… At the same time, we're helping the company by achieving market rents, getting vacancy down and collections up. We're giving people a better place to be that's upgraded." 
Sheldon has noticed an influx of out-of-state investors buying up and upgrading buildings on the high end of market rate. Rents are typically up 6% to 7%, which is "decent, sustained" after the flatlined rents of the COVID years. "Everybody took a beating," he says. "We're talking about people who are standing in the marketplace. They're trying to leverage the situation. They are improving the value of the property, and their rents, so they have a better market situation." 
Sheldon was concerned during the last state legislative session in New Mexico about calls to boost rent control and clamp down on increases without consideration to cost; he says his company's utility costs alone skyrocketed 38%, from $1.1 million to $1.9 million, from 2019-2022. "That's a heck of a jump," he says. "Part of the argument was, 'You need to be able to control costs.' But rents are going up by virtue of the fact that they were flat for two and a half years, and costs went up. People want to survive and make their places better, but also recoup some of the losses over the last three years." 
A Constant Process 
Edward Rose & Sons doesn't get involved in acquiring and repositioning assets, but the company owns about 70,000 units overall in about 140 properties in 15 states, which means it's constantly in the process of updating portions of its portfolio, says Mike Gorman, President of the Indianapolis division. 
"Recent events have not changed our thinking," he says. "The bulk of our repositionings are the renovations we've done to date with the intent of keeping them relevant in their given submarket. We've been able to adjust rents to slightly below new competition and have enjoyed very healthy returns." 
The company undertakes full interior renovations with community upgrades like amenity areas that include newly built firepits, as well as full clubhouse remodelings that incorporate business centers, Gorman says. "We have an eye toward making them very competitive with the new competition in the marketplace," he says. 
Gorman cites the Trophy Club in Richmond, Va., Sunscape in Roanoke, Va., and Latitudes in Indianapolis as among the top rehabs Edward Rose & Sons has undertaken in recent months. "Those are ones where we've done full rehabs or renovations, and extensive clubhouse models with community upgrades in the common areas," he says. 
Edward Rose & Sons hasn't sold a completed asset since the late 1980s and intends to hold its properties in the decades ahead, Gorman says. "Some of [the repositioning] is out of necessity, just given the age of the asset, others are to keep it in the 'A' category in their given submarket," he says. "We've been successful differentiating ourselves in the marketplace from some of our prior comps [pre-
renovation] to competing against the newer comps in a given submarket. We thought it was important to protect the quality of the asset, the quality of the residence. We didn't want to see the asset deteriorate over the years into functional obsolescence."
Ed Finkel is a freelance contributor to units.