Image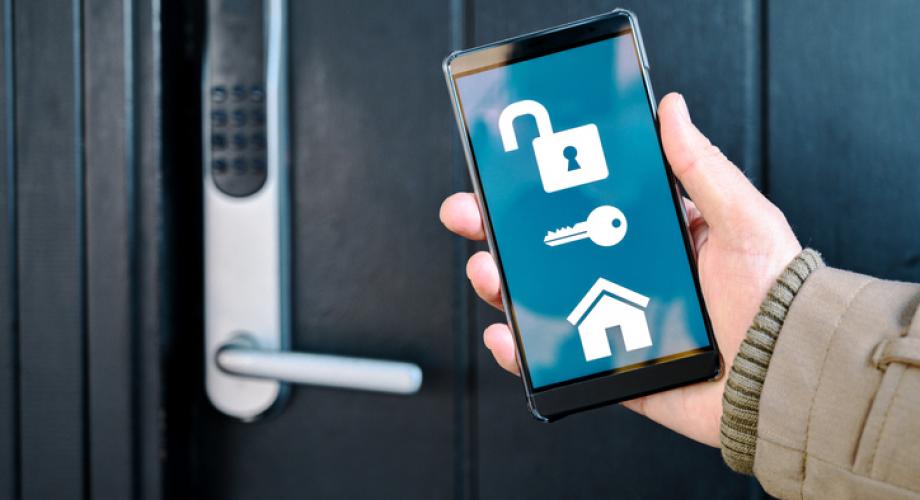 Updated February 15, 2022
Mobile-access solutions promise convenience, security and bottom-line benefits.
With the world operating more remotely than ever, many people are spending significantly more time at home. But being more present in a home or apartment does not reduce the need for enhanced safety and security. In 2020, the FBI reported an estimated 6,452,038 property crimes in the United States, resulting in losses of approximately $17.5 billion. Now, more than ever, sophisticated security measures are becoming a non-negotiable for rental housing residents.
The good news for property managers and residents alike is that an emerging selection of mobile access technologies offers new convenience and peace of mind by sealing off weak entry points, making it possible to grant and revoke access remotely, eliminating the problem of lost keys and more. 
But what are the benefits of a mobile access strategy? Are there any noteworthy drawbacks? And what should property managers and owners be aware of when it comes to implementing mobile security solutions at their apartment buildings?
The Mobile Moment
The initial appeal of mobile access stems from its ability to enhance resident convenience. The best solutions allow users to securely and easily open doors and access defined areas from their mobile device, all without carrying a physical key. This eliminates the issue of lost keys and the disruption of accidental lockouts.
In the past few years, however, the popularity of mobile access solutions has reached new heights, particularly during the COVID-19 pandemic, as building operators look to introduce amenities that minimize shared surface contact and limit any need for close physical contact. Today, mobile access technologies are increasingly seen as a competitive differentiator and a way to help position properties as modern and able to keep pace with evolving resident expectations.
Assets and Advantages
While the seamless and convenient experience for residents looking to accessing their residence is the main appeal, mobile access from a smartphone or other mobile device can also provide targeted accessibility and security for building entrances, elevators, parking garages, fitness centers, swimming pools and anywhere else where access is limited to residents. This also eliminates the need for residents to carry multiple keys—another expense, inconvenience and point of security vulnerability.
Mobile access solutions allow property managers to easily and remotely issue and revoke credentials, direct to the mobile device, simplifying changeover during move-in and move-out. Removing the possibility of shared cards or fobs closes a common security loophole and reduces the chance of unauthorized subletting. Some solutions offer the flexibility of assigning individual staff member access rights across single or multiple sites and making them available either 24/7 or restricted to certain days and times based on need. Staff no longer need to spend time going back and forth between different locations to authorize, collect and issue keys, cards and fobs.
Bottom-Line Benefits
Mobile access platforms can prove highly useful in promoting a property to potential residents. Today's residents are seeking out the benefits of Internet of Things (IoT) and smart technology to make daily tasks easier to manage, elevating the status of buildings offering advanced services like digital keys.
Avoiding the necessity of changing mechanical keys also saves time and resources on the resident reception process. Because the best solutions allow users to control multiple properties from one single cloud platform, there is no need to have personnel onsite to provide physical keys or renew physical keys for residents and/or visitors.
Another revenue-enhancing benefit of mobile access platforms is the practical incentive it creates for residents to download a building's mobile app. By providing residents with a reason to download a property's app, mobile access platforms can boost visibility for any other services and promotions that the property and the app may offer.
Caveats and Concerns
Some residents and property managers and owners may express privacy concerns regarding mobile access technologies, specifically the worry that digital key data may present a risk of providing unauthorized users with room access.
Rental housing professionals would be wise to address this risk by working with providers and solutions that offer advanced encryption capabilities for the delivery, storage and use of digital keys. Another potential point of concern may come from residents unaccustomed to or unsure about using digital keys. This is particularly prevalent among older demographics who are, anecdotally speaking, not as tech-savvy. Clear communication—and ensuring that building staff are specifically trained to fully address any questions that residents may have—can help overcome any discomfort or uncertainty.
Getting Started
The ease of deploying a mobile access platform into an existing security program depends largely on the specific solutions provider that a building or community has partnered with. Owners and property management professionals should not be afraid to ask tough questions about the current and future compatibility of prospective systems and should prioritize solutions that can readily incorporate new functionalities without resulting in high hardware replacement costs.
Of course, before incorporating any security solutions at their community, developers, builders or property managers should first reach out to their security partner/provider for guidance.
In the past, increased security often translated into reduced resident convenience. But with modern mobile security solutions, that is no longer the case. Mobile access platforms are just the latest example of how property security and resident convenience can be combined, providing a true win-win scenario for multifamily owners/managers and their residents.
Nicolás Aznar is President of ASSA ABLOY Global Solutions.
More Questions
Leading questions rental housing professionals have concerning mobile-access solutions should include:
What systems does this mobile access platform need to specifically integrate with to function?
Does this mobile access service need to be incorporated into an existing resident-facing mobile app, or can it be offered as a stand-alone solution?
What are the maintenance requirements for the system in question? Does it include lock battery status reporting to help address low hardware batteries quickly and efficiently?