COVID-19 Weekly Economic & Industry Update: August 26, 2020
Economic Impacts
Source: U.S. Department of Labor, through August 8, 2020.
Continued claims for unemployment (a measure of the insured unemployment rate) declined for 3 consecutive weeks.
After declining for two weeks, initial claims for unemployment rose once again to over 1.1 million for the week endingAugust 15th as the pandemic continued to wreak havoc on the labor market. 
Source: U.S. Bureau of Labor Statistics.
States with some of the highest unemployment rates in the country (Massachusetts, New Jersey, Rhode Island) experienced impressive job growth in July.
Only two states, New Mexico andAlaska, experienced monthly job losses.
Source: S&P Dow Jones Indices LLC, S&P/Case-Shiller 20-City Composite Home Price Index.
The S&P/CoreLogic CaseShiller 20-City Composite Home Price Index continued to make solid gains, increasing 3.5% year-overyear in June.
Once again, Phoenix, Seattle and Tampa emerged as the strongest markets for home prices.
Although prices rose in all cities included in the index, growth was weakest in Chicago, San Francisco and New York. 
Source: U.S. Census Bureau and U.S. Department of Housing and Urban Development, New Residential Sales, August 25, 2020.
New home sales skyrocketed in July, reaching levels not seen since the end of 2006.
Low interest rates and pentup demand continued to fuel activity well into the summer.
The median sales price increased 7.2 percent over the year.
This bright spot in the economy will be challenged in the coming months due to supply constraints and rising costs to build.
Source: National Association of Realtors ®
Existing home sales were also impressive in July, growing at a record 24.7 percent pace on a monthly basis.
As was the case with new homes, inventory remained a challenge, down 21.1 percent since last year, with far fewer affordable homes for sale.
Sixty-eight percent of homes sold in July were on the market for less than one month. 
Commercial Real Estate Industry Impacts
According to NAIOP's monthly Coronavirus Impact Survey, building acquisition and development activity increased across all property types from June to July.
Seventy-six percent of survey respondents reported delays in obtaining permits or entitlements for construction projects.
Half of respondents now expect Covid-19 to impact their business operations for more than a year, compared with 40 percent in June and only 36 percent in April.
Sixty-seven percent expect to maintain current staffing levels; 15 percent plan to reduce staff while another 15 percent plan to hire more employees.
Forty-three percent of multifamily respondents have seen acquisition activity of existing buildings in markets in which they are active while another 39 percent have witnessed new development activity.
One in five multifamily respondents reported that more than 10 percent of their residents had not paid their rent in full and on time through mid-July. 
Source: NAIOP Coronavirus Impact Survey, July 2020.
Apartment Industry Impacts
Source: RealPage, Inc. Rent Payments August 1 – August 20, 2020.
Several midwestern and southern states were among the weakest for rent collections through August 20th.
Compared to this same period last year, Nevada, Oregon and Washington saw their rent collections decline the most, ranging between 5 and 8 percent.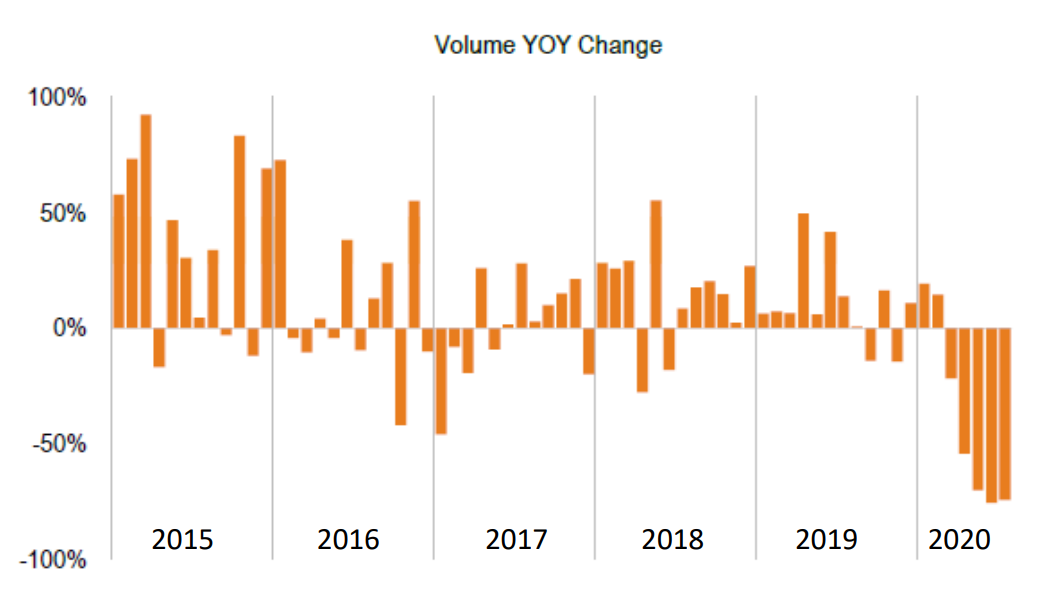 Source: Real Capital Analytics Capital Trends: US Apartment July 2020.
Multifamily deal activity fell 74% year-over-year in July. However, the apartment sector is still the largest, most liquid portion of the U.S. market.
Apartment monthly deal volume is still trending above the lows set in 2009 during the Global Financial Crisis.
Prices increased 10.4% year-over-year in the nonmajor metros, whereas in Boston, Chicago, Los Angeles, New York and San Francisco, prices declined 0.2%.