2023 NAA Excellence Award Winners
Image
Image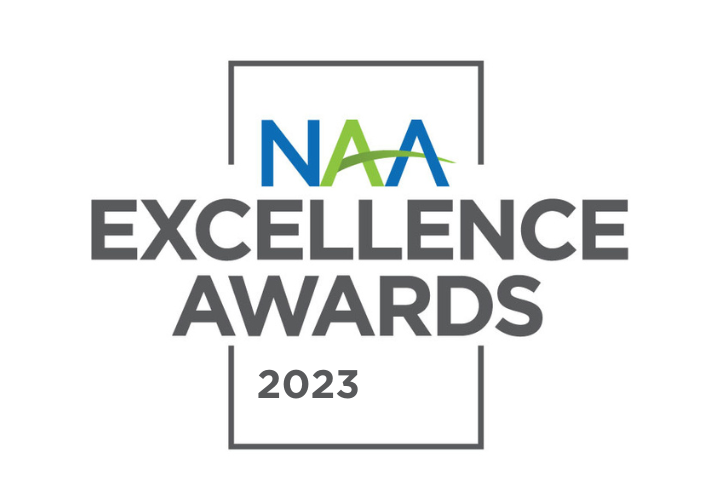 Each year, NAA's Excellence Awards, the "Excels," recognize excellence and leadership in the rental housing industry. The Excels celebrate communities, industry professionals and affiliated apartment associations who make unique contributions to the industry. Congratulations to the 16 winners of the 2023 Excels, announced in June at Apartmentalize.
Image

Austin Apartment Association

Austin, Texas
One significant professional development effort the Austin Apartment Association (AAA) did was double the sessions that are presented as part of their "Community Information Exchange." The overall goal for this series was to highlight specific regulatory changes or updates in all aspects of property management. The objectives for these sessions were for members to hear about the latest changes in legislation, learn of updates around safety codes or new maintenance requirements and other housing challenges. 
Advocacy efforts in 2022 surrounded the city's passage of two significant rental regulations: A right to organize ordinance for residents and a permanent notice to cure ordinance. AAA established a digital campaign among other items to urge members and others to take action. AAA members responded to calls-to-actions, which resulted in over 8,400 messages sent to the Austin City Council. Additionally, members testified at City Hall against the ordinance. Due to AAA's advocacy efforts, the requirement was lowered from a 21-day notice of proposed eviction to a seven-day notice. Additionally, the ordinance exempts properties of four units or less; the language was amended to include that this ordinance does not apply when a notice of non-renewal has been issued at the end of a lease. 
AAA's annual Doc & Gayle Young Food Drive is a volunteer-driven fundraiser to purchase Thanksgiving food items for its 11-county jurisdiction in central Texas. What began in 1986 with $600 in total donations has grown into a fundraising campaign that brings in over $50,000 each year. This year, AAA surpassed its goal and exceeded $1,000,000 in donations since the inception of the Food Drive, in its 36th year. 
The 2022 APEX Awards were a record-breaking year with nominations in both the individual and property award categories, which totaled nearly 30. The winner in each category is evaluated by a secret online review, so the customer and resident experience are considered in the selection process. AAA's 700-attendee goal was far exceeded with over 950 members in attendance to celebrate the industry's excellence.
Image

Louisville Apartment Association 

Louisville, Ky.
The Louisville Apartment Association (LAA) began a workforce development program to create a funnel of qualified job applicants for its members. LAA partnered with local organizations that have networks of diverse individuals seeking employment. Its Education Director created a curriculum to teach job seekers skills for both leasing and maintenance positions, plus basic job skills. LAA also partnered with Kentucky Works to make this an apprenticeship program. 
The bills that LAA's efforts have helped stop include H.B. 131, which would have allowed for rent control ordinances; H.B. 159, which would have provided automatic expungement of records in actions for forcible entry and detainer; H.B. 429, which also related to forcible entry and detainer; and S.B. 21, which would have prevented housing providers from considering applicant's certain previous actions, arrests or criminal charges among other things. 
The main initiative of the Outreach Committee is to give back to the community, and for the past several years, LAA has heavily focused on its partnership with the Louisville Coalition for the Homeless. The Coalition has an annual event where they provide backpacks full of supplies like t-shirts, blankets and socks for 600 individuals in Louisville's homeless population. During the holidays, the Louisville Apartment Association reaches out to help spread holiday cheer in the spirit of giving. Thanks to its members, it was able to support 31 families during the holidays. Another way it was able to serve the local community this past year was through disaster relief. Kentucky was hit hard by tornadoes leaving people with nothing. LAA members quickly came together and raised over $10,000 to be able to supply 70 mattress sets and deliver them to Bowling Green, Ky.
One of LAA's main initiatives is to foster a sense of community and inclusiveness among members with its weekly "Where Are We Wednesday" series. In this series, LAA highlights a different member property each week on its social media and email list. It has featured more than 70 properties since beginning this initiative. People who work at the property or for the management company are always excited to be featured. Other members comment on the posts congratulating them and say they enjoy seeing a new property each week.
Image

The Residences at Brighton Marine

WinnResidential, Boston
The Residences at Brighton Marine consists of a six-story, 112,000 square-foot apartment community for veterans in Brighton, Mass. Brighton Marine is a LEED Gold-certified building with 102 apartments: 11 studios; 47 one-bedrooms; 26 two-bed, one-bath units; seven two-bed, two-bath units; and 11 three-bedrooms. The building is set on 1.44 acres and includes 8,600 square feet of amenity space including outdoor relaxation space, remote work and meeting rooms, computer lab, theater room, fitness center, privacy room for wellness appointments, electric vehicle charging, bicycle storage and secure package delivery.
The project's design is inspired by the neighborhood's historic architecture, particularly the animated bay fronts that characterize nearby streets. The building facades are composed of residential-scale windows and large sawtooth-style bays that are capped by a striking cornice that mirrors the angular shape of the bays, enhancing the building's character and identity. Situated along tree-lined Commonwealth Avenue and adjacent to the MBTA Green Line, Residences at Brighton Marine puts residents in the heart of a vibrant neighborhood just minutes from downtown Boston. 
The project features layered services for residents including comprehensive support for those with greater needs. A full-time Community Coordinator, also a veteran, conducts daily outreach to connect residents to services as needed. Authorized case workers also support residents. A neighborhood health collaborative assists with child development, food insecurity and tax preparation. Special programming includes addiction treatment, mental health services, holiday meals and voter registration.
The Residences at Brighton Marine can be seen as a model for how to provide enrichment opportunities and support for military veterans, active service members and their families, beyond basic housing. Previously, funding had only been set aside for homeless, low-income and/or disabled populations with 10 to 40 units and, often, with no larger bedroom sizes. Brighton Marine demonstrated the need for, and how to accomplish, workforce housing for military veterans, active service members and their families.
Image

Avalia

Bozzuto Management, Greenbelt, Md. 
Bozzuto acquired Avalia, formerly known as Marbella, in 2018. The property is comprised of 297 units: 261 townhomes on three levels with one- and two-car garages. The community has beautiful, lush landscaping with a canopy of palm trees throughout the property. The amenities, signage and building exterior paint color and unit interior were in urgent need of upgrades. The vision was to give Avalia new branding to complement the hidden gem nestled in Boca Raton, Fla.
The renovations started in September 2018 with a change of color to all exterior buildings. In September 2018, the remodeling of the townhomes began with wood-like flooring throughout the apartments except carpet for the stairs; upgraded plumbing and electrical fixtures; subway tile backsplashes in kitchens, new kitchen and bathroom cabinets; and stainless steel appliances. The clubhouse upgrades included leasing desks positioned to welcome prospects as they enter and a larger fitness center with new equipment ranging from treadmills and climbing stairs to bikes and free weights. The clubhouse bathrooms were also remodeled.
The townhomes and apartment buildings were painted white and gray with black corbels to highlight the architecture elements as well as to give a clean, modern look. The garage doors were painted black to complement the corbels. The shutters on the townhomes were painted sage green to give a pop of color. The clubhouse interior was painted white to create a high-end, luxury apartment-living vibe.
The residents at first were very concerned because they loved the original colors of the community. It was yellow/mustard and terracotta, and some residents moved to Avalia because they liked the Mediterranean colors. Bozzuto recognized their concerns and cordially invited its residents to come to the leasing office to see the color scheme of the exterior buildings, pictures of the remodeled clubhouse and amenities. It also invited them to tour the newly renovated model so they could see the enhancements and touch and feel the finishes. The feedback from the residents was extremely positive and they said their expectations were exceeded.
Avalia has also seen a significant decrease in service requests as it renovates more units. It used to service 250 requests per day; it now has 25 per day. This allows turnaround time to be the same day instead of 24 hours.
Image

Gordon H. Mansfield Veteran's Community

WinnResidential, Boston
The Gordon H. Mansfield Veterans Community, named after a veteran who was awarded a Purple Heart, has 70 units of supportive housing for veterans with different income levels including homeless veterans and veterans who have been homeless. WinnCompanies, an award-winning owner, manager and developer of multifamily housing, and Soldier On, Inc., a nonprofit that serves homeless veterans, partnered to develop the community. The Zero Energy Ready Homes-certified building is four stories and L-shaped. It features several design/construction components that make the property unique for veterans: Common areas include a "touch-down" space for visiting case management staff, a management office, a community room with an operable partition wall, a female gathering room and a second private office on the second floor for case management or telehealth use.
In addition, soundproofing was improved throughout to help with PTSD, while continuous insulation and Energy Star windows help with year-round comfort.
All units are wheelchair-accessible and fully ADA-compliant. There are also two greenhouses for individual planting, a walking trail and many outdoor gathering spaces. Additionally, a columbarium and an eternal flame are located onsite for the respectful internment of the ashes of veteran residents who wish to be interred onsite after they pass away. Each apartment is fully furnished, with a fully stocked kitchen, a dining table and chairs, a full-size bed and mattress, a dresser, a nightstand, a sofa, a coffee table and a TV console.
All units also come with cookware, bakeware, utensils, linens, pillows, sheets, towels and cleaning supplies. All utilities, cable and Wi-Fi costs are included in the rent. Meals for residents are also included in the rent. The Gordon H. Mansfield Veterans Community was named Monmouth County Planning Board's Project of the Year in 2022. It also won the NJ Future 2022 Smart Growth Award and the 2022 Governor's Excellence in Housing and Economic Development Award from the New Jersey Governor's Conference on Housing and Economic Development.
Image

Megan Orser, CEO

Smart Apartment Solutions & Smart Moves LLC,  Ann Arbor, Mich. 
Megan Orser unintentionally began in the multifamily housing industry at the age of 16 when her mother was conducting a lease-up of the first Low-Income Housing Tax Credit apartment community in Colorado Springs, Colo., and Megan rented an apartment to a walk-in prospect. 
Orser worked in a lease-up capacity for several years while putting herself through college, obtaining her degrees in communications and marketing from the University of Michigan. After graduation, Orser accepted a position as Marketing Director for a 1,100-unit apartment community that included a nine-hole golf course and a 35-slip boat marina. During a few short months, she lifted her team, and together, they rolled out an effective outreach marketing plan and leased up the marina all while leasing, on average, 60 apartments a month.  
In the next professional endeavors Orser took on, she was recognized for carrying her team by developing training practices and working side-by-side with colleagues on property acquisitions and due diligence.
Orser continues to be a rising star in all that she takes on with her local apartment associations and NAA; she is a highly recognized industry champion and her involvement is sought after by committees, NAA staff, local associations and clients. She has served as Education Chair for the Washtenaw Area Apartment Association since 2015, and she is a member of the Property Management Association of Michigan (PMAM) Education Committee. Orser has also served on the NAAEI Committee and several NAAEI task forces. She was honored with the 2021 and 2022 President's Award for PMAM. She was instrumental in guiding the PMAM Education Committee in revamping the Continuing Education for Real Estate License for Property Professionals in Michigan course to a virtual format, which increased participation 300%.  
Orser's approach to career development and rental housing education is unprecedented, drawing on her ongoing experiences onsite to give relevance and relatability to the participants. She has advanced internal trainings to a virtual format that the teams can view on-demand, and she offers this education to the industry newcomers free of charge. In addition, she has taken on changing the delivery of our team communications by bringing education every day through avenues like weekly updates, screen recordings and social media engagement.
Image

Village Green

Southfield, Mich.
Originally founded in 1919, Village Green has evolved from building single-family homes into one of the nation's largest privately held apartment companies. It was in the 1950s that the company first expanded into apartment, condominium and commercial building. Village Green Management Company and the Village Green apartment brand was established in 1966 as a separate division exclusively for developing, building and managing apartment communities. Today, the company is under the stewardship of a seasoned team who continues to guide and inspire a forward-thinking philosophy and customer-centric culture comprised of 1,300 associates. A hundred years later and the goal is still the same: To help people live better, live social and live green.
Village Green has established educational programs that begin at the outset of an associate's employment and continue through executive leadership roles. Its New Hire Orientation (NHO) is a week-long, interactive monthly program that is customized to fit associates' onboarding needs. Associates are exposed to the history, standards and mission of the company. Once associates complete NHO, they are scheduled for continued-education courses over the next 24 months. Courses are assigned based on their position and geographic location. They focus on policy and procedures as well as preparing its teams for real-life scenarios they will face throughout their careers. In 2022, Village Green successfully graduated 85% of the participants.
Village Green assigns required training based on the associates' titles, locations and career goals. Its onsite operations, sales and service teams are required to complete a total of about 80 training hours within their first year. Village Green is committed to ongoing career training and development. All associates are provided the tools to succeed and responsible for their individual career plan. It offers several on-demand training sessions that associates can complete at their convenience. 
Village Green embodies a promotion from within and people-first culture. Its development programs help teams effectively train their replacements so that when an opportunity for promotion arises, it can quickly backfill positions. Village Green is able to minimize recruiting costs, and maintain optimal operations at the site level during sustained periods of growth. It promoted 212 associates in 2022. This is equal to 23% of its associates earning promotions in one year
Image

Gables Residential

McLean, Va. 
Gables Residential is an award-winning, vertically integrated, real estate company and privately held REIT specializing in the development, construction, ownership, acquisition, financing and management of multifamily and mixed-use communities. Gables Residential owns, develops and manages communities in high-growth U.S. markets such as Atlanta, Boston, Dallas, Denver and Houston. Gables also provides third-party management services in the New York, Baltimore and Phoenix markets, among others. Gables manages over 30,000 apartment homes and approximately 430,000 square feet of retail space and has received national recognition for excellence in development, construction, management, sales, marketing, learning and development, benefits and corporate accommodations. 
Gables provides more than a place for its associates to work and buildings where its residents live – it creates an environment where all feel empowered to contribute toward a community that is vibrant, fair and thriving. 
Creating this strong sense of community requires an ongoing commitment to strengthen its diversity, equity and inclusion (DEI) principles. DEI is a cornerstone of Gables' company culture, enabling the company to develop a dynamic and diverse workforce capable of offering solutions, exceeding expectations and driving growth. It is committed to advancing and sustaining DEI efforts and plans to do so through social goals and actions. These goals included increasing workforce and leadership diversity; removing systemic inequalities; promoting a culture of inclusion and belonging; and addressing supplier diversity with a supplier diversity program.
In 2022, 59% of company promotions were awarded to those identifying as people of color; 59% of manager-level associates and above identify as female; 31% of manager-level associates and above identify as people of color; and 60% of all associates in the company identify as people of color.
Gables is also in the process of completing a thorough equity audit of policies, practices and programs. The insights collected from this process will be used this year to measure year-one advancement toward established goals for mitigating bias and inequities in policies, practices and programs. Gables is also vetting potential vendors for sustainable, scalable self-paced e-learning in the areas of implicit bias, microaggressions and inclusive leadership.
Image

Dana Duckworth, Sr. DEI & Culture Champion

Zumper, Chesapeake, Va. 
Dana Duckworth is a true champion for change—champion is even in her position title. Duckworth has championed change throughout the organization and established the foundation for an inclusive work culture. With her newly appointed role of Sr. DEI & Culture Champion, her passion for diversity, equity and inclusion propels her initiatives that make Zumper a better place.
As an active member of NAA, serving on national committees and a 2021 graduate of NAA's Diversity Leadership Program, Duckworth's dedication to serving multifamily housing has supported the advancement of DEI in the industry. Duckworth hosts multiple yearly internships to support under-resourced groups by providing valuable mentorship and real-life work experience. She supports girls by providing an internship program to Girls Inc. of Alameda County every summer. She does the same for BIPOC youth, for college interns from Harlem Children's Zone. Each internship provides the youth with an opportunity to learn and grow their knowledge of technology, business and multifamily housing.
Through the creation of her mentorship program, Win Together, she has successfully paired a number of mentees with mentors that have supported the growth and cultivated the talent of women and people of color at Zumper. She launched an internal podcast titled "Chat with the Champion—Access to Leadership," to provide the guidance and insight employees seek from executives. Duckworth was also an integral part of the planning team who launched the first Pride Happy Hour at NAA's 2022 Apartmentalize.
Duckworth has facilitated virtual acts of social good including a Move For Hunger food drive that supports those in need. In March, she organized and hosted Zumper's first in-person volunteer activity since the pandemic. Through the Black Lives Matter Employee Resource Group (ERG) she founded in 2020, Duckworth facilitated a Habitat for Humanity build day. Employees came together to build two playhouse structures to support childcare facilities serving low-income families. 
Her mentorship program has successfully paired over 40 mentors and mentees and led to successful outcomes including promotions, increased visibility and increased salaries through negotiation. The results of her internship programs are ongoing. She has provided real workplace experience for the youth of Harlem Children's Zone that supports their résumés, future and current careers. To date, this program has supported 12 BIPOC youth. She successfully integrates new hires into Zumper by cultivating an inclusive culture on day one of the onboarding process. Her dedication to inclusion has supported Employee Resource Groups and contributed to rising employee engagement scores and external recognition. 
Image

Thompson Thrift

Indianapolis
John Thompson and Paul Thrift began laying plans for their business partnership while attending Indiana State University. Those plans came to fruition in 1986 with the founding of Thompson Thrift. Since that time, Thompson Thrift has grown from a locally focused development and construction company into an integrated, full-service real estate company with a national scope. With 500+ team members, projects in 21 states, over $4.2 billion in volume, five offices and the development of over 17,700 units, Thompson Thrift has become an
industry leader. 
Thompson Thrift Serve (TT Serve) is the community impact arm of Thompson Thrift. TT Serve is committed to the company's mission to positively impact its team members and the communities it serves. TT Serve offers team members opportunities to live out its mission through three areas of impact to help direct time and resources in serving team members, local communities and international partner communities. 
Its first area of impact focuses on Miriam Movement, which supports and cares for team members during times of transition or need and celebrates positive milestones in team members' personal lives. Its second area of impact focuses on Community Service and Giving. This area offers both financial and volunteer support to Community Service Partners and numerous other nonprofit organizations locally and nationally. The third area of impact focuses on expanding its global impact. In times of crisis or through designated international trips, this area seeks to aid those who are in need in international communities. These three areas of impact make up TT Serve and guide the way Thompson Thrift serves and supports team members, communities and global partners.  
Over the course of the past 12 months, TT Serve has involved over 353 team members in service work, committed over 3,200 hours to its community and raised and distributed nearly $900,000 to nonprofits, communities and organizations in need. This includes helping those in Ukraine by delivering medical supplies and food and building churches in Central America.
Image

Anthem House

RISE Real Estate, Valdosta, Ga.

 
Anthem House is a brand-new boutique community featuring exclusively one- and two-bedroom apartments in Gainesville, Fla. It offers 185 smoke-free units that are fully furnished, boutique-style apartments with state-of-the-art cabinets and vinyl flooring. The community showcases three floor plans across the 63 one-bedrooms and 122 two-bedrooms situated in two four-level buildings.
The community is located minutes from both the University of Florida campus and UF Health Shands Hospital. Anthem House features top-end amenities and luxury fixtures, and the community is pet-friendly.
Anthem House features a 24-hour fitness center, community lounge, resort-style pool, grilling areas and secure package lockers. Each apartment comes with a full washer and dryer, stainless steel appliances, granite countertops, luxury vinyl plank flooring and ceiling fans in the bedrooms and living rooms. With 24-hour emergency maintenance, professional onsite management and conveniently situated along bus route 13, Anthem House offers elevated, boutique Gainesville living.
Since the start of fall 2022 move-ins, over 99.9% of work orders submitted have been completed in less than 24 hours. The community has maintained 100% occupancy since opening in 2021, and the community's renewal rate is 48%.
Anthem House holds multiple events throughout the year to continue to increase the resident experience and retention. From pool parties to breakfast on the go to professional photography, the community celebrates national days, residents' birthdays and more. Events included building your own flower bouquets, pizza Friday, margarita night, Friends-giving, charcuterie bar, mini burger bar and painting with a twist.
Image

BG Multifamily

Dallas
BG Multifamily works one-on-one with clients to find the right fit to provide successful talent partnerships within the multifamily housing industry. Background checked, trained and certified, its staff are fully prepared from day one at a property. Prepared, confident employees are happy employees, and happy employees make for happier communities, both the ones they manage and their own community at home.
BG Multifamily provides services for multifamily companies searching for temporary employees—both long- and short-term assistance—temp-to-hire; direct hires; training; upskilling maintenance teams; and career fairs at no cost to the client or applicant.
Focusing on the largest multifamily-centric areas, it has provided top-tier staffing for this industry for over 30 years with more than 60 offices across the U.S. and Canada. With the company's pillars of Growth, Integrity, Innovation, Fun and Teamwork at the forefront of all it does, BG Multifamily continues to focus on giving back to its communities, educating and training field employees and promoting loyalty and career growth within the multifamily housing industry.
BG Multifamily's passion is people, and whether it is helping a local property manager with temporary coverage, or a national strategic partner with a large-scale acquisition team, it delivers a signature, five-star experience. Additionally, it has an incredibly diverse workforce and leadership team that only increased with the hiring of a Vice President of Diversity and Development. In the past few years, she has been instrumental in creating programs to diversify the leadership team, create open dialogue and conversations among the entire company. 
Nearly 90% of its 271 employees are involved in their state or local apartment association or NAA. Association involvement isn't just encouraged, the company believes it's a necessity for not only building relationships but deepening passion, education and commitment to the industry. BG Multifamily attends over 80 tradeshows per year including Apartmentalize and state apartment association shows.
Recognizing the need for skilled labor in multifamily, BG Multifamily has partnered with a company to offer an unparalleled training opportunity for all our incoming maintenance candidates. With no experience necessary, maintenance candidates can upskill to become maintenance technicians, certified maintenance technicians and even lead maintenance supervisors.
In addition to maintenance training, it offers in-house leasing training for all incoming leasing field employees. This half-day class reviews important leasing fundamentals such as fair housing, building rapport and closing a lease. 
Image

Charles Stroud, President

Stroud Consulting Group/Pappas Roofing & Construction
Stroud Consulting Group, founded in 2019, serves product service companies by optimizing revenue through enhancing sales processes and performance. Pappas Roofing & Construction is a Master Elite GAF Roofer, which offers a wide variety of roofing products, materials and services. Both companies are engaged in association work at the local, state and national levels. 
Over the course of 36 years in the multifamily housing industry, Charles Stroud has been a top producer for several product service companies. During the last 25 years, he attained 100% of his annual sales quota each year, and the combined average for that period is 124%. His individual success has inspired him to help other supplier partners through training and mentorship. As an NAAEI Faculty Member, he has taught Supplier Success to hundreds of students. In fact, the online and pre-recorded Supplier Success Class through NAAEI features him as a co-instructor. He continually seeks opportunities to raise the level of professionalism among all product service members in the multifamily housing industry.
As a Sales Consultant to the industry, Stroud developed a 4-Star Forecasting Method that incorporates elements of the sales cycle and, more importantly, the customer buying cycle. This model aligns the sales cycle and buying cycle, which increases forecasting accuracy and accountability. Those who know Stroud would describe him as a person who finds joy in serving others. Upon receiving the NAA Lifetime Achievement Award, he said, "If you are in the multifamily industry, you are my friend. If we have worked together, we are family."
His professional accomplishments include being a Certified Apartment Supplier; NAA Lyceum graduate; Apartment Association of Tarrant County Lyceum graduate; Texas Apartment Association Lyceum graduate; NAAEI Advanced Facilitator graduate; NAAEI Certified Apartment Supplier of the Year; NAA Lifetime Achievement Award; Apartment Association of Tarrant County Board of Directors Member; Apartment Association of Greater Dallas Board of Directors Member; NAA Board of Directors Member; and Texas Apartment Association Board of Directors Member.
Image

Ishea Shepherd, Assistant Vice President

AMC Delancey Group, Philadelphia
During the past five years, Ishea Shepherd has worked diligently to become an executive and oversee the operations of 50 properties and lead service, leasing and property management teams. She says she is happy about her work in operations, but is even more proud to help increase employee retention, create a culture that promotes inclusivity and equity, all while helping empower new leaders.
Employee continuing education participation has increased under her leadership, and all leasing agents and property managers are licensed real estate agents. Shepherd has been using these principles with the Pennsylvania Apartment Association (PAA) as Co-Chair of its Regional Advisory Council and Vice Chair of the DE&I Committee. In 2022, she served as a volunteer on three national committees: #NAAGives, DE&I and RPM Careers. While serving on RPM Careers, Shepherd served as a Sub-Committee Chair for RPM Careers Week.
Within her company, Shepherd is committed to bettering herself, her team and the broader organization specifically as it relates to its jointly developed and recognized organizational culture. When she was promoted to Assistant Vice President, she took the next step in her role as a leader by working with other executive team members to implement best practices for onboarding, training and finding new processes to adjust to best practices during and after the pandemic.
In 2021, Shepherd graduated from the National Apartment Association's (NAA) Diversity Leadership Program. This program focuses on developing leaders from diverse backgrounds within the rental housing industry. As a participant in the program, she says she learned more about the type of leader she is and wants to be. In 2022, she also became a member of the inaugural class of the NAA's Mental Health First Aid Facilitator's Cohort.
Serving as a volunteer within NAA has allowed her to see herself in more roles than ever before. As she continues to grow within her roles, Shepherd says she takes the idea of who and what she can be for others with the utmost importance. This past year, she completed Advanced Facilitator Training to become a member of NAAEI Faculty. 
Shepherd says she is very proud of the credentials and certifications that she has received; however, she is even more proud of the certifications and credentials that her team members have been able to achieve—all members of her leasing team are CALP credential holders, and the property managers on her team have their CAM credential or have begun the coursework. 
Image

The Watson

WinnResidential, Boston
The Watson is a 140-unit community in Quincy, Mass. It stands on a former office building site next to the vast, mostly empty Fore River Shipyard and is only a few minutes away from the MBTA Red Line and a bus stop. From 1901 until 1986, the shipyard was home to the Fore River Ship and Engine Company, which manufactured hundreds of ships for military and commercial customers. Thomas Watson, who worked for Alexander Graham Bell and is best known for his work on the telephone, started the Fore River Ship and Engine Company. Thomas Watson's ingenuity and Quincy's maritime history inspired the building's name and architecture.
A pleasant and versatile façade is created by the exterior's contrast of smooth metal, corrugated metal and fiber cement panels in various colors; coastal impact windows around the building's entry on the ground floor; and double-glazed aluminum windows on the upper floors. Also, the 2,000-square-foot resident lounge has design elements inspired by the ocean. Apartment features include open floor plans with towering windows, quartz countertops, plank flooring, roomy walk-in closets and stainless steel appliances. The Watson has a fitness facility with a yoga and spin room, a three-season patio with an outdoor kitchen and bar, a massive club room with a tasting kitchen, bike storage, covered parking and a dog agility run.
The Watson has 86 workforce housing units that are for affordable to middle-income households. Community staff organize different ways for residents to get involved like Paint & Sip, BBQs, cooking demos with chefs from local restaurants and regular fundraisers for the Quincy Animal Shelter at the building's dog park. 
The Watson is Energy Star and Enterprise Green Communities certified and adheres to strict guidelines covering everything from finishes and appliances to MEP systems and building envelope specifications to reduce harmful greenhouse gas emissions and reduce energy costs for households. A few of The Watson's ecologically friendly features include high-efficiency heating and hot water systems, low-flow plumbing fixtures and smart thermostats for remote monitoring and control of heating and cooling usage.
In 2019, the Urban Land Institute selected The Watson as a winner of the Jack Kemp Excellence in Affordable and Workforce Housing Award.
Image

Dylan RiNo

Centerspace, Minot, N.D.
The Dylan apartments is a 274-unit property with an abundance of amenities including a heated lap-style pool and jacuzzi, electric vehicle charging station, 24-hour fitness studio, extended communal dining and even a rooftop deck overlooking downtown Denver and the Rocky Mountains. Inside is the lounge with a full kitchen, speakeasy area and modern seating. In true River North (RiNo) fashion, the design is eclectic and bold: Think "Alice in Wonderland" meets boutique hotel. The apartments also offer a sleek unique design flair while being nicely appointed with quartz and granite countertops, gas ranges, high ceilings, USB charging stations and wine refrigerators.
At the Dylan, maintenance requests are mostly fulfilled within 24 to 48 hours after the initial request is submitted. This helps to ensure that the residents receive a high level of priority in a community where they can enjoy their space. This collective desire for residents to fully experience and benefit from the property and its services is what makes the team at the Dylan continually strive for more. The community is in an area of Downtown Denver called River North Art District. This area is known for its industrious history and artistic appeal. There are renowned breweries, bars and music venues for jazz.
In addition to the many amenities that the Dylan provides to its residents, it offers an array of events to embrace the community and its many interests. One of the most memorable functions this year was a black-tie fundraiser in the community to aid Haymakers for Hope, an organization that supports cancer research in a distinct way. More than $8,000 was raised.
The Dylan was also Centerspace's most profitable location in 2021. This only further signifies the Dylan's excellence as a community. Other notable occasions such as pet adoption events, as well as various neighborhood clean-ups, have helped promote thoughtful experiences which make the Dylan a memorable place to live. During Pride Month, a Drag Brunch was held to support the Center on Colfax, which aids essential work in the Denver LGBTQ community, as well as an LGBTQ Rights Group. These events exemplify how the Dylan continues to strive for excellence with its residents by distinguishing itself from the competition.