Student Housing Hits Target
But compared to last year, approximately 16,000 fewer beds could come to market by the start of 2015 school year, Axiometrics forecasts.
By Taylor Gunn
About this time last year, Axiometrics forecast that approximately 60,000 privately owned student housing beds would be delivered nationally in time for the 2014 school year. 
This was an increase from the 55,000 new beds that were ready for the 2013-2014 school year, which led to rampant fears of oversupply—and a media field day.
Articles in respected publications quoted experts in suggesting that too many privately owned beds would mean trouble, ranging from lower occupancy to massive foreclosures.
Fast forwarding a year later, 64,891 beds actually were delivered in time for the 2014-2015 school year. And, surprise, surprise—most of the stock was absorbed with little or no fanfare.
Furthermore, next year's supply won't be anywhere near what we saw in 2014. As of early November 2014, Axiometrics forecasts 48,620 new beds for 2015 based on what's in the planning stages and what is already under construction and likely to finish up by next fall.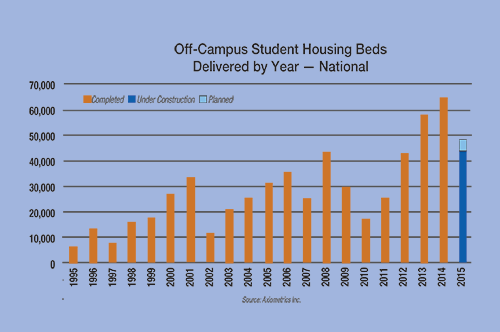 The Rise and Fall of POSH—Kind Of
In the aftermath of the Great Recession, the national number of privately owned student housing (POSH) properties crept higher, right along with university enrollment. Though enrollment continues to climb (though slower than in the immediate years following the financial crash), new POSH supply is falling.
The number of new off-campus beds scheduled for delivery is anticipated to drop by about 25 percent by the time the 2015 school year rolls around. And, at the top 20 universities (those with the higher number of off-campus beds), new deliveries could decrease by more than 40 percent.
If these figures hold true through 2015, they could represent a supply decrease for next fall, even in the face of continually climbing enrollment rates.
Higher Construction Costs—Definitely
One reason for the anticipated decrease in supply could be rising construction costs and labor shortages. This phenomenon isn't specific to the student housing sector, of course; Google the words "construction costs" and "2014" and the results will show that costs are higher while the number of available workers is dwindling.
Added to this, the construction industry isn't sure which way the economy is headed. The industry's primary association, the Associated General Contractors of America (AGC), notes that multifamily construction spending in September 2014 (the most recent stats available) jumped 26 percent year-over-year, while spending has dropped in other real estate sectors.
Notes the association's CEO Stephen Sandherr in a recent news release, "With labor markets tight yet demand flattening, many contractors are having a hard time deciphering current economic conditions."
Sandherr is not the only one struggling with the economy; investors and developers also are trying to figure it out. Until things settle down a bit, real estate developers in certain instances could be taking a wait-and-see attitude when it comes to building new product.
Oversupply Fears—Maybe
One reason for smaller off-campus supply is based on economic logic, outlined above. Another reason could be based on emotion. 
Last year, when Axiometrics pointed out that more than 60,000 new beds would be delivered for 2014, there were some oversupply concerns raised. This, in turn, might now be creating hesitation when it comes to developing new student housing properties.
But have the 64,891 beds delivered created a glut? Not at all. As mentioned above, the market absorbed most of it.
Certainly some campuses are experiencing more supply than demand. This is why we consistently caution that basing investment decisions on only a national number isn't wise. Universities and markets differ from one another in terms of enrollment, student retention and other factors. 
Expect Fewer Beds, Higher Rents
Fewer new POSH beds in 2015 could mean an increase in both effective rent growth and occupancy, especially because enrollment is anticipated to remain steady.
Also, among the Axio 140 (consisting of 140 universities that Axiometrics tracks for trends and forecasts), freshman retention rates and graduation rates are anticipated to remain above the long-term average of 79 percent and 55 percent, respectively. 
As such, once they understand that most of the supply being delivered is being absorbed, developers and investors could dive back into providing more POSH in time for the 2016 school year.
But if this should happen, it's important to understand that a ramp-up in POSH beds doesn't mean a supply glut. Rather, it represents an industry that's attempting to meet demand on a market-by-market basis. 
Taylor Gunn is a Research Analyst for Axiometrics.
Want More? 
Join Axiometrics at the 2015 NAA Student Housing Conference & Exposition, Feb. 17-18, in Las Vegas. Enjoy the Keynote Panel: Student Housing Market.