Hammond on Planting a Flag Near Non-Flagship Universities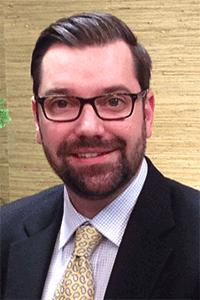 As higher education becomes increasingly expensive, more and more young people are shifting their enrollment preferences from flagship universities to smaller colleges and community colleges they believe offer greater value. Developers and operators of student housing need to take note of this trend and consider investing in these second- and third-tier markets. However, managing such assets can be very different than operating student housing communities in the bigger markets. One industry professional who has experience in this niche is Brandon Hammond, Vice President of Management Services at Raleigh-based Kenney Realty Services.
What follows is our chat:
NATIONAL APARTMENT ASSOCIATION: Could you tell our readers a little about Kenney Realty Services?
BRANDON HAMMOND: Our portfolio contains six properties located in North Carolina, South Carolina, Tennessee, and Georgia. That's 2,196 beds and they're all at Tier 2 and Tier 3 universities. None of them are at flagship schools.
NAA: More and more students are choosing such non-flagship universities. In your opinion, what does that mean for student housing developers?
BH: I think over the last several years, it has become increasingly difficult to develop at flagship universities.
NAA: Why specifically is that?
BH: Mostly because they are overbuilt already. So, developers and investors who have money are starting to look at the non-flagship schools. That is coinciding with the trend of students choosing such colleges and universities.
NAA: What is driving the trend?
BH: They're looking to get more value for their educational dollar. So, for developers, they're seeing enrollment growth at institutions where they never would have thought about building seven years ago. In my opinion, having spent the last six years of my career overseeing portfolios that are exclusively in these types of markets, it is a very different operating space.
NAA: Please be as specific as you can in terms of the differences between managing a student housing community near a top-tier university as opposed to a more value-driven college.
BH: At a lot of top-tier universities, the lease-up cycle is much earlier in the academic year.  You'll have students moving in during August and starting to renew in September. It's all about the leasing velocity. I know a few markets where if you are not leased up to 95 percent by March, something is wrong with your property. But at the Tier 2 and Tier 3 institutions, the lease-up cycle is much, much later. We work to accelerate that calendar a little bit in our own portfolio over the last several years. Six years ago, we weren't signing renewals until January for the fall.
NAA: And today?
BH: We're at least starting to do that in November now and seeing positive responses from our residents in doing so. But the bulk of our lease-up is still going to happen from May to August. We're signing leases right up until move-in weekend. And at a couple of our properties in our portfolio, we're signing leases into the fall semester even.
NAA: Who is signing so late?
BH: Students who just make late decisions. I think that is what drives this late lease-up probably more than anything else. Students making a late decision on their fall enrollment at a non-flagship school. They're either looking to transfer to a flagship institution and are awaiting a decision on whether they get in there. Also, the academic metrics of the student body tend to be a little bit weaker than at flagship schools. So, you have a lot more students waiting to see if their grades are going to allow them to come back and keep their financial aid and keep their scholarships. And the final is just financial aid and scholarships. Is that money going to come in for the following year? If it's not, then they're not going to be able to attend the university at all.
NAA: Can you talk about a specific initiative or method that you have personally developed or spearheaded at the company that has been particularly successful?
BH: It's not very specific. But I am proud of the continued and constant focus on marketing and leasing. There is no one-week or two-week push in anything we do in our portfolio. It is from Nov. 1 until well into the fall semester, we are constantly leasing apartments. Even this past year, our lease-ups for August move-in wasn't as successful in years' past. We only leased up to about 86 percent. But since August, we've been able to push occupancy to 91 percent by continuing to go out and look at non-traditional residents and non-students to make sure we're maximizing and getting as much income out of every bed that we can. We don't just settle for a bed being empty if we didn't lease it by the end of August. We've had two properties, in fact, that have gained in occupancy 10 percent since August until mid-December.
NAA: And who are these non-traditionals?
BH: University faculty and staff are a big one at our projects. At some of our properties, we have the only one-bedroom apartments in the market. For younger faculty and staff members, that tends to be a very big draw for them. We also have a significant number of military residents who are also tailor-made to lease by the bed. And there are contractors, too. We'll look for big construction projects in the area. If there is a huge factory that is being built down the road, we'll go and look for contractors who are on that job and offer them six- or seven- or eight-month leases to fill vacant beds and get as much revenue as we can. The alternative is to give up until the following school year, and we're not going to do that.
NAA: Is there a particular student-housing community in your portfolio that is innovative or especially successful that you're particularly proud of?
BH: Our University Landing community in Clarksville, Tenn. It is right by Austin Peay State University. It's not our newest, but it's our one downtown location. It's not an urban environment, because Clarksville is not a huge city. But it is downtown, it's 150 yards away from the university, and the staff there has really made an effort to maximize on that location. They don't let any opportunity go to waste to market, raise the brand awareness, and get the name of that community out in Clarksville. They're now at 97 percent. It's one of the two properties in our portfolio that has grown in occupancy 10 percent since August.
NAA: Do you have any advice for those reading this who are thinking about expanding into such smaller, non-flagship markets in the months and years to come?
BH: You need to really dig in and examine the enrollment trends of the university. Most universities will be publish something called a Fact Book. Then, don't just take those numbers for  granted. Go and talk to as many people at that university to find out as much as you can about what that university's plans for enrollment growth are. A lot of these universities will focus on enrollment growth for a few years, and then they'll spend one or two years slowing that enrollment growth to focus on improving their academics. You don't want to develop a new community and hit one of those cycles. All of a sudden, that enrollment growth disappears. You should also find people who are experienced operating in these types of markets and lean on their expertise. It can be a bit jarring. I've seen large national management companies come in and try and operate in some of these markets and really not do a great job.
NAA: Is it the calendar that messes them up?
BH: It is. It's the late lease-ups, the late decisions. There also has to be a greater focus on university relations. You're just dealing with a much smaller community of people. If you don't have a positive relationship with one person at the university, it's likely a lot more people at that university will learn about that.
NAA: You will be leading a session at the NAA conference next month.  What are you going to talk about?  What can attendees expect?
BH: Just like this interview, people can expect a session about some of the notable differences between operating at flagship universities versus operating in secondary and tertiary markets either at much smaller schools or in much smaller cities or both. Hopefully, I'll be able to help some of these investors and developers who are starting to look towards these different markets and new opportunities.
Don't miss Brandon Hammond's education session at the 2014 NAA Student Housing Conference & Exposition: "Your Community is at WHAT University?'--Strategies for Managing Student Housing in Secondary and Tertiary Markets. 
By Teddy Durgin Copyright 2014 INFORMATION, INC.