Signs of Market Deceleration
While first-quarter trends indicated slowing momentum in the apartment industry, strong job growth kept the market relatively healthy. Even as investors keep tabs on interest rates and operators seek out more efficiencies, job and income growth combined with a tight for-sale housing market, support continued demand for apartments in 2018 and beyond.
U.S. Apartment Market
While first quarter rent and occupancy trends indicated slowing momentum in the apartment industry, strong job growth kept the market relatively healthy. National rents grew 2.3 percent over the past year, according to RealPage. Sunbelt markets continued to dominate the list of top markets for rent growth and Sacramento was no longer the leader. Las Vegas and Orlando led the pack at 6.2 and 6.1 percent, respectively, followed by Sacramento at 5.5 percent. In a sign of its continuing economic recovery, Houston rents grew 4 percent, ranking it sixth. In addition to benefiting from rebounding job growth, the region continued to recover from Hurricane Harvey, as formerly displaced households occupied apartments.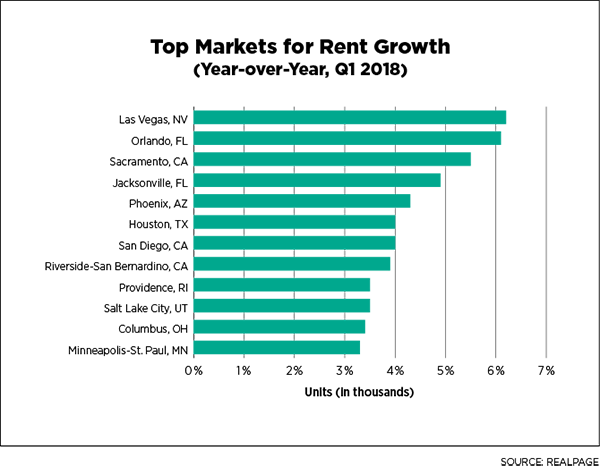 REIS reported an increase in the national vacancy rate from 4.3 percent in first quarter 2017 to 4.7 percent in first quarter 2018. Among the 79 metro areas tracked by REIS, 62 markets experienced higher vacancy rates over the same period. In addition to the winter months traditionally being a sluggish period, vacancy rates were likely made worse by the addition of new supply. The Greenville and New York City metro areas both saw the largest increases in the vacancy at 2 percent each, raising the overall rate to 6.7 and 5.5 percent, respectively. On the other hand, and commensurate to its strong rent growth performance, Houston saw its vacancy rate decrease by 0.5 percent, the fourth largest decrease among markets overall.
The seasonally adjusted annual rate for multifamily unit construction starts in February was 317,000, a decrease of 19.1 percent from the same time last year, according to the Census. Alternatively, a total of 418,000 units were delivered in February, 36,000 more units compared to the previous year. Looking at permits, 385,000 units were permitted in February, a 13.2 percent increase over the same period last year. This was the first annual increase in units permitted since August 2017, and the largest in a year.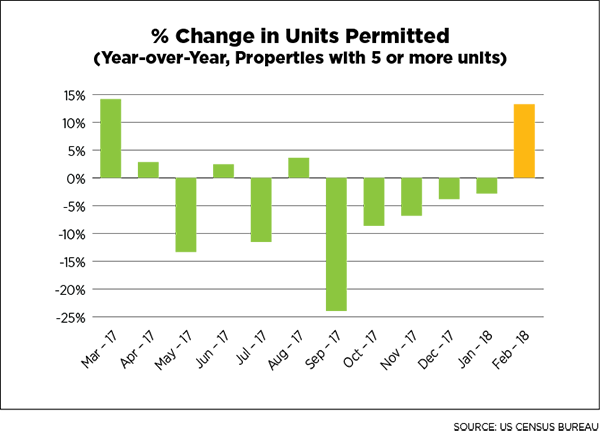 U.S. Capital Markets
According to Real Capital Analytics, closed transactions for apartment property sales totaled $152 billion in the 12 months leading up to February, a slight year-over-year increase of 1.7 percent. Although this increase was the first in a year, sales activity fell substantially for the month of February alone, falling 8 percent compared to the same period a year ago. This was likely the result of investor unease over rising interest rates. Investors exchanged over a million units, a minimal decline of 0.7 percent.
Nationally, average price per unit stood at $146,682, a 2.8 percent year-over-year increase. Confirming the dominance of Sunbelt metro areas for top rent growth performance, the Southeast saw the largest jump in average price per unit with a 10.8 percent increase to $111,082, followed by the Southwest with a 10 percent increase to $132,450. Conversely, the Northeast experienced a 5.9 percent decrease in prices to $256,276, the largest drop among all regions. The New York City metro area ranked low for rent growth, and with the area weighing disproportionately on the Northeast region, this drop in average price per unit is not surprising.
Over the past twelve months, developers were active, particularly in coastal gateway markets. The top apartment developer ranked by the value of projects started was Greystar, with projects worth $1.3 billion. This was followed by the Related Companies with $1.1 billion worth of projects started. Other top developers included JPI Multifamily, Alliance Residential, and Wood Partners. The top metro areas ranked by the value of projects started in the fourth quarter of 2017 were Greater New York City, on top with $5.2 billion worth of projects. The San Francisco, Boston, Los Angeles and Seattle regions rounded out the top five.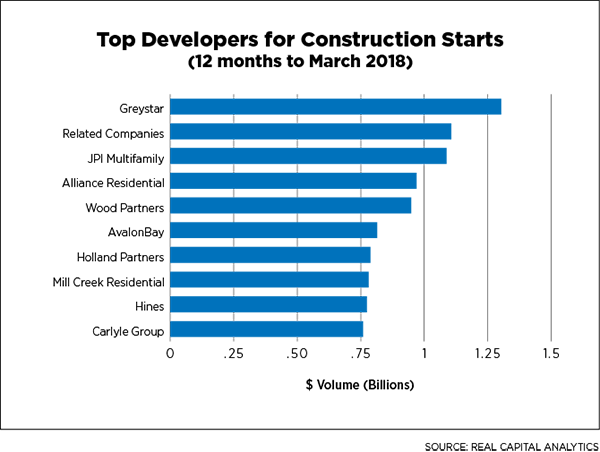 U.S. Economy
After job gains topped 300,000 in February for the first time in 18 months, the March employment report paled in comparison with just 103,000 new jobs. Still, the first quarter average of 202,000 monthly job additions was just above the average since the 2009 trough. In fact, the past two quarters have showed quite an improvement from several previous lackluster figures. The unemployment rate remained unchanged for the past six months at 4.1 percent.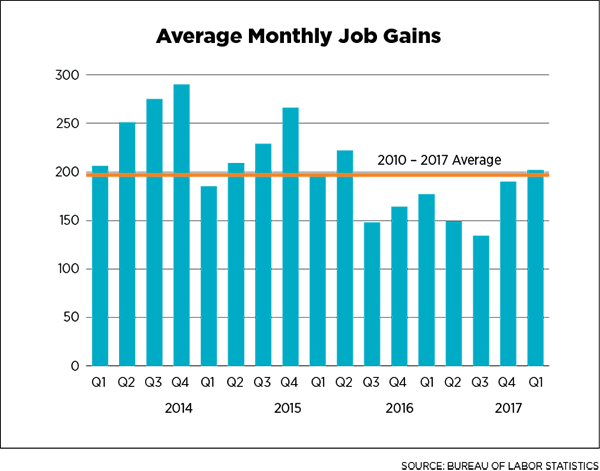 The West Coast and Mountain states dominated job creation through the 12 months ending in February. The strength of the construction sector was the common thread in these states, while Idaho was driven by its financial sector, Nevada by manufacturing, and Utah, leisure and hospitality.  Only three states witnessed shrinking payrolls over this same time period: North Dakota, Alaska, and Delaware.
The healthy pace of overall economic growth solidified the Fed's decision to raise interest rates in March. The move was widely anticipated by economists and market analysts, many of whom expect three additional rate hikes this year. The Fed revised its GDP forecast upwards for 2018 and 2019, and lowered its unemployment rate projections quite substantially from 4.0 percent to 3.6 percent by 2020.
Outlook
The recent run-up in interest rates, looming wage and inflationary pressures, and trade and data security concerns have converged to spook the stock market into a highly volatile phase. Its sensitivity and wild fluctuations paint a stark contrast to the stability of other asset classes, including commercial real estate. While investors keep a wary eye on interest rates and operators seek out more efficiencies in operations, job and income growth combined with a housing sector with supply-side struggles, support continued demand for rental housing in 2018 and beyond.