Rents Increasing More Slowly as Pipeline Grows
While 2017 began with slowing rent growth and demand, especially for new luxury properties, strong economic and demographic fundamentals ensure a balanced outlook for the U.S. apartment market. Investors are beginning to focus on secondary and suburban markets, and national rent growth is expected to closely mirror long-term averages.
U.S. Apartment Market
Although many markets have begun to feel the saturation of new supply, several continued to experience a moderate amount of rent growth during the first quarter. According to Yardi Matrix, the national growth rate is half that of the year prior, averaging 2.7 percent and led by the California markets of Sacramento, the Inland Empire and Los Angeles. Houston experienced the greatest decline in rents, thanks to the continued sluggishness of the energy industry. San Jose and San Francisco, whose high rents have been the likely culprit for renters escaping and buoying Sacramento's performance, joined Houston as the markets seeing the largest rent decreases.
High levels of new construction are beginning to reflect on vacancy rates throughout more markets. Occupancy rates throughout the nation have begun to slightly decrease as widely expected, with RealPage reporting a national rate of 95.4 percent for the first quarter, down from 95.8 percent a year prior. Quarterly supply exceeded demand for the second consecutive quarter.
Data from Axiometrics indicates that 581,556 units are currently under construction nationwide. While the number of units delivered per quarter in late 2016 and early 2017 averaged 82,000,102,000 units are expected to deliver per quarter for the rest of 2017, a substantial amount of new supply if all of them are actually completed. In a recent study of five metro areas, Axiometrics found that only 44 percent of units planned in 2014 made it through the construction pipeline as of Q1 2017.
While demand has mostly kept pace with supply in the past few years, new supply, especially at the luxury level, is now outstripping demand. It will be interesting to see if that is the beginning of a longer trend, or merely a temporary speed bump in the face of larger demographic trends that favor rental demand.
Capital Markets
According to Real Capital Analytics, closed transactions for apartment property sales totaled $147 billion through February, down 8.2 percent year-over-year. Just over a million units were bought and sold over the same period, a decline of 12.9 percent. A pullback in transaction volume had been anticipated given interest rate increases, softness in some markets, and lingering uncertainties revolving around tax reform; many analysts believe that peak pricing is within view. 
Foreign transaction volume continued its decline from its 2015 peak, down 40 percent through the first quarter. Except for Canada, which made up the clear majority of foreign investment dollars in the U.S., investors mostly originated from Israel or Western Europe, with a variety of markets proving to be popular. Southern markets such as Raleigh/Durham, Dallas and Atlanta, as well as a handful of other markets including New York City and Phoenix, attracted their fair share of international investment dollars.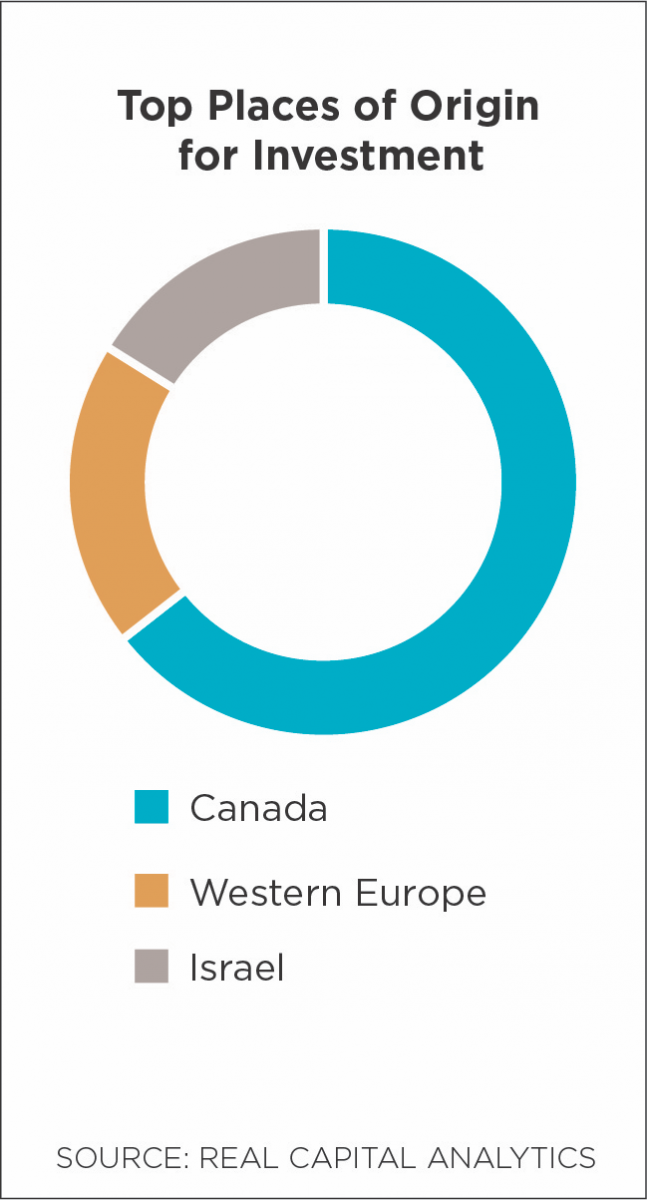 National Economy
Although the employment report for March fell far short of expectations, job gains for the first quarter averaged 178,000 per month, just five percent off from 2016's rate of 187,000. Monthly job gains peaked in 2014 at 250,000 and have been falling steadily since as the labor market tightens, signaling an economy that has reached full employment by most estimations. The unemployment rate dropped to 4.5 percent, its lowest level in 10 years. About two-thirds of the largest metro areas (population of one million or more) experienced year-over-year declines in unemployment rates through February.
Following consectutive monthly declines in year-over-year growth rates, private apartment construction spending appears to have leveled off in the 8-10 percent range over the past six months. Spending increased by an average of 16.5 percent in 2016, compared to 5.2 percent for the single family market. The Associated General Contractors of America is forecasting growth rates between 5-10 percent in 2017 for new apartment construction, and more moderate growth lasting through 2018. 
Outlook
Although rent growth may not appear in as many headlines in 2017 as in recent years, increases at the national level are expected to remain at or near long-term averages. Secondary markets and suburban properties stay on investors' radars, particularly as it relates to value-add plays. Questions marks around interest rates, tax policy and regulatory policy will help keep the apartment market nicely balanced amid strong economic and demographic fundamentals. 
---
For more information, please contact Paula Munger, Director of Industry Research & Analysis