NAA is committed to a sustainable future for the rental housing industry.
Our mission is to provide value to our members by leading the way on social, economic, governance and environmental trends that will improve the communities, neighborhoods and residents we proudly serve.
NAA's Operations committee has formed a Sustainability Working Group comprised of industry experts focused on Sustainability to help us achieve our goals. This group meets regularly to source relevant topics for publications, conference sessions and the NAA Sustainability Roundtable event which will be held in 2020.
Awards
Sustainable Living Innovation Awards – Platinum, Gold And Silver
This award recognizes unique and innovative environmental and social sustainability practices at an apartment community. All submissions that receive a rating of 10-15 will receive a Silver Award. Those with a rating of 15-20 will receive a Gold Award. The overall best Score will be our Platinum Winner and will receive an invitation to attend the Excel Awards Ceremony at Apartmentalize. All award winners will be recognized on the NAA website.
The award submission opens early 2020, stay tuned!
New Award Fields & Review Creteria
ENERGY STAR Award
Each year, the U.S. Environmental Protection Agency (EPA) and the Department of Energy (DOE) honor organizations that have made outstanding contributions to protect the environment through energy efficiency. Congratulations are in order for the 2019 ENERGY STAR Award winners! Especially our very own NAA members:
AMLI Residential, Bozzuto Management Company, Lowes Home Improvement, and Yardi.
Event and Education
Events
Sustainable Living Roundtable—March 31 - April 1
Bozzuto, Greenbelt, MD
The 2020 Sustainable Living Roundtable is an exclusive invitation-only event hosted by the National Apartment Association (NAA) and the U.S. Department of Energy Better Buildings Initiative. The Roundtable brings together sustainable living professionals to discuss challenges, trends, and insights at the forefront of rental housing.
Program topics include:
Demonstrating the Value of Sustainability to Residents, Owners, Stakeholders
Modern Data Experience — The Landscape of Tools and Providers
Certifications and Reporting — The Good, The Bad, The Ugly
Registration is complimentary. Email Amy Groff for additional information.
CAMT+E Credential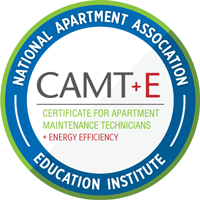 In 2017, NAA developed and piloted the CAMT+E Micro credential through the NAA Education Institute (NAAEI), with input from ENERGY STAR, to provide additional instruction and education opportunities to Certification for Apartment Maintenance Technicians who wish to expand their expertise in energy-efficient practices. The credential explains the use of Portfolio Manager and discusses other ENERGY STAR tools and best practices.
Related Articles and Research
Marketing Sustainability at Apartments
Going green attracts residents, can push rents.
A cutting edge, virtual power plant apartment community-Soleil Lofts, Utah
Climate Changed - Some Renters in Utah Could Have Really Low Power Bills Thanks to a Buffett Utility
Eco-Cleaning Products LEED the Way for Cortland
Using toxic-free cleaning products is not just a trend – it's becoming a priority for residents, property managers and owners. National apartment operator Cortland, based in Atlanta, has addressed this problem by implementing a new type of cleaning solvent for use at their properties that it learned of while touring newly opened Mercedes-Benz Stadium in downtown Atlanta.
How's the Weather: Apt Industry Explores Climate Change
When commercial real estate companies started looking at sustainability more than a decade ago, they focused on disclosing and repointing, which helped raise awareness and understanding within the industry. Later, the industry moved to setting standards on how to report and implement sustainability measures. A similar path likely follows when addressing climate risks—including the apartment industry—although these risks and their impact on real estate values are expected to be more challenging to quantify.
Maximize Resident Engagement with Energy Efficiency
Apartment residents are attitudinally more environmentally conscious compared to homeowners, according to a survey of apartment residents commissioned by National Apartment Association. This and other details about residents' attitudes toward eco-friendly behaviors can be useful in marketing apartments to potential residents and in engaging and retaining residents.
Trash Talking - Waste Management Special Report
Waste-hauling costs are increasing, and recycling policies are becoming more strict. Apartment operators are seeing the effects and are taking a variety of steps to improve efficiency and cost-effectiveness. Please see the attached article written by NAA's Paul Bergeron, highlighting the overall pricing trends, contamination fees, hauler contract negotiations, cardboard balers and composters, valet trash pick- up, signage, resident education and more.
How to Sell Sustainability
Real Page recently hosted their Energy Summit 2019 and featured Mark Jewell as their keynote speaker. Mark Jewell is a Wall Street Journal Best Selling author of, "Selling Energy: Inspiring Ideas that get more projects approved". His book is available for free and is a wealth of strategies for how to get your energy projects approved; please visit www.sellingenergy.com for more information.
NAA's Les Shave wrote the article below on How to Sell Sustainability. It focuses on tailoring your sustainability messaging to the person you are speaking with. For example, It will vary depending if you are speaking with an executive or a resident.
Green Growth: Can Financing Keep Up?
Yardi's Jeffrey Steele, wrote Green Growth, Can financing keep up? This article summarizing the multifamily financing programs available to those who can invest in environmentally responsible upgrades at their communities.
The ESG Sentiment Survey
ReTech Advisors Inc., a strategic consulting firm specializing in sustainability in real estate, recently surveyed over 100 real estate professionals on Environmental, Social and Governance (ESG). This inaugural survey sheds some light on top of mind ESG issues, trends and needs of organizations in our industry. Please reference the attached article for the results and key take-aways.