2017 Travel
---
2017 Official NAA Conference Hotels
AC Hotel Atlanta Downtown - $194
Aloft Atlanta Downtown - $194
Courtyard Atlanta Downtown - $200
Doubletree by Hilton - $206
The Ellis - $225
Embassy Suites Centennial Park - $247
Fairfield Inn & Suites* - $170
The Glenn - $245
Hilton Atlanta - $194
Hilton Garden Inn - $194 - SOLD OUT
Holiday Inn Express Atlanta Downtown - $159
Hotel Indigo - $214
Hyatt Regency Atlanta - $224
Marriott Marquis Atlanta - $200
Omni Hotel at CNN Center - $220 - SOLD OUT
Ritz-Carlton Atlanta - $224
Sheraton Atlanta - $204
Twelve Hotel Centennial Park - $185
W Atlanta Downtown - $234
Westin Peachtree - $214
Rates listed above include a mandatory $5 Georgia state hotel/motel fee, but do not include 16.9% tax.
Hotel inventory is constantly changing and availability is not guaranteed at any of the above hotels. For your convenience, you can view the hotels on this map:
*Shuttle service is offered to select NAA-official hotels. Fairfield Inn & Suites will not be included in the NAA shuttle service to the Georgia World Congress Center or the Thursday Night Party. Alternate transportation options will be offered. 
Click here for the complete shuttle schedule.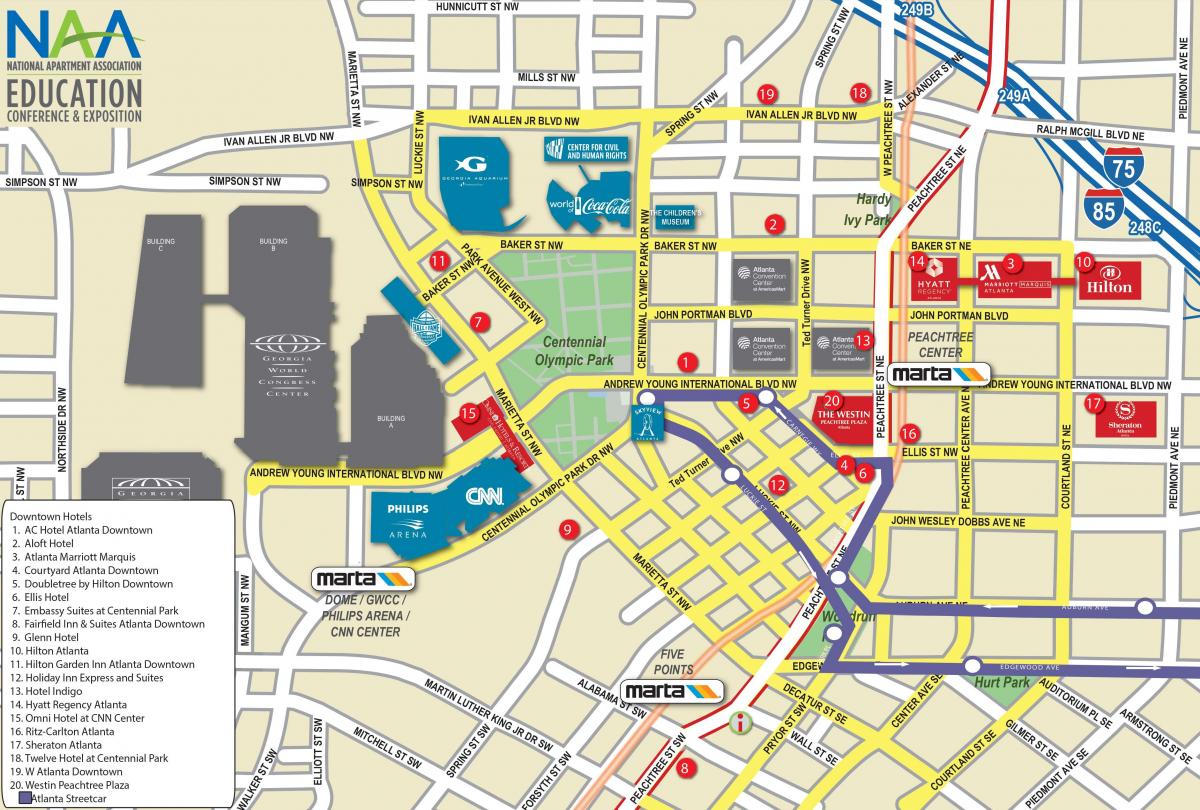 The 2017 NAA Education Conference & Exposition has an integrated online registration and housing system. We bring you discounted rates, customer service and extra perks.
You are required to register and pay for the 2017 NAA Education Conference & Exposition prior to accessing the hotel reservation service.
NAA has contracted with one official housing company, Wyndham Jade, for the 2017 NAA Education Conference & Exposition and is not responsible for any housing issues that result from reservations made through companies other than the official vendor. If you are contacted by any other company regarding hotel reservations for the conference, you may be subject to a scam.
---
Air Travel Information
NAA has arranged for an airfare discount through Delta Airlines for conference attendees ranging from 2-10% off depending of the fare class. The meeting event code for this discount is NMPVW and you follow these steps to obtain it:
1. Reservations and ticketing are available via www.delta.com/meeting.
2. Select Book Your Flight and this will bring you to the Book A Flight page. Enter the meeting code in the box provided.
3. Reservations may also be made by calling Delta Meeting reservations at 800-328-1111 Mon-Fri 7am-7pm CDT.
If you have questions or difficulty obtaining the discount, contact Liz Grier
---
Transportation Information 
MARTA
The Metropolitan Atlanta Rapid Transit Authority (MARTA) is Atlanta's public transportation system comprised of a bus and rail system that connects all parts of Atlanta. A single $2.50 fare covers one-way bus or train trips, including transfers.
For many events on the Georgia World Congress Center campus, parking is at a premium and MARTA is the fastest and easiest way to arrive.
The GWCC is MARTA accessible at two stations.
    Events in GWCC Buildings A and B can use the Dome/GWCC/Philips Arena/CNN Center Station (W-1)
    Events in GWCC Building C can use the Dome/GWCC/Philips Arena/CNN Center Station (W-1) or the Vine City Station (W-2)
If you are coming from Hartsfield-Jackson Atlanta International Airport, MARTA has a rail station located at the north end of the airport, near baggage claim. This service offers the quickest and least expensive way to get to and from the airport to downtown Atlanta.
Taxi Service
Atlanta has more than 1,500 taxis available to take attendees to and from their hotel throughout Atlanta. With preset rates for trips to and from the airport and within Downtown and Midtown, taxis provide an economical mode of transportation.
Flat Rate Fees from/to the Airport
Downtown $30.00
Buckhead $40.00
Midtown $32.00
There is a $2.00 charge for each additional person.
Flat Rate Fees Within Downtown and Midtown
Fares originating from a business and concluding at a business within the zone of Downtown or Midtown have a rate of $8.00 for one person. There is a $2.00 charge for each additional person.
Atlanta Streetcar Service
Attendees staying in the downtown area can board the Streetcar at one of the 12 stops along the route to get to restaurants, hotels and other local attractions, including Centennial Olympic Park.
Visit the streetcar website for fare, schedule, and safety information.  You'll also find a list of things to see and do in Downtown Atlanta that are easily accessible from the Atlanta Streetcar.
---
About Atlanta
Atlanta is a major business hub with world-class sophistication and plenty of Southern charm.
Did you know...
Atlanta was originally named Terminus, then Marthasville (after a Governor's daughter) before it became Atlanta.
If you type "Peachtree" in as your destination your GPS may have a meltdown. There are over 55 streets with the name.
According to Forbes, Atlanta is the #3 city poised to become one of tomorrow's tech meccas.
Known as the "Hollywood of the South," it's a prime location for filming TV and movies including "The Walking Dead" "Stranger Things," and the "Hunger Games" trilogy.
The city has the 3rd largest concentration of Fortune 500 companies in the United States.
Atlanta is one of two cities in the world to be home to two Nobel Peace Prize winner: Martin Luther King Jr. & President Jimmy Carter.
Great people, great food, great fun! Check out all that Atlanta has to offer.
Not to mention that the Atlanta Braves are in town during the conference! Check out their schedule and head to a game while you're in town. 
As an Education Conference attendee, you can click here to print a special savings card to recieve discounts at participating establishments around town. 
---
Tour Atlanta with a Local
Join Atlanta local Brandon Hornibrook, Internet Marketing Director at Berkshire Communities, as he highlights some of the cool things to see and do within a short walk of the Georgia World Congress Center
Tour Atlanta with NAA
Join NAA's Frank Mauck as he highlights some of the cool things to see and do in Atlanta.