While economic forecasting is never a perfect science, and the apartment industry has experienced an onslaught of new product and higher rents, economic and demographic trends suggest the apartment industry will maintain healthy levels of demand in 2017 and beyond.
With post-election analyses behind us for the time being (it's hard to analyze what you truly don't know), 'tis the season for economic and industry forecasts. There are several common threads among the forecasts I read, listened to, or attended in December. First, most of the experts readily admit they were wrong last year at this time. But forecasts are based on history, with some methodologies giving stronger weights to more recent history. The fact that we are making history by several estimations during this business cycle makes it awfully hard to get it right. 
Second, very few analysts changed their forecasts for 2017 after the election results. The national economy was already on a solid growth path, boosted by a healthy labor market, an improving housing market, and increasing wage growth. Even GDP came in stronger: The 3.2 percent revised growth rate for Q3 2016 was the highest since Q3 2014. An increasingly tight labor market makes for smaller monthly job gains in 2017, a decreasing unemployment rate and increased pressure on wages. 
On the apartment side, more muted growth due to excess supply in some markets already was expected for 2017. But given the exemplary performance of apartments, occupancy rates slipping and rent growth moderating certainly do not portend a downturn. Capital markets, on the other hand, may well take a hit at the beginning of the year until the new administration's tax policy becomes clearer. Apartments will remain a favored asset class, so transactions will likely merely be delayed. Based on past behavior, foreign investors may not even be fazed as economic and real estate fundamentals in the United States are far better than many of its peers.    
Things get murkier in 2018 and beyond. In a survey by the National Association for Business Economics (NABE), nearly one-third of economists and forecasters put the chance of a recession in 2018 at 21 percent to 30 percent.  An additional 27 percent of the survey respondents say the chance will be higher, between 31 percent to 40 percent. Moody's Analytics forecast is more optimistic, and does not include a recession in its baseline forecast, but any downside risks are anticipated to materialize in mid-2020.  
For 2018 and 2019, the Moody's forecast did change after the election, increasing GDP predictions due to the new administration's pro-business policies of tax cuts and regulatory reform, as well as increased government spending on infrastructure, the military and veterans' initiatives. Although the NABE outlook only extends to the end of 2017, survey respondents ranked priorities for the new administration by importance for achieving economic growth: Increased infrastructure spending, tax reform, and regulatory reform. 
The December Fed rate hike was obvious across the board, but the number and magnitude of future rate hikes varies among forecasters. A more aggressive Fed is likely based on two measures it considers when determining monetary policy: Employment and inflation, as measured by the Personal Consumer Expenditures (PCE) Index. The U.S. has hit full employment (defined by the Federal Open Market Committee as an unemployment rate in the 4.5 percent to 5 percent range) for the past 14 consecutive months. Inflationary pressures are also building, and a PCE rate exceeding 2 percent is expected by the end of next year.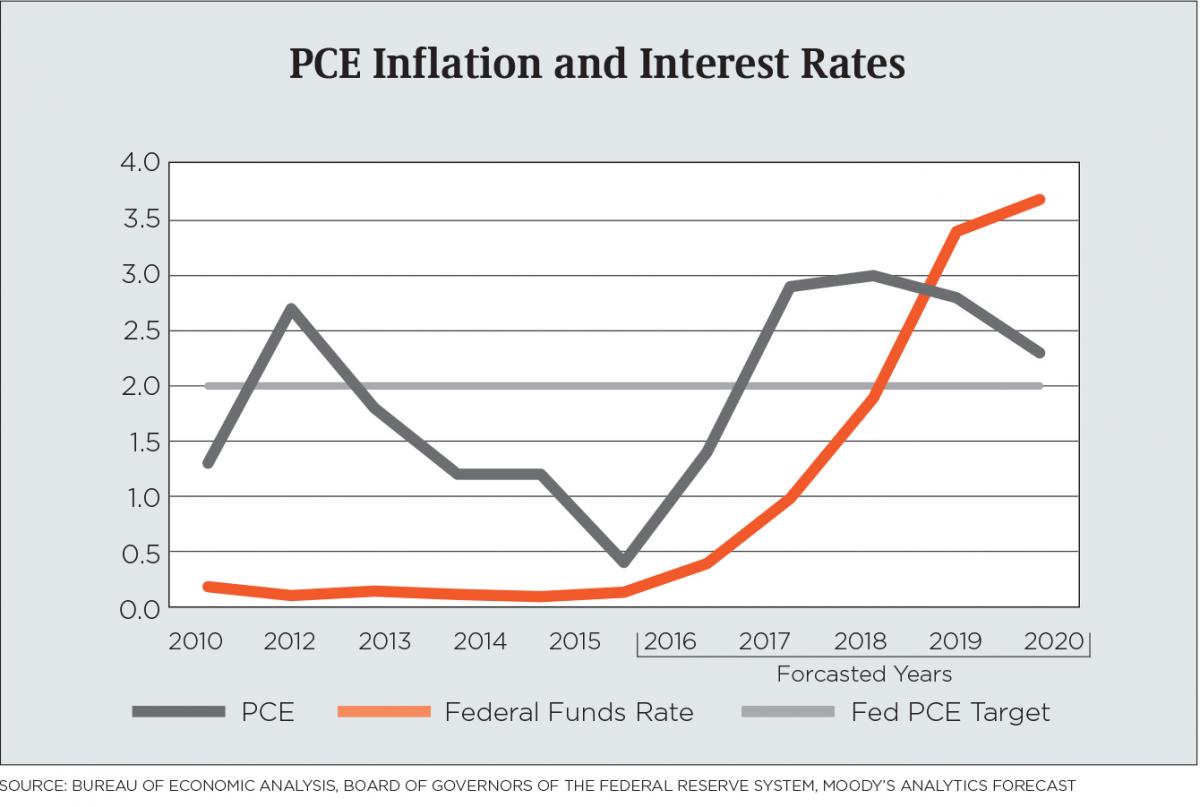 A wide range of organizations forecast housing starts, depicted in the chart with the figures swinging by up to 100,000 units. In 2016, multifamily (properties with 5 or more units) housing starts through November were 445,000 on a seasonally adjusted annual basis, according to the Census Bureau. This is off by only about 1.8 percent year-to-date, compared to the same period last year. Since December has historically registered fewer starts, that gap is expected to widen, meaning starts may have reached their peaks in 2015. With average lag times between starts and completions exceeding one year, new supply remains in check during the next two years, helping to alleviate fears of an overbuilt market.
For institutional-grade, market-rate properties, most apartment market analysts have pushed their predictions of a supply peak from 2016 to 2017, landing in the 350,000 to 375,000-unit range. Rent growth is forecast to moderate by 50 to 100 basis points, on average, with higher-end projects in large metro areas at the most risk. Occupancy rates are expected to slide anywhere from 30 to 70 basis points as the mismatch between supply and demand puts new, available units out of reach of many residents' budgets.
Overall, the outlook for the U.S. apartment market is encouraging under the framework of a growing economy. On the upside, demographics continue to favor apartment living across generational lines for both economic and lifestyle reasons. Flexibility, convenience, a sense of community, and more choices which can fit into a household's budget are just a handful of reasons people are choosing to rent.
However, no forecast would be complete without revealing risks, namely: Uncertainties of a new administration, which could hightail consumers and businesses to the sidelines; interest rate and price increases, putting a dent in investors' and consumers' wallets; and further from home but warranting a closeful eye, several high-stake elections in Europe next year, whose impacts could rock global markets.
Paula Munger is Director, Industry Research and Analysis for NAA. She can be reached at 703-797-0614 or [email protected].