U.S. Apartment Market: Rents, Values and Occupancies — All Up
Only a handful of cities witnessed weakened apartment market fundamentals, mainly in the luxury sector. At the national level, the third quarter was marked by strong rent growth, increasing occupancy rates, and absorption outpacing new supply.
Rent growth occurred across most markets during the third quarter, averaging 4.7 percent on a year-over-year basis, according to Yardi Matrix. Growth continues to slow, as evidenced by a lone city experiencing double-digit rent growth, Sacramento, compared to four last year at this time. San Francisco, Houston, Denver and New York comprise the handful of markets with rent growth lower than the long-term national average of 2.2 percent, and even negative in the higher-end segment. Reports of concessions coming back in some of these cities suggest the scales may soon tip towards tenant-favorable markets.
Overall, the U.S. apartment market continues to post impressive results with MPF Research reporting the highest occupancy rate in 16 years, 96.5 percent, just short of an all-time high of 96.8 percent in 2000. The anticipated vacancy rate increase due to high levels of new construction has yet to materialize at the national level. In fact, quarterly demand outstripped new supply by more than 40 percent.
The latest data from the U.S. Census Bureau and the Department of Housing and Urban Development suggest this growth spurt will continue. Apartment housing starts were up in August by 2.3 percent year-over-year to a seasonally adjusted annual rate of 403,000 units, helping to alleviate the overhang of demand.
Capital Markets
Transaction volumes of apartment property sales were up 4.8 percent year-over-year through August, according to Real Capital Analytics, for a total of $92.5 billion. Nearly 700,000 units have changed hands this year, down 5 percent. Needless to say, the price per unit has risen over that time by more than 10 percent, with an August average of $143,640.
Foreign transaction volume in the U.S. apartment market totaled $4.8 billion through the second quarter. This figure is greater than with 2014's level, but far off from last year's record-breaking numbers. Asia has upped its market share, responsible for 45 percent of foreign transactions compared to just 6 percent through the same period last year. Despite a slow-growing economy in the U.S., political and economic stability, a growing population and labor force, and an apartment market that continues to mature, keep it a safe bet for investors worldwide.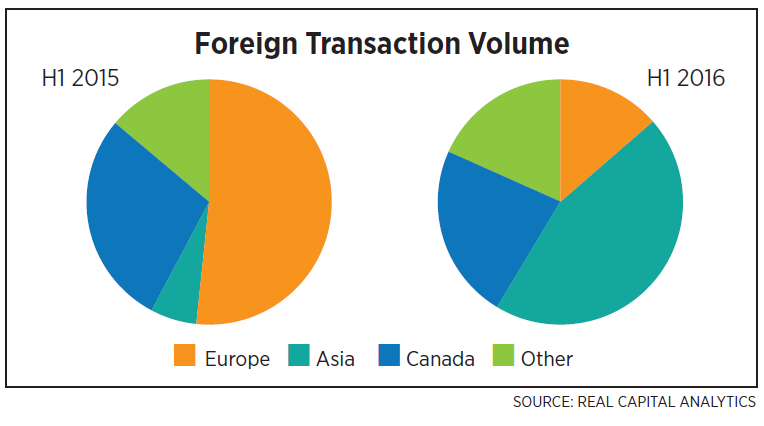 After increasing slightly over the past quarter, cap rates compressed again in August to May's level of 5.6 percent, the lowest rate on record. Although some analysts think pricing is at peak, the Moody's/RCA Commercial Property Price Index forecasts price appreciation for the next several quarters. Moody's Analytics' "Below-Trend Long-Term Growth Scenario" forecast pushes that peak out slightly.
Economy
Gross Domestic Product (GDP) continues to hobble along, with a second quarter annual growth rate of 1.4 percent. The New York Federal Reserve Bank's GDP Nowcast (as of September 30) forecasts third quarter growth of 2.2 percent before slowing back down in the fourth quarter to 1.2 percent. The Fed revised its June forecast in September by lowering this year's projection as well as its long-term forecast. Growth in the 2 percent range for the long-term appears to be the general consensus among many economists.
A much stronger economic indicator came by way of the Census Bureau, which released new median household income figures in mid-September. Nationally, real median incomes rose by 5.2 percent in 2015, the first increase since 2007. Income growth in renter-occupied households was 6.8 percent, higher than owner-occupied growth of 4.7 percent, illustrating that renting is indeed a lifestyle choice for many residents. Although higher incomes are certainly welcome news, it's important to note that real median incomes still fell short of 1999's levels by 2.4 percent, leaving plenty of room for growth in the coming years.
Outlook
Opinions are mixed as to whether the upcoming presidential elections are impacting the economy. While businesses may be holding off on major capital expenditures, they continue to add to their payrolls. Consumers appear to be less phased. Spending, particularly on big-ticket items like cars and furnishings, has been growing in the 4-5 percent range in 2016. Although interest rate increases are imminent, consensus forecasts suggest a low interest rate environment for quite some time, which will continue to benefit the apartment sector and its comparatively healthy rates of return.
---
For more information, please contact Paula Munger, Director of Industry Research & Analysis
.