The busiest decade for apartment construction was the 1970s, with 3.6 million units completed, according to CoStar Group. In fact, about half of the existing stock was built prior to 1980. More than one-fifth of these properties are owned by individuals. And while many of these apartment communities undoubtedly have been through multiple facelifts, 60 percent are still considered "2-star," which is the lower tier of what CoStar labels "naturally affordable" properties.​
Operating and managing an older property comes with different challenges compared to those newly constructed, using automated systems and advanced technologies. The 2017 NAA Survey of Operating Income & Expenses in Rental Apartment Communities reveals significant cost differences among several expense categories for market-rate, garden properties, based on the age of the building.
The survey breaks down income and expenses for communities into the age groups less than 5 years, 5-9 years, 10-19 years and 20 or more years old. This analysis focuses on the extreme ends of the spectrum. Based on dollar value, an owner of a property 20 years or older had expenses of 81 cents to the dollar compared to a property less than 5 years old. That might sound like a bargain until rent revenue is factored into the equation, which came at a 31 percent premium for new properties.
As a percent of total operating expenses, costs for older properties were greater for salaries, insurance, utilities, contract and management fees, administrative costs and repairs and maintenance. Only property taxes and marketing were smaller pieces of the pie for a property 20 or more years old. Fast forward to the bottom line, older properties earned just 73 cents to a newer property's $1 in income.
Capital expenditures, not included in net operating income calculations, were obviously higher for older properties because renovations and replacements are vital when it comes to keeping the property competitive. However, in 2016, capital expenditures for properties 20 or more years old averaged $1,727 per unit versus $425 per unit for properties built since 2012, the widest gap since 2007.
Not included in the NAA survey is mortgage, debt and financing information. The recently released 2015 Rental Housing Finance Survey (RHFS) from the U.S. Census Bureau shows a median debt-to-equity ratio of 78 percent for apartment properties sampled. Segmenting these communities by age revealed that more than half of apartment properties built before 1980 were severely debt-burdened.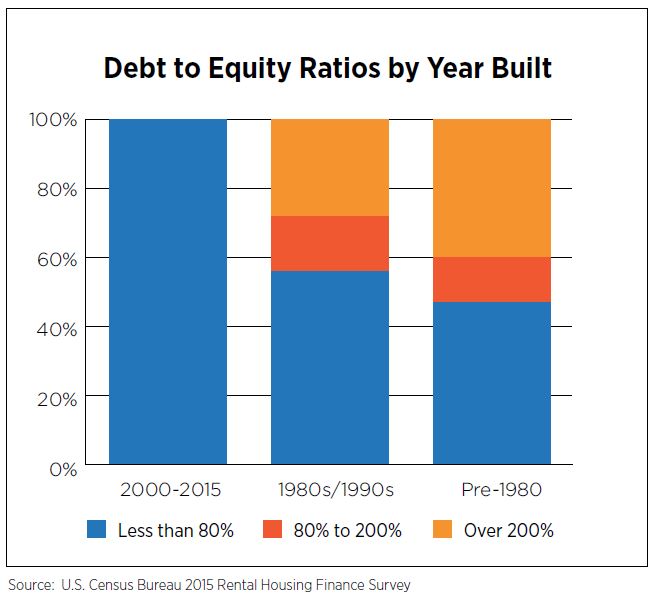 The RHFS also includes estimated market values of apartment properties. More than 40 percent of properties built before 1980 had a market value under $500,000, less than the median price of single-family homes in some higher-priced markets.
Older, livable apartment communities are critical to our nation's housing stock because they provide affordable options to the 38.8 million people who call apartments home. Understanding the costs associated with caring for and running these properties, from upkeep to mortgage payments, adds an important dimension to the housing affordability discussion.
For more information, please contact Paula Munger, Director of Industry Research & Analysis