A different way of thinking about the features and benefits that enhance resident life.
"Take me to your favorite places."
That request, made six years ago, led Lucy Jones, President of Columbus, Ga.-based Woodruff Property Management Company, on a 38-site, multi-city tour—the president of Woodruff's holding company, Otis Scarborough, her husband and President of Woodruff Development Company, Bruce Jones, architects and land planners in tow—to answer two questions: When you go on vacation, where do you go, and why?
"There's only so much you can do on the inside of an apartment," says Jones, whose company operates 37 communities in Georgia and Alabama. "A community's amenities are what separate you from the competition. You expect amenities like ours in places like Buckhead or New York City, but not in a secondary market, garden-style community."
They sought inspiration for amenities, and returned with a key insight: Service as an amenity. "You can build it, but it's really nothing without the service."
If You Build It
"Everyone has a pool," says Jones. "Not everyone has a resort-style, half-a-football-field-sized pool with built-in tables and umbrellas."
Without a service component, however, it is still just a larger-than-normal body of water. "It's a lifestyle we're trying to create," says Jones. "It's not expensive to buy sodas and popsicles and a nice tray for the staff to walk around the pool offering to residents—but it is a little something unexpected."
And that luxury lifestyle and first-class service extends well beyond sun worship. Fitness-minded residents will find gyms featuring functional workouts—from the ever-popular CrossFit to virtual reality headsets featuring spinning instructors. The more pint-sized residents can find indoor basketball courts and playgrounds.
And residents of all ages can take advantage of a very special movie theater. "We wanted to make it feel like you're in your own backyard," says Jones. "There's an old oak tree, and the walls are covered in siding. There's a starry sky, string lights on the tree and light by the 'backdoor.'"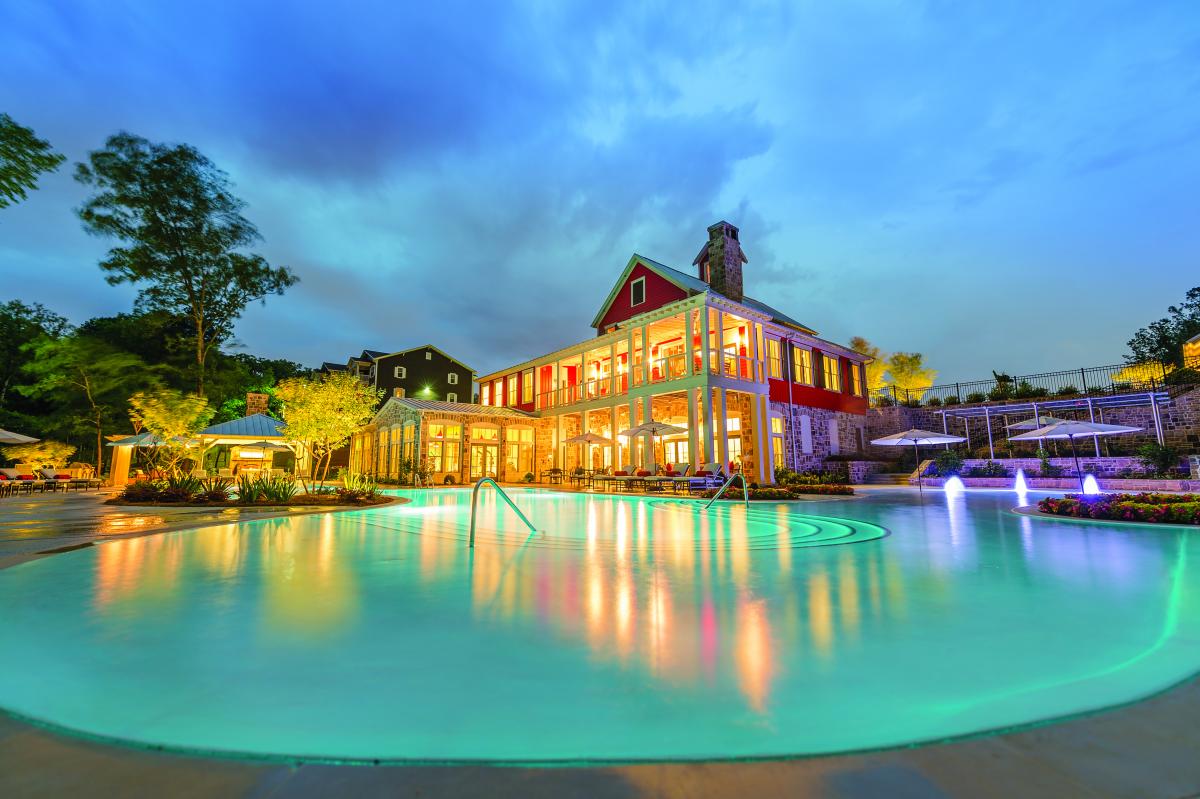 They Will Come
If a posh amenity is built in a community with nobody around, does it make a splash?
"The branding and marketing are key, because perception is the biggest thing about a resort amenity," says Jones. "The people who live here are associated with the community itself. If my branding is cool, funky, unique, the residents share in that perception: 'Oh, you live there? You must be doing well.'"
The Woodruffs also underscore the importance of attention to detail. "Even as little as the pool rules sign. Down to the golf carts. The '50s-style community has a '50s-style golf cart. The tropical development has a Jeep with a crazy paint job."
The Woodruffs are also proponents of community mascots as prospective resident marketing tools. "Prospects love taking pictures during tours and posting them on Facebook," says Jones. "Everyone has granite countertops. They pick the [apartment community] where they took a picture with the dog and the golf cart."
Perhaps, above all, is the concierge-style training the staff receives. "That feeling you get when you walk in the door, it starts with the people," she says. "That's exactly the feeling they're striving for—a luxury resort."
In addition to training, the communities are designed with the amenity areas and the office are in the same space so as to encourage interaction between staff and residents. It helps them learn about problems in advance.
"Staff can be afraid to ask about apartments, because then they may find a problem. We eliminate that from our culture," she says. "It means less work on the back end if you take care of it up front. What's worse? Having to fix a dishwasher or a broken dishwasher and a vacancy."
All the Difference in the World
"Amenities are the differentiator in the race to introduce the newest and coolest—particularly in Florida," says Marcie Williams, CAPS, CPM, President of Rivergate KW Residential (RKW), citing RKW's mini-market concept in Charlotte, N.C., and concierge-style amenities at several communities in Florida.
Charlotte, N.C.-headquartered RKW operates in the Southeast, from Charlotte to Miami, and in many markets where supply is arriving at an accelerated pace.
"In the wave of development we experienced, we began to see pet spas and bike workshops becoming standard," she says. "What's the next step? Lifestyle services."
In addition to bottom line enhancement, amenities go a long way toward resident retention. "It makes them lease and it makes them stay," says Williams. "It's important to be competitive in the market, and our amenities help create something that they can't find elsewhere."
Convenience is a large part of it, to be sure. The aforementioned mini-market, located at RKW's Arlo, located in the up-and-coming FreeMoreWest neighborhood and set to open next year, will offers locally sourced goods, ranging from what's on tap at the local breweries to sundries and provisions from nearby vendors. Residents use a key fob to access the market and check out their goods. But service extends beyond utility. Why walk down to the market for ingredients when you can have it delivered—prepared?
Granted, rare is the community the shares a footprint with a 100-room hotel and a grocery store, but at RKW's Hollywood 397 Apartments, residents can take advantage of supermarket delivery and room service.
"We're trying to create the Ritz-Carlton lifestyle," says Williams. "Those 24-7 lifestyle services are what everyone is chasing after."
No more grocery shopping means the freeing up of time for other chores, like laundry. Unless your one of the residents of Miami's Bayshore Grove, who no longer have to concern themselves with task.
"We partnered with a vendor with the wash-and-fold service and have a revenue share," says Williams. "It's built into the rent, but service is more important than revenue share. Customer satisfaction is our ultimate goal."
When all is said and done, it's less the amenity than the service supporting it, says Williams. "There is no better way to increase resident retention. The resident is the most important thing. A happy resident creates a happy bottom line."
Frank Mauck is Director, Communications at NAA. He can be reached at [email protected]