NAA Research's Fall 2018 Apartment Market Pulse breaks down the latest economic numbers.
U.S. Apartment Market
After a string of quarters of slowing national rent growth, third-quarter results showed a slight uptick in performance. According to RealPage, national rents grew 3 percent year-over-year for the third quarter to $1,352 per month. Like the past two quarters, Las Vegas and Orlando led the way for rent growth among metro areas at 6.6 and 6.5 percent, respectively. Other secondary Sunbelt markets like Phoenix, Jacksonville, Tampa, and Riverside-San Bernardino continued to remain among the top markets. Interestingly, San Jose returned to the top ten after having experienced rent decreases or little growth for the past few quarters, a sign that the San Francisco Bay Area is back in growth mode. Nevertheless, other early leaders of the current cycle like Seattle and Dallas remained at the bottom of the list with growth rates below 2 percent.
The national vacancy rate increased from 4.4 percent in the third quarter 2017 to 4.8 percent in the third quarter of 2018, according to REIS. An elevated rate of deliveries caused Miami to see the largest increase in vacancy at 1.6 percentage points, raising its overall rate to 6 percent. Louisville and Boston followed, both of which saw increases of 1.4 percentage points, resulting in overall rates of 6.1 percent for both. At the other end of the spectrum, Tulsa experienced a vacancy decline of 1.2 percentage points for an overall rate of 5.5 percent, the result of extremely limited new supply.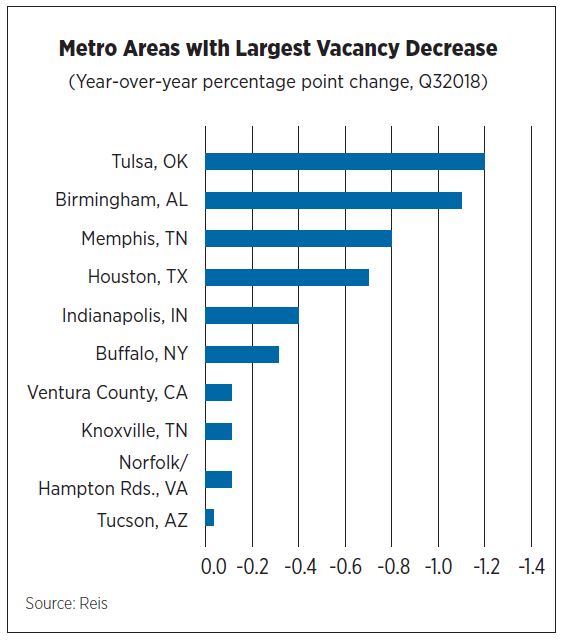 Per the Census, the seasonally adjusted annual rate for multifamily construction starts in August was 392,000 units, a drastic jump of 37.1 percent compared to the same time last year. A strong economy and affordability issues in the for-sale market have continued to support rental demand. Deliveries, however, decreased by 15.4 percent to 285,000 units from the year prior. The number of multifamily permits also pulled back, decreasing to 387,000 units from 461,000 units the previous year. Construction delays, caused by cost pressures and a persistently tight labor market, may have contributed to the drop in deliveries and permits.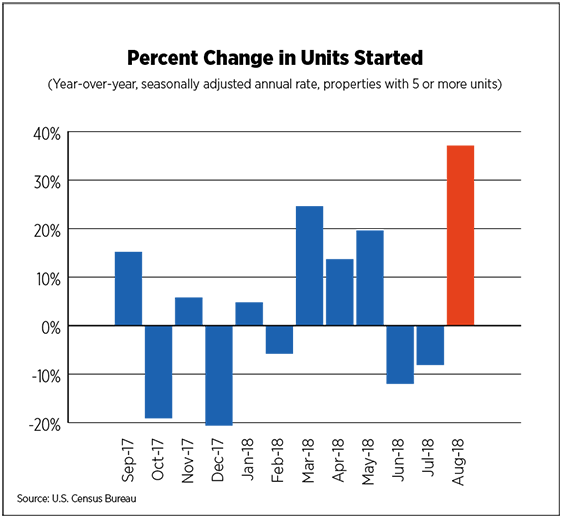 U.S. Capital Markets
According to Real Capital Analytics, closed transactions for apartment property sales totaled $160 billion for the 12 months leading up to August. This represented a 5.5 percent increase from the year prior, a continued sign of investors' steady confidence in multifamily. The average price per unit rose from $143,273 to $151,498, a 5.7 percent increase. Investors exchanged just over 1.1 million units, almost unchanged from the previous year.
Analyzed by market, the coastal gateway metros of New York City, Los Angeles, and San Francisco led the way for transaction volume, and each of these regions saw an increase in volume compared to the same period last year. The increase in San Francisco was especially notable, with rent growth having returned after several stagnant or declining quarters, and the region jumped from eighth to third place for transaction volume among all metros. Placing fourth, and ranking highest among inland metro markets, Dallas has moderated since peaking in the fourth quarter of 2016. Other inland markets among the top ten include Houston, Denver, and Phoenix. An increase in Houston's average price per unit compared to last year seems to indicate investors are seeing value in the market, and the region's economy appears to have strengthened in sync with the energy industry.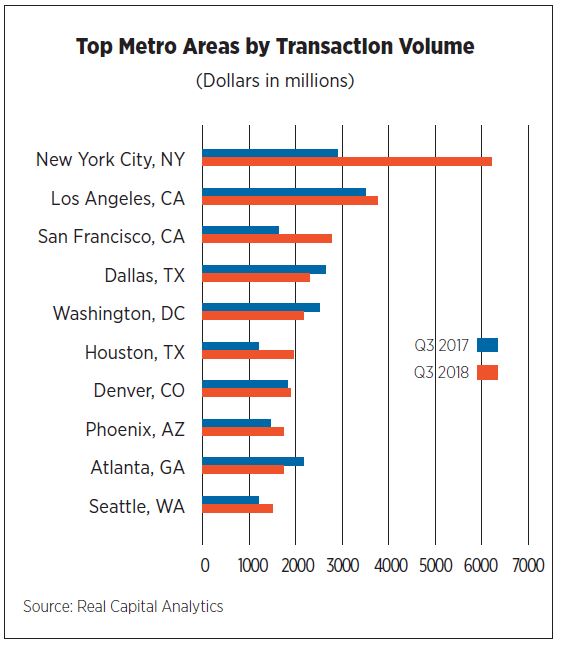 Looking at the top developers, Greystar ranked first by value of projects, with over $2 billion worth of projects underway. Judged by the number of properties under construction, Greystar also ranked first with 26 properties in development. Lennar and the Related Companies rounded out the top three, with each having at least 20 properties in development.
U.S. Economy
Economic indicators were strong across the board during the third quarter with wage and Gross Domestic Product (GDP) growth capturing most of the headlines. Average hourly earnings increased by 2.9 percent year-over-year in August, its highest level since June of 2009. Through September of this year, average wage growth for all private sector industries was 2.7 percent. The financial activities sector which includes finance, insurance, and real estate witnessed the highest growth in wages while manufacturing and the trade, transportation and utilities sectors were laggards.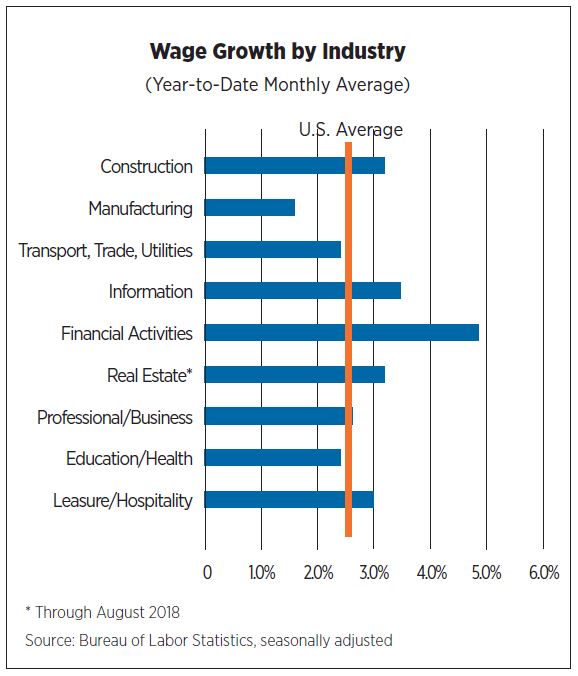 Source: Bureau of Labor Statistics, seasonally adjusted * Through August 2018
Second quarter GDP also hit high marks, surpassing four percent growth over the prior quarter for the first time in nearly four years. The Bureau of Economic Analysis reported positive contributions from consumer spending, nonresidential fixed investment, exports, and government spending at all levels.
By any measure, the U.S. labor market continued to exhibit its strength. Monthly jobs gains reported by the Bureau of Labor Statistics averaged 208,000 through September, outperforming the past two years; the unemployment rate fell to a near-five decade low of 3.7 percent; and job openings were at an all-time high. In fact, since March the number of job openings has exceeded the number of unemployed persons. The quits rate, which measures voluntary separations (excluding retirement) as a percent of employment was 2.4 percent for all industries and 3.0 percent for the real estate sector, its highest level in nearly 12 years. The quits rate is considered a good indicator of a labor market tipped in employees' favor as it suggests a level of confidence in being able to find another position.
Outlook
Economists polled for the National Association for Business Economics' October Outlook survey reported being more optimistic about the economy compared to the prior quarter, despite serious concerns about trade policy. The apartment industry has outperformed analysts' expectations laid out earlier this year, with rent growth trending higher than anticipated and demand nearly keeping pace with supply across many markets. Demographic and economic fundamentals, in addition to a softening for-sale market and rising mortgage rates, will fuel sustained demand for rental housing into 2019.