U.S. Apartment Market
The apartment market ended the year on solid territory, with absorption outpacing new supply and occupancy rates up 40 basis points in 2018, according to RealPage. At 3.3 percent, Q4 year-over-year rent growth was at its highest level in more than two years. Fewer apartments came online in 2018 versus 2017 and new supply has tempered during the past several quarters when measured against existing stock. However, the pipeline remains robust with more than 375,000 apartment homes under construction at the end of the year, above the quarterly average for this building cycle.
Of the 30 major metro areas tracked by Yardi Matrix, 24 experienced effective rent growth at or above the average 2018 inflation rate of 2.4 percent and none experienced declines. Rent growth in Las Vegas and Phoenix topped the charts, each exceeding 6 percent. Job growth in both cities was strong at 3.8 and 4.2 percent, respectively, well above the U.S. average of 1.7 percent through November. The U.S. Census Bureau recently reported that Nevada was one of the fastest-growing states; Arizona placed in the top five.
According to REIS, secondary and tertiary markets experienced the greatest vacancy rate declines in 2018. Birmingham, Ala.; Tulsa, Okla.; Buffalo, N.Y.; Greenville, S.C.; and Memphis witnessed vacancy rate decreases ranging from 160 to 70 basis points. While these markets can claim healthy job growth in 2018, employment in Tulsa and Buffalo grew by the highest rates during this recovery. A common thread in markets with the highest vacancy rate increases was the pace of new construction. This softness is largely anticipated to be temporary given solid population growth and strong economic fundamentals in many of these markets.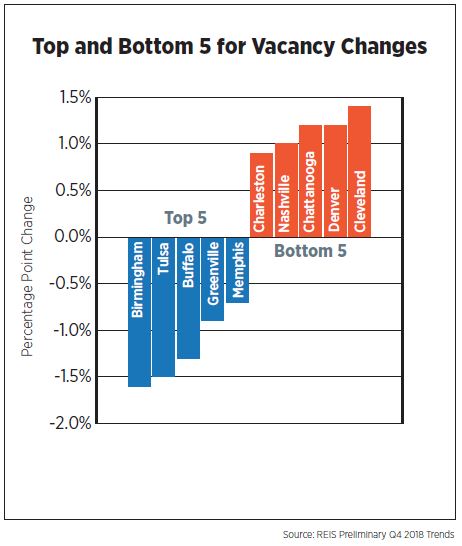 U.S. Capital Markets
After losing ground in 2017, the dollar volume of apartment property sales picked up again in 2018, increasing 9.3 percent year-over-year, according to preliminary data from Real Capital Analytics. Although fourth quarter volumes were down from last year, the average price per unit experienced its largest quarterly gain in more than two years at 10 percent.
Of the major metro areas, the largest volume increase occurred in Houston, an astounding 74 percent on $7.2 billion worth of closed sales. Although Hurricane Harvey certainly contributed to lower volumes in 2017, the $4.1 billion total for the year was right in line with recent year figures. San Francisco and New York also experienced major volume increases, 38 percent and 35percent, respectively. Declines in sales volumes were reported for Denver, Dallas and Atlanta while Seattle was flat.
Investors also remained active in smaller markets that as a whole have seen higher price increases than the top metros during the past three years. Cross-border capital was down slightly in 2018, representing 6.4 percent of transaction volume compared to 6.8 percent in 2017. Still, several countries upped their acquisitions of U.S. apartments significantly.
U.S. Economy
Although the recent high volatility in the stock market might be causing jitters, it is far from evident by most economic measures. December's job growth was above the 300,000 mark for only the second time in two years. Wage growth stayed above 3 percent year-over-over for the final three months of 2018.
The Small Business Optimism Index, published by the National Federation of Independent Business moderated during the last two months of the year but remained elevated at 104.4. The index component which measures job openings reached an all-time high while the difficulty in filling open positions was the highest in at least six years. Plans for hiring and increasing compensation also remained strong. The index components which weakened somewhat included expectations for general business growth, expansion plans and sales growth, indicating some concern about future business conditions.
Outlook
Fears of the cycle-end in the apartment sector have been essentially dissipated for this year by persistently favorable economic and demographic fundamentals. Rising housing prices and mortgage rates as well as a general lack of inventory will also help the industry achieve steady growth in 2019 and beyond. To learn more read NAA's annual Apartment Housing Outlook.