2019 NAA National Suppliers Council Chair-Elect Kirk Downey, COO, LibertyRent shares his thoughts on sales personalities.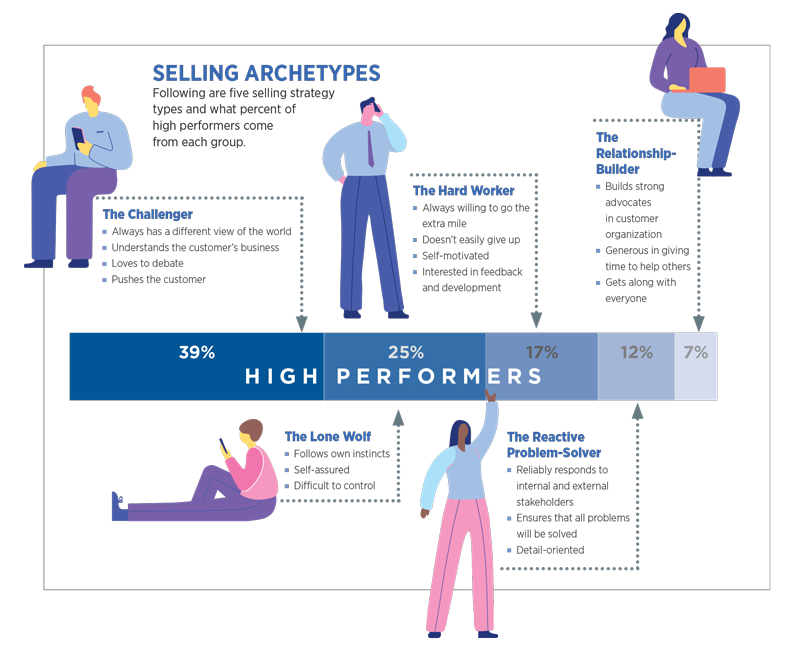 A Challenger has a tendency to be a little pushy, but confident. They are always trying to close a deal, sometimes non-stop. Managers say they want this type of salesperson, but usually, get frustrated with them.
The Lone Wolf is not good for a TEAM environment, because your team will feel they will "SNAKE" them on their deals.
A Hard Worker is like a Challenger, but more focused on the growth of themselves and the team. A little motivation goes a long way..
A Problem-Solver is always good to have on a team for support and will be a middle producer. A problem solver is very goal-oriented.
A Relationship-Builder is a learned personality. They can be the other sales characteristics when needed and are a good fit for most companies. They cherish their business relationships, are patient and understand that our industry does business with people that they know, like and trust. This person can also be a huge asset to your Client Success team.
At Liberty Rent, we call this group our Strategic Relationship Team, not the sales team. We hire people for the brand they have worked very hard to create for themselves. Our role is to support and encourage our Strategic Relationship Team to listen to our future partners' needs and adapt as needed. The NAA National Suppliers Council is working to build true Supplier Partners, not vendors.
Which SALES Type Are You?
There's a major shift in the type of people in sales and how they got there. For old-timers, their first corporate sales training was: "Here's the phone book, press 9 to get an outside line and, oh yeah, if you don't make one thousand calls this week you're fired." Those salespeople—who had to figure out how to sell on their own (and were given the rope to do so)—aren't entering the salesforce as much anymore. Based on CEB, the best performing salespeople tend to be challengers at 39 percent (Lone Wolves are also quite good at 25 percent and even relationship-builders comprise 7 percent of high performers). The relationship person is better suited to an account manager role, which is needed post-sale.—Doug Davido
What Hiring Managers Look For?
When Gartner affiliate CEB (Corporate Executive Board) started sharing its findings of sales strategies, it surveyed sales hiring managers to identify which archetype they sought to recruit and found that 79 percent of job descriptions were aligned to the Relationship-Builder model. As one Vice President of Sales shared with Matt Dixon, who co-authored the book "The Challenger Sale" in 2011, "If your research is accurate, you're telling me that I've got to be all in and bet on the horse that is the least likely to win?"
Who are Your High Performers?
Core-performers are generally defined as those who rank among the middle 70 percent in sales volume.
High-performers are generally defined as those who rank among the top 15 percent in sales volume.
Continue to read "Making the Sale: The Relationship Builder vs. The Challenger" to find out how salespeople challenge their clients to stand a better chance of winning more business or click to read "Communication and Trust are Keys to Successful Selling."