Steady but Not Spectacular
Rents and occupancy rates continued to hold steady even as new apartment supply continued to grow, thanks to continued job growth throughout the country. While a majority of economists expressed optimism for 2018, upside and downside risks were mostly mixed, with protectionist trade policies, potential stock market declines and immigration restriction expected to pose the highest threats.
Although new apartment supply continued to grow, rents and occupancy rates held steady through the third quarter thanks to continued job growth in many metro markets across the country. According to RealPage, national rents increased by 2.6 percent compared to the year prior. Sacramento and Las Vegas were the only two metro areas to break the 5 percent mark in rent growth. Orlando and the Minnesota Twin Cities also registered strong rent growth at 4.8 and 4.6 percent, respectfully.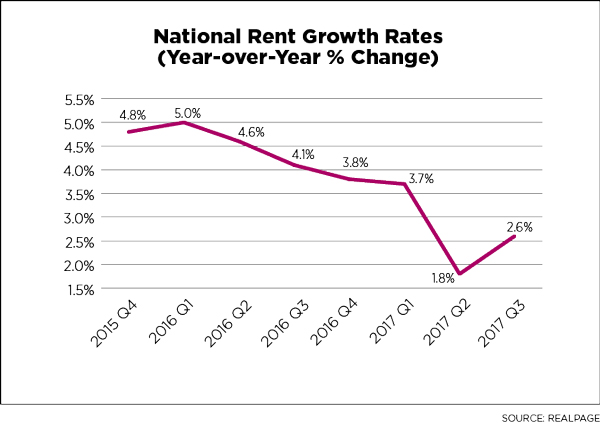 It is too early to decipher the impact of Hurricanes Harvey and Irma on the Texas Gulf Coast and Florida apartment markets. Preliminary estimates from Yardi indicate up to 50,000 units may have been damaged in Houston, and many experts and analysts are expecting displaced homeowners and offline units to contribute to strong rent and occupancy growth over the coming months.
According to CoStar, in the 12 months through third quarter, deliveries have totaled 223,068 units while absorption has totaled 217,699 units. For the most part, even with the high number of deliveries in the current expansion cycle, strong demand continues to support stable rent and occupancy fundamentals.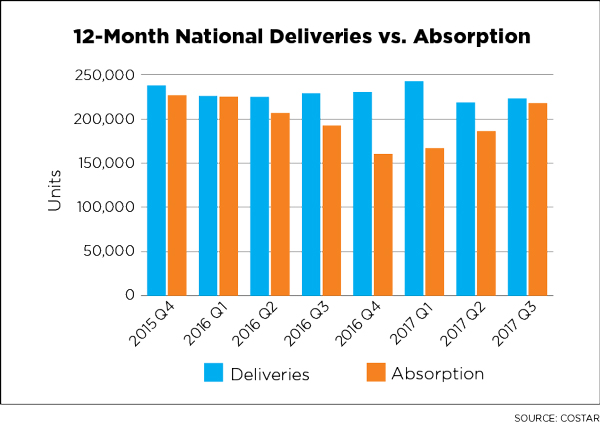 The occupancy rate among the country's top 100 metro areas sits at 95.5 percent, a 0.5 percent decline from the year prior, as reported by RealPage. Not just a strong contender for rent growth, the Minnesota Twin Cities are currently home to the tightest available supply, with an occupancy rate of 97.9 percent. Providence, R.I., is also experiencing a tight market, with 97.6 percent of apartments occupied.
U.S. Capital Markets
Reflecting slightly more cautious investor sentiment, closed transactions for apartment properties totaled $147 billion for the 12 months leading up to August, a year-over-year decline of 9.6 percent, according to Real Capital Analytics. The only major property type that experienced a steeper decline was the embattled retail sector. Investors exchanged just over a million units, a decline of 10.7 percent. These declines are not surprising, as absorption and rents moderate in many markets amidst continued construction and tax policy uncertainties.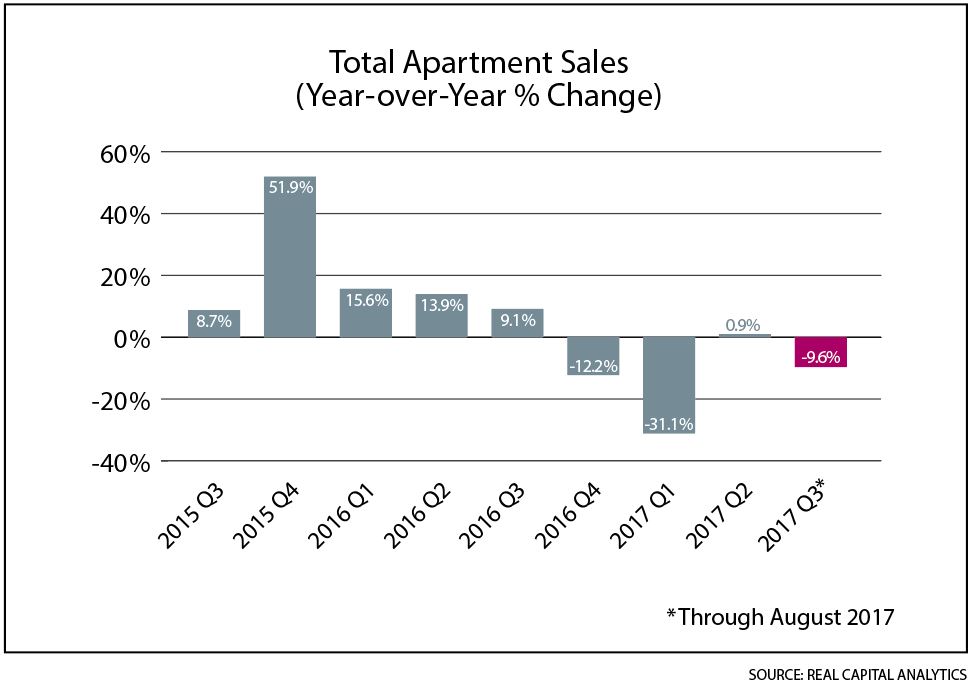 Continuing a trend that began in 2015, foreign transaction volume fell by 26.2 percent from the year prior. Investors from Canada and Singapore continued to be the greatest sources for foreign capital, although the $7.6 billion transaction volume of Singaporean investors almost rivaled that of the Canadians' $9.3 billion for the first time in recent memory. 
The largest property transaction, in terms of dollar value, for a Canadian buyer was the 515-unit, Coast at Lakeshore East high-rise in the Chicago Loop, acquired for $222.5 million, while the largest Singaporean purchase was the 291-unit, garden-style Woods of San Marcos student housing property in the Austin suburbs.
Israeli, Swiss and Swedish investors were also fairly active in closing on U.S. properties for a combined $996 million. Smaller Sunbelt markets featured less prominently on foreign investors' radars compared to previous quarters, with the major core markets of Washington D.C., Dallas, and New York City snagging the most dollars.
U.S. Economy 
With the exception of the September jobs report, heavily impacted by Hurricanes Harvey and Irma, most economic indicators point to an economy along a steady, if not spectacular, path of growth. Upward revisions to second quarter GDP to 3.1 percent marked the highest annual growth rate in over two years. The Federal Reserve Bank upped its 2017 GDP forecast to 2.4 percent from 2.1 percent at the beginning of the year.
The U.S. Census Bureau released its annual income and poverty report in September, revealing healthy median income growth for the second year in a row at 3.2 percent.  By region, the South and West experienced the greatest increases (3.9 percent and 3.3 percent, respectively) while the Northeast and Midwest were essentially flat – not surprising as most states in those regions can be classified as slow-growing, demographically and economically. 
Wages were one positive segment of the September monthly jobs report, nearly hitting a three percent annual growth rate for only the second time in eight years.
Outlook
An overwhelming majority (74 percent) of economists polled in the recently released Outlook Survey from the National Association for Business Economics are forecasting a low probability of a recession through 2018. Negative risks slightly outweighed positive ones, however, with protectionist trade policies, potential stock market declines and immigration restrictions seen as posing the most threats, partially offset by strong global growth prospects and potential tax reform for both businesses and individuals. 
Most apartment data providers have pushed their forecasts for a construction peak from 2017 to 2018 due in large part to construction delays stemming from worker shortages and increased costs. As the pace of new deliveries slows and strong demand persists, occupancy rates will stabilize. Investors shifting back to core markets signals confidence in the long-term stability of the U.S. apartment market.