My RPM Story: RPM Careers Ambassador Chad Christian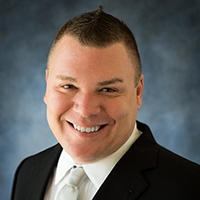 As a student at The University of Texas, I switched my major from education to real estate finance — but my RPM story is still all about learning. In fact, my commitment to education is why I decided to become an RPM Careers ambassador.
RPM Careers ambassadors are the faces of RPMcareers.org, the National Apartment Association Education Institute's (NAAEI) jobs promotion website, which is designed to attract talent to the residential property management (RPM) industry. Anyone wanting to learn more about RPM can connect with me by email or through LinkedIn, and I can serve as a mentor and provide more information about our fantastic careers. I think that through hearing my story, they might be bitten by the RPM bug as quickly as I was!
My transition to the real estate finance program started just a few months after I took my first RPM position as a part-time leasing consultant. I fell in love with the industry, and there was no looking back. The ever-changing environment of the job can be hectic, but I look forward to going to work each day. Plus, there is always a need for RPM professionals.
Since that first job, I've continued to grow within RPM, thanks to educational opportunities provided by the National Apartment Association (NAA). Today, I'm a regional manager with Winthrop Management, supervising community managers and over 1,400 units in two markets, Austin and Houston. In fact, this summer I was recognized by our industry with an NAA PARAGON Award for individual achievement!
My success is due to continuing education and involvement with NAA. After receiving my bachelor's degree, I earned a master's degree in information, risk, and operations management. I also have my National Apartment Leasing Professional (NALP), Certified Apartment Manager (CAM), and Certified Apartment Portfolio Supervisor (CAPS) designations through NAAEI.
I'm an RPM Careers ambassador because I am an educator at heart, and I want to be a great role model for other industry professionals. Working in RPM is much more than just a job — it's a career, and I want to help people along that path as much as I can.