Industry Mourns Death of Atlanta Real Estate Developer John Williams
Post Properties' Founder passed away unexpectedly yesterday at 75.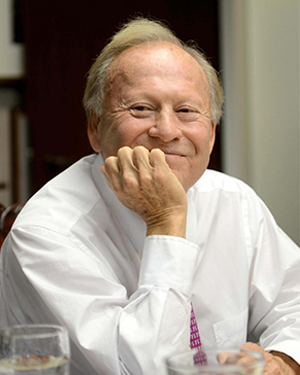 The apartment industry is in mourning following the passing yesterday of legendary developer and Atlanta business icon John Williams, Founder of Post Properties. He was 75.
Williams ran Post from 1970 until 2003 before departing as a result of a divided board. He then founded Preferred Apartment Communities – which grew to a size that rivaled Post Properties, operator of 30,000 apartment homes when he left.
"John Williams was one of the most influential developers in our industry for nearly 50 years," Robert Pinnegar, CAE, NAA President & CEO says. "His efforts played a big part in helping to bring forward the high level in which rental housing is professionally managed today."
Atlanta Apartment Association (AAA) 2018 Chairman Tommy Brunson, Fairfield Residential, comments, "The Atlanta Apartment Association was saddened to hear of the passing of John Williams yesterday. John was one of the founding members of AAA when the organization was formed in 1975, and was truly an icon for the multifamily housing industry. Our hearts are with the Williams family and the team at Preferred Apartment Communities."
"It was my great pleasure and honor to have known John Williams since 1978," says Rob Johnston, Founder and Chairman of First Communities and 1997 NAA Chairman of Board. "He revolutionized our industry beginning in the early 1970s with advanced operating procedures and visionary concepts in apartment design, construction and amenities. He almost single–handedly elevated our industry here in Atlanta and throughout the country by insisting on higher standards and performance. Our current lofty status as a preferred institutional investment is a direct consequence of his unrelenting pursuit of improvement and excellence.  He was a spectacular friend and mentor to all of us who followed."
"Williams was a rags-to-riches success story – someone who had had a tough childhood, but he was not one to make excuses," writes Maria Saporta, an industry reporter from Atlanta who knew Williams well. "If anything, challenges made him more determined to prove he could bounce back."
During the course of his career, Williams directed and coordinated the development, construction and management of more than $15 billion in real estate developments. Approximately $5.5 billion of this activity has focused on multifamily housing, with the balance in other property types including hotels, condominiums and offices.
Williams served as a member at large on NAA's Executive Committee in 1990 under then Chairman of the Board Jerry Warshaw, CAPS. "He was an absolute visionary," says Warshaw. "He was way ahead of his time in marketing, landscaping and he really had the 'people aspect' down right for management. He knew they 'made it go.' He truly wanted those around him to succeed. He was a benefit to our Board. He came to all five of our Board meetings and contributed in a meaningful way."
Williams was listed on the National Real Estate Investor's list of "The 20th Century's Most Influential Developers," along with the Atlanta Business Chronicle's award for "Atlanta Residential Developer of The Decade," for the 1990s.
During the 1980s, 1990s and the 2000s, Williams was a major force in the Atlanta civic community, Saporta writes. "He helped launch the Metro Business Forum with former Gov. George Busbee. Although his base was Cobb County, Williams was able to forge relationships with leaders throughout the region.
Williams served on the Board of Directors of the NFL's Atlanta Falcons of which he is also a minority owner.
Preferred Apartment Communities' Board of Directors has appointed Vice-Chairman and Chief Investment Officer Daniel M. DuPree to succeed Williams as Chairman of the Board and Chief Executive Officer. Leonard A. Silverstein, a Co-Founder of the company along with Williams, has been appointed Vice-Chairman of the Board and will continue as President and Chief Operating Officer.
Preferred Apartment Communities is a Maryland corporation formed primarily to acquire and operate multifamily housing properties in select targeted markets throughout the United States.