A Brighter Outlook for 2018
The first quarter of 2017, with its post-election uncertainties and interest rate increases, portended a potential correction in the commercial real estate market.
Although deal volumes fell off significantly that quarter and have continued to drop from year-ago levels, interest rates have stabilized. Coupled with the realization that any actions by the current administration were unlikely to materially impact 2017 performance, capital came off the sidelines, business plans were pushed forward, and it was basically business as usual before the arrival of summer. The backdrop of a healthy global economy certainly didn't hurt.
As we progressed through the year and are now winding down, more and more analysts have made positive adjustments to their forecasts for the economy, capital markets and the overall apartment market.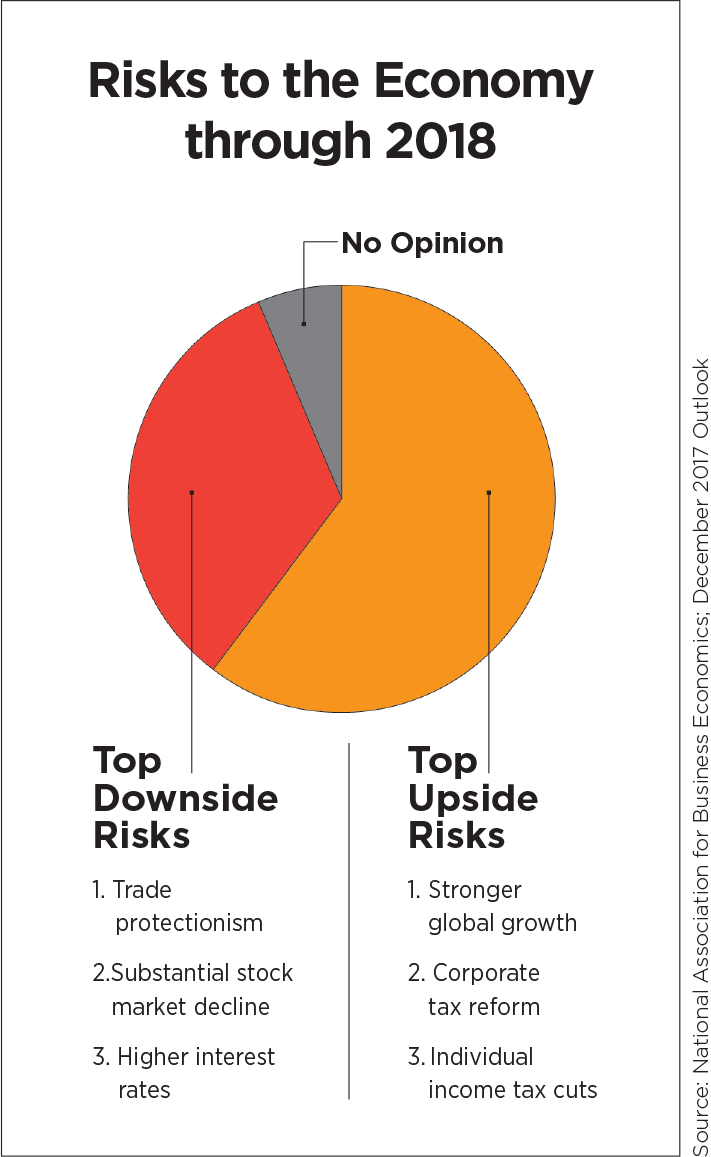 On the economic front, GDP forecasts for Q4 2017 have risen, mainly thanks to better performances than had been expected for the past two quarters. The Federal Reserve Bank of New York is the most optimistic, forecasting a 3.9 percent growth rate, which would be the highest in more than three years. In general, however, 2018 GDP forecasts have only been revised slightly upward.
The December 2017 Outlook Survey published by the National Association for Business Economics showed 60 percent of economists think upside risks outweigh downside risks to the economy through 2018, a reversal of the September survey. An overwhelming majority of economists (88 percent) believe the chance of a recession in 2018 is highly unlikely, while nearly 48 percent date the peak of the business cycle at 2020 or later. 
With labor markets as tight as they are, job gains are expected to decrease slightly from 2017 levels. However, the national unemployment rate is projected to tighten further, according to Moody's Analytics. Unemployment in 2018 is forecast at 3.8 percent, an annual average rate not seen since the late 1960s.
Apartment Market Outlook
Increased liquidity can be expected in 2018, based on a Capital One survey of apartment industry professionals. Eight-four percent of respondents plan to be a buyer or seller, up from 71 percent last year. Just 16 percent aren't making any investment or divestment plans compared to 29 percent at the end of 2016. The GSEs have surpassed banks in terms of anticipated sources of financing, and not surprisingly, secondary and tertiary markets are thought to be the winners in terms of value increases. Nearly half of the respondents ranked rising interest rates as the biggest risk for 2018.
The same demographic and societal shifts that have been driving multifamily demand are anticipated to continue in 2018. While research suggests more first-time home buyers are making successful purchases, the pent-up demand from Millennials living with parents or doubled up is a reality with renting being the likely option once they are ready to form their own households. The homeownership rate is forecast to stay well below its long-term average of 65.7 percent in the near-to-medium term.
One major story from 2017 that will have wide-reaching impacts on the 2018 apartment sector was construction: costs, delays, and declines in permits and starts. Construction spending forecasts vary widely, but they are aligned in predicting significantly less growth, or even declines, in the value of new construction than the recent double-digit annual growth during the past five years.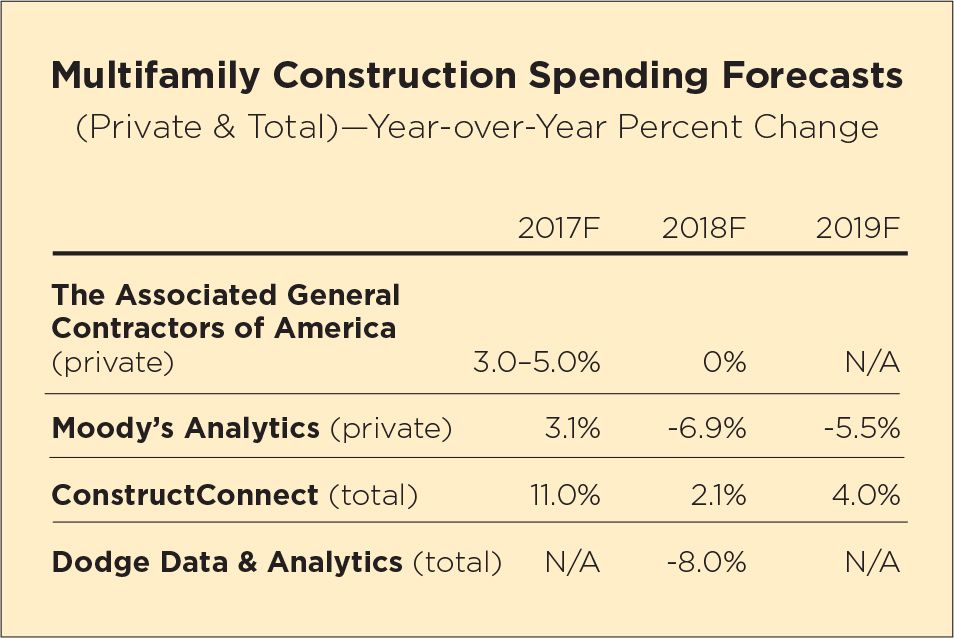 The median forecast for multifamily starts is 345,000 units for 2018, down from an average of about 385,000 from 2015-2017 (projected).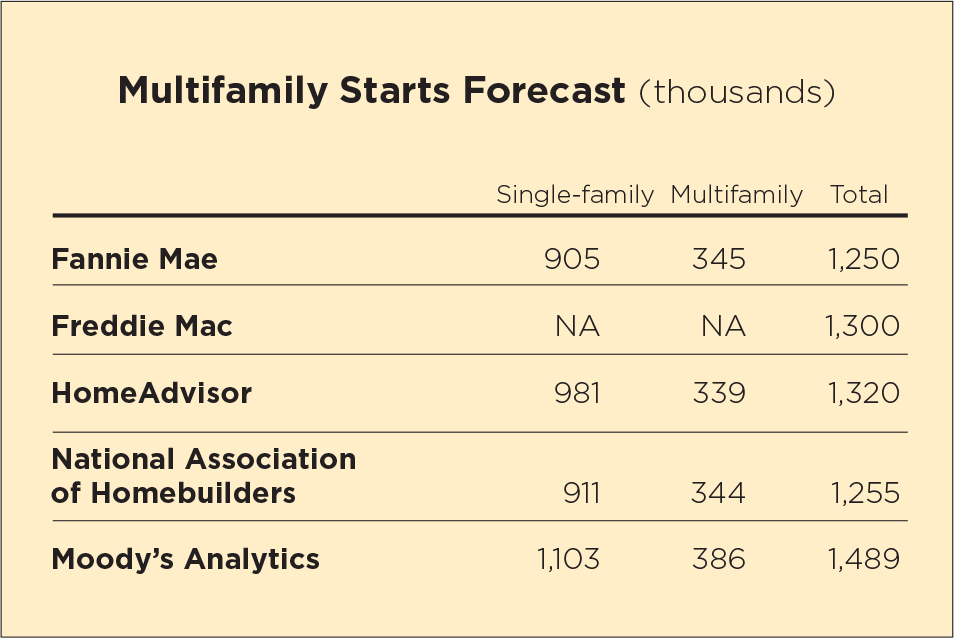 Fewer completions along with construction delays will give demand a chance to catch up with new supply, resulting in only slight declines in occupancy rates. Rent growth is still forecast to remain at or above longer-term averages given the healthy demand dynamics. 
The U.S. apartment market will ring in the new year poised for another year of moderate growth. Corporate and individual tax cuts should spur business investment and consumer spending, respectively, helping to offset the negative impacts of potential interest rate increases and lackluster wage growth. 
Paula Munger, Director of Research and Analysis for NAA
Read industry CEOs outlook for 2018 in Will Apartments Be Worth More in 2018?