Bright Ideas and Brilliant Connections
Image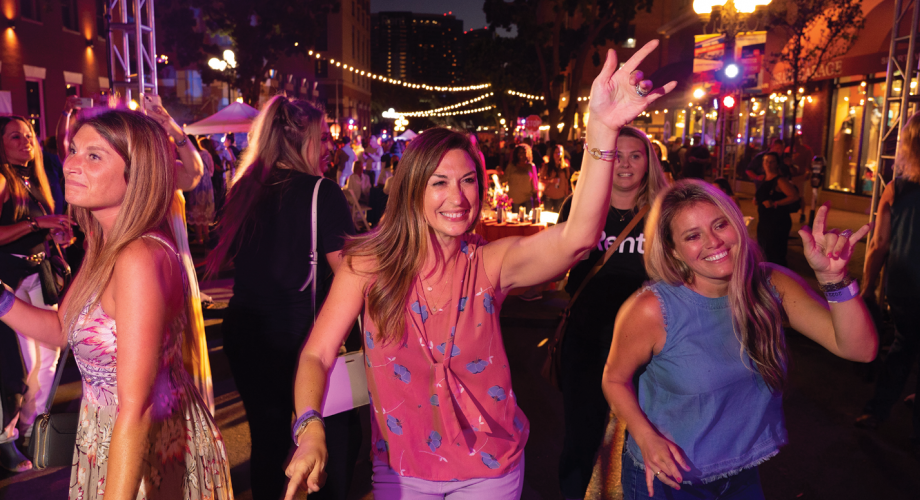 Rental housing professionals gathered in San Diego June 22-24 at Apartmentalize to learn, to network and to celebrate the industry.
Rental housing professionals poured into San Diego from around the country for the industry's largest annual event, Apartmentalize. In a true return to form post-pandemic, the record-
setting crowd of over 11,300 spent three days learning, networking and touring the NAA Exposition. 
"For me, it's not only about the connections and networking, it's about giving back to the industry, learning through our colleagues and keeping our finger on the pulse," says Wendy Dorchester, Senior Vice President of Operations, Pegasus Residential, who has attended more than two dozen Apartmentalize conferences.
"First and foremost, is the camaraderie; when I come here, I feel like I'm seeing my family and faces that helped build my career and make my career better," says Kate Good, Partner, SVP, Multifamily Development and Operations, Hunington Residential. "I know it's going to be a fulfilling experience just because of the people. When I jump in and I'm attending sessions, learning and seeing new products at the trade show or connecting with companies I've worked with forever and see what they are doing that's new, it gets me so energized to go back and be great in my world."
"When I was going up through the ranks, I found the information [at Apartmentalize] very relevant as well as the connections and the networking... Now to be able to give that back is the greatest gift," says Sergio Chidichimo, Senior Vice President of Operations, Birchstone Residential, about returning to Apartmentalize as a speaker and an attendee.
Education
At its core, Apartmentalize is all about education, whether the learning happens in sessions, among peers or in the NAA Exposition. 
"I learned a lot about [single-family rentals (SFRs)] this time," says Dorchester. "SFR was one of the things I wanted to learn about, so I put a panel together of people I didn't know, and they gave us a tremendous amount of information on that new emerging trend in that industry." Package rooms and a hybrid model of these rooms is also something she is considering in her apartment homes.
Meanwhile, Good, like many in the industry, is facing staffing challenges. "I learned some really good hiring tips: In your ads for hiring, put the salary that you're paying; that could be a gamechanger and attract [talent]," she says.
"The thing that's great about education is you get subject matter experts all the way up to the executive level.... You have the opportunity to see people that are Chief Marketing Officers... and people who are CEOs of management companies all in one place, and you don't get to see that anywhere else," says Lisa Trosien, President, ApartmentExpert.com.
"When on stage, I feel an enormous responsibility to research and deliver quality content, so if someone is writing down or taking a picture of the screen, they walk away and say, 'I'm going to do something different as a result of my time here,'" Good says. "I contrast that to when I'm in the audience—that's what I'm looking for, too. As an audience member, to get more than that is so fulfilling. I'm receiving in the audience; giving on stage, but I see the connection of why it all works together."
NAA Exposition 
The NAA Exposition serves as the nation's largest rental housing marketplace during Apartmentalize, with more than 550 exhibitors from across the country.  Exhibitors and attendees share ideas, strategies and tactics, and learn about the latest products, services and solutions to maximize resident satisfaction and retention and enhance operational efficiency, effectiveness and profitability. 
"To be able to support our supplier/vendor partnerships and get time with them not at the office buried under emails and spend time with them in their booths is really wonderful—and time outside of these sessions to be able to sit down with them and actually spend quality time with them away from home," says Dorchester.
"I adore the trade show... because you see all this new stuff, and you get to see the people you've worked with over the last year and find out what's going on new with them," says Trosien.
Mentorship and Teamwork
While attendees looked forward to learning about the industry and networking at the dozens of educational sessions, many were excited to hear from special guests at Apartmentalize. This year, those guests included General Session speakers Basketball Hall of Fame member Earvin "Magic" Johnson, racing legend Danica Patrick and award-winning actor Rob Lowe.
While each speaker presented their own experiences, there were several underlying factors that transcend industries, whether that's Hollywood, sports, the business world or rental housing. One of those items arising from each speaker was finding a mentor, and not all mentors are alike—they also can change throughout someone's life.
Each mentor will be different depending on a person's needs, but it's also important to make sure the mentor is willing to become that leader and role model, said Johnson. "I believe in mentors. Learning from [former Los Angeles Lakers owner] Dr. Buss first-hand really jump-started my business career." He has taken that mentor mindset to another level and changed the definition of success. "My definition of success is not how can I be successful, but how can I help other people be successful. I understand that I've been blessed, and I need to bless other people, too. That's how I measure success."
Another fundamental factor: Transforming one idea into another. In Johnson's case, it was taking what he had learned on the basketball court and evolving that knowledge to become the businessman he is today. He took three things from the court to the boardroom: Discipline, preparation and competition.
Patrick, who is now in the wine and fashion businesses, says it's about teamwork, like her success on the track. "Part of being successful in business is your group, your team." The same goes for Lowe: "It's better to go to work where you feel supported and seen. If you win, then I win, and we all win. When casting, I cast people I'm sympatico with."
Celebrating the Industry
Apartmentalize is also a way for the industry to celebrate professionals who are just starting out in rental housing as well as those who have already made it in their career.
During the Welcome Reception, maintenance team members took center stage as Maintenance Mania made its long-awaited return. The 15th annual National Championship saw Jacob Paff of Village Green take home his first title. The Greater Cincinnati Northern Kentucky Apartment Association member was among 19 finalists to become the world's fastest maintenance technician. His overall time was 1:09.282 (that's just over 1 minute). Greg Quercetti of The Westover Companies and the Delaware Apartment Association placed second (1:15.471), and Jimmy Garcia with RangeWater Real Estate and the First Coast Apartment Association finished third (1:16.350). 
Apartmentalize also presents the opportunity to celebrate up-and-coming professionals in the industry via NAA's 20 in their Twenties program, honoring individuals 29 years or younger who represent some of the best and brightest in the rental housing industry. Learn more about this year's class in the June issue of units and on naahq.org. 
Also recognized at Apartmentalize were the 2022 NAA Excellence Awards winners. "The Excels" recognize excellence and leadership in the rental housing industry. The awards celebrate communities, industry professionals and affiliated apartment associations who make unique contributions to the industry. The 26 winners of the 2022 Excels were honored with a lunch event in San Diego. The full list of winners can be found in the July 2022 issue of units and on naahq.org.
The culmination of a career in rental housing was also honored at Apartmentalize with the formal introduction of Cindy Clare, Chief Operating Officer, Bell Partners, into NAA's Hall of Fame, which is the highest honor that can be bestowed upon a rental housing professional (see p. 13 for more). "It is an honor to be recognized by the National Apartment Association and I am humbled to join an incredible group of industry leaders in the Hall of Fame," said Clare in a release. "In my over three decades in real estate, I've learned that it is all about collaboration, connecting with people, serving our communities, providing a place residents are proud to call home and advocating for innovation."
"During her chairmanship in 2017, Cindy's transformative leadership helped move NAA and the entire industry in a new direction," said Bob Pinnegar, NAA President and CEO. "NAA congratulates Cindy on this well-deserved recognition on behalf of the great work she has done and will do for our industry."
Next year Apartmentalize returns to Atlanta from June 7-9. Stay tuned to apartmentalize.naahq.org for more!
Michael Miller is Managing Editor at NAA.