2018 Networking
Highlights
In addition to the great education sessions and impressive Exposition, Apartmentalize offered a number of opportunities to network with industry professionals and peers in a relaxed setting.
Attendee Game Lounge: Enjoy some friendly competition with other attendees with two oversized classic games like Connect4.
Attendee Lounge: Located outside the NAA Exposition
Interactive Art Wall: Available throughout the conference (Sponsored By: Behr)
Welcome Reception: Wed., June 13 from 5:30 p.m. to 6:30 p.m.
NAA Exposition: Thur., June 14 from 2:15 p.m. to 6:15 p.m. and Fri., June 15 from 10:00 a.m. to 2:45 p.m.
Refreshment Breaks
NAA Awards Celebration Breakfast: Sat., June 16 from 8:45 a.m. to 10:45 a.m.
---
Charity Event
Military Family Appreciation BBQ Volunteer Opportunity
Date: Saturday, June 16, 2018
Time: 11 a.m. – 2:30 p.m. (Lunch will be provided.)
Transportation: Buses depart from San Diego Convention Center at 11 a.m. and will return to the center at approximately 2:30 p.m.
Volunteer at San Diego's Military Family Appreciation Day. Come out and be a part of the fun.  We will work together with the Armed Services YMCA in San Diego to help facilitate games, arts and crafts, activity stations and a BBQ.
When a military member deploys, our military spouses take on the role of a single parent, managing the stress of the household and raising children. A military child will spend holidays, graduations, birthdays and challenging times without their deployed parent's support. Join us to honor our military families and thank them for their service at our Military Family Appreciation Day. 
Click here to register and volunteer
Already registered? Click here to volunteer
Space is limited.
Armed Services YMCA Donation
Continue to help and support Armed Services YMCA, San Diego (ASY) and the children of military families. ASY believed the community should support the large active duty military, and it is their mission to enhance the lives of military members and their families in mind, body and spirit through programs and services.
---
NAA Newcomer Breakfast (Ticketed Event)
Date: Thur., June 14
Time: 8 a.m. - 9 a.m. 
If you're new to the Apartmentalize conference, it can be overwhelming. Join us for a breakfast on Thursday morning to network with other conference first-timers and get help on how best to navigate your experience throughout the week. 
Contact [email protected] to add it to your registration, or select it when you register.
---
Thursday Night Party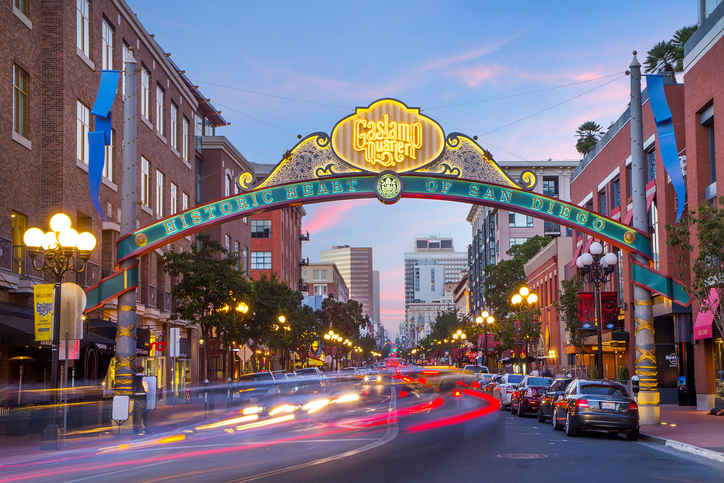 Ready, set, party! We shut down San Diego's historic Gaslamp District downtown for a block party to remember! On Thursday, June 14, attendees enjoyed all-inclusive food and drink as they networked with peers from around the industry. Surrounded by unique storefronts and historic architecture of the neighborhood, NAA guests had access to several restaurants, live music, interactive entertainment and more.
Features included:
Craft beer station with games
DJ
Henna and air brush tattoo station
Hollywood Glow Go-Go Dancers
Live Painting Artists
Pogo Performers and LED Prop Dancers
Silkscreen T-shirt Rickshaw Station
Stilt Walkers and Comedy Acrobrats
Two bands
Thursday Night Party Sponsors